The Daily Recap: Smael Mondon's ready to take the next step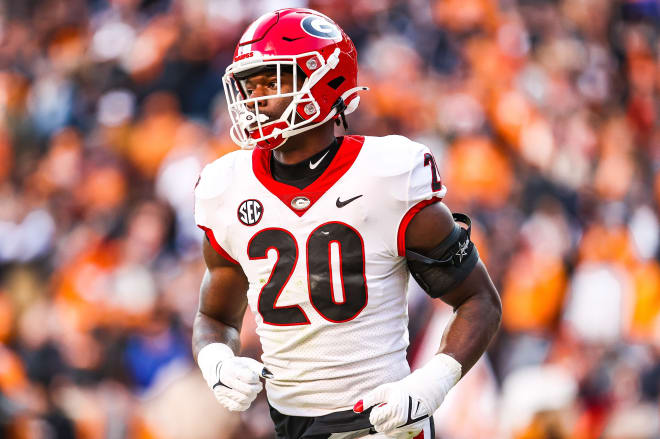 Here is the May 11 edition of The Daily Recap presented by JFQ Lending.
Mondon's time
Of Georgia's inside linebackers to make a significant jump, Anthony Dasher wrote that Smael Mondon appears ready to do so.
The Bulldogs are replacing a trio of talented inside linebackers in Nakobe Dean, Quay Walker and Channing Tindall, who all were selected in the first three rounds of the NFL draft. Mondon may have big shoes to fill but Dasher believes he's the man for the job.
"Mondon might not be quite as fast as Channing Tindall, but he's definitely got the wheels for the job," Dasher wrote. "His pursuit and ability to run down backs are as good if not better than anyone at the position, and he's athletic enough to drop in coverage if need be. "Listed at 6-3 and 220 pounds, 'rangy' is a good way to describe the former Paulding County standout who made 12 tackles playing in all 15 games last season."
UGASports Live
Former UGA offensive lineman Russ Tanner is in for Jim Donnan this week. Tanner joined Radi Nabulsi and Dayne Young to recap spring football, look ahead to the summer offseason and field listener questions.
With Raiola committed, where does Georgia turn?
Dylan Raiola (Chandler/Chandler, Ariz.) was one of Georgia's top prospects at quarterback for the class of 2024. However, he committed to Ohio State earlier this week.
Jed May broke down what that means for Georgia and where it will turn to find a top-notch quarterback two classes from now. Among Georgia's options is Jadyn Davis (Providence Day/Charlotte, N.C.).
"Davis is ranked as the top quarterback in the 2024 class," May wrote. "He certainly looks the part with good size and a natural throwing motion. Georgia offered Davis during his eighth grade year, and the Bulldogs have maintained a strong relationship with him since. Davis has visited Athens multiple times in the past year. Georgia is one of his top contenders along with Clemson, North Carolina, and others."
Rumors vs. Facts
2025 prospects to watch
May compiled a list of prospects in the 2025 recruiting class to keep an eye on for the Bulldogs. One such player is running back Bo Walker (Cedar Grove/Ellenwood), who Georgia has shown considerable interest.
"Walker isn't on this list simply because his first and last names belong to two of the best running backs in college football history," May wrote. "He is a very impressive looking prospect out of powerhouse Cedar Grove High School. Walker is already on Georgia's radar. He visited Athens for the Missouri game last fall and returned for the big spring recruiting weekend of March 19.
Arch Madness
Rivals was on hand to see Arch Manning (Isidore Newman/New Orleans) in his first spring practice of 2022 as he prepares for his senior season.
Sony Michel's ready to work in Miami
JFQ Lending is back again, sponsoring UGASports.com and providing you with home field advantage! For those of you that don't know us yet, JFQ Lending is a residential mortgage company licensed in 40 states. We're rocking an A+ rating with the Better Business Bureau and over 3,800 top ranked reviews and counting between Google and the BBB. JFQ Lending should be at the top of your draft list for any kind of refinance or a home purchase:
· Exclusive Rivals.com Home Field Advantage means we'll cover your out-of-pocket appraisal cost. Plus, anyone you refer gets that deal too
· We funded over $25 million dollars for 100+ Rivals members last year
· Our technology allows for a streamlined application process. Just click here
· 33,000+ clients assisted, 9 billion+ in funded volume
· Stay tuned for market updates from the "JFQ Commissioner"
See you on the forum, Go Bulldogs!!