The Daily Recap: Smael Mondon 'could take a huge jump'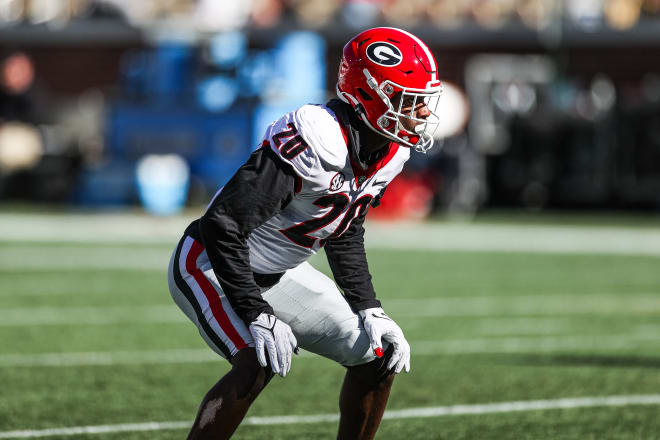 Here is the March 7 edition of The Daily Recap presented by JFQ Lending.
Mondon' time to shine?
In previewing Georgia's inside linebackers, which will be a completely revamped unit this year, Anthony Dasher noted that Rian Davis and Trezman Marshall bring the most experience to the group.
However, Dasher wrote that Smael Mondon is someone to watch for when it comes to Georgia's task in replacing Nakobe Dean, Quay Walker and Channing Tindall.
"Sophomore Smael Mondon could take a huge jump," Dasher wote. "Mondon was moved from outside linebacker to inside, and while he spent most of his time on special teams on Georgia's kickoff coverage and return teams, he appears ready to make significant contributions as an on-field defender.
"The former Paulding County standout finished with 12 tackles, including his first career sack against Charleston Southern. At 6-3, Mondon still needs to add some weight to his frame, but that should not be a problem."
Camarda talks up Thorson
At the NFL scouting combine, punter Jake Camarda offered up some positive things about freshman punter Brett Thorson.
"I've met Brett and he's a good dude. I can't say I know a ton about his game, but I have been on the field and see him punt a little bit. He's a really good player," Camarda said. "He's got a good leg. Look for it."
Nakobe Dean is asked a stupid question
Baseball: Bats come alive in Sunday rout
After suffering its first two losses of the year, Georgia got its offense rolling to defeat Georgia Tech 12-3 at Coolray Field in Lawrenceville, Ga.
"I feel like today we came out loose," catcher Corey Collins said. "We just took it upon ourselves to come out and have fun out there. There were a lot of fans, and it was kind of calming. We felt comfortable at the plate, we swung at good pitches, were aggressive, and it showed up on the scoreboard."
Hoops: Worst season ever concludes
Georgia's 2021-22 regular season, which is the worst in program history, has finally concluded. It ended with a 79-69 loss to Missouri.
"What happens to this team has been happening all year. We lose a little momentum, and we don't realize that we have to go get it back," head coach Tom Crean said. We start to get really quiet. When you start to get really quiet, you're not going to be very good defensively on the glass, and the ball movement is not going to be very efficient."
Georgia's next game is in the SEC Tournament as the No. 14 seed. It will face No. 11 seed Vanderbilt.
Lewis Cine is fast
JFQ Lending is back again, sponsoring UGASports.com and providing you with home field advantage! For those of you that don't know us yet, JFQ Lending is a residential mortgage company licensed in 40 states. We're rocking an A+ rating with the Better Business Bureau and over 3,800 top ranked reviews and counting between Google and the BBB. JFQ Lending should be at the top of your draft list for any kind of refinance or a home purchase:
· Exclusive Rivals.com Home Field Advantage means we'll cover your out-of-pocket appraisal cost. Plus, anyone you refer gets that deal too
· We funded over $25 million dollars for 100+ Rivals members last year
· Our technology allows for a streamlined application process. Just click here
· 33,000+ clients assisted, 9 billion+ in funded volume
· Stay tuned for market updates from the "JFQ Commissioner"
See you on the forum, Go Bulldogs!!