Will Dawgs' vertical passing game take a step forward in 2016?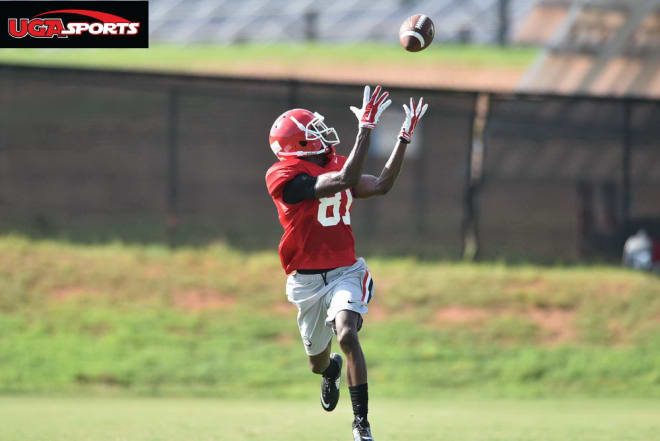 While the quarterback competition remains focal point for most who follow the Georgia football team, there's another lingering offensive question – do the Bulldogs have the weapons to make the vertical passing game an integral part of the offense this fall?
Head coach Kirby Smart certainly hopes so.
No matter who winds up being the starting quarterback - Greyson Lambert, Brice Ramsey or Jacob Eason - being able to stretch the field will be imperative if the Bulldogs want to be the kind of offensive team everyone - coaches and fans alike - wants to see.
"The biggest goal coming into camp was to improve third-down play defensively and offensively. A big part of that offensively is the vertical passing game so we've tried to focus on that with drills and situations in practices and scrimmages," Smart said. "But it's hard to measure how much we've improved in that because we've only been doing it about a week where we've hit third and longs."
But questions remain.
Depth – or lack thereof – at certain position has been a talking point for head coach Kirby Smart all preseason, and wide receiver is no exception.
Although Terry Godwin saw plenty of action as a true freshman and posted some solid numbers, catching 35 passes for 379 yards, it gets a bit sketchy.
Reggie Davis and Isaiah McKenzie caught 12 and 13 passes, and behind them are players still looking to make an impact at the position, including the likes of sophomore Jayson Stanley and Michael Chigbu, along with newcomers Riley Ridley, Javon Wims and Tyler Simmons.
But offensive coordinator Jim Chaney remains confident.
"As far as having enough players to move the ball down the field, I feel comfortable in saying, I believe we'll be okay that way. We've got enough players," Chaney said recently. "I think coaches; we always want better players. Never been a coordinator up here that doesn't want 10 great wide-outs, four tight ends, seven running backs, four quarterbacks, 20 linemen. We all want more players. We want better, great quality players to win in the SEC with, and we'll continue to do that through recruiting. But I feel comfortable in saying we should be able to find a way to utilize our talent to move the ball down the field."
But as Smart is quick to assert, there's a ton of work to be done and making sure the Bulldogs have a vertical threat will be something the offense will continue to emphasis the rest of preseason camp.
"When we run the ball good, we throw it good vertical because it sets it up. So the more ability we have to stick it in there and run hard, the vertical passing game picks up," Smart said. "But the vertical passing game is a lot of timing, protection and that's a big part we're trying to improve on."
Receivers are also being pushed to ensure enough progress is made.
"We've challenged the receivers how to run the same routes in a third-and-10 situation that they do in routes on air," Smart said. "It's harder to do that because there are people standing out there and they're hitting you, plus there's people coming in the quarterbacks' face."
Basically, Smart just wants to see some consistency where his receivers are concerned.
That includes Godwin, who the Bulldog head coach says needs to start showing him more in that very important regard.
"I've seen Terry up and down. I know the athlete Terry is and the athlete Terry can be. But Terry needs to get a little more consistency. I tell him that every day," Smart said. "He has to block with the same vigor that he runs a route with. He has to practice starts and takeoffs, all the little fundamentals as hard as he does when he's getting the ball. That's the part that Terry's got to do, he's got to be more consistent. If he does those things, he can be a good player. But Terry can't be a great player until he does all those little things right now."