When it comes to his defensive line, Smart not complaining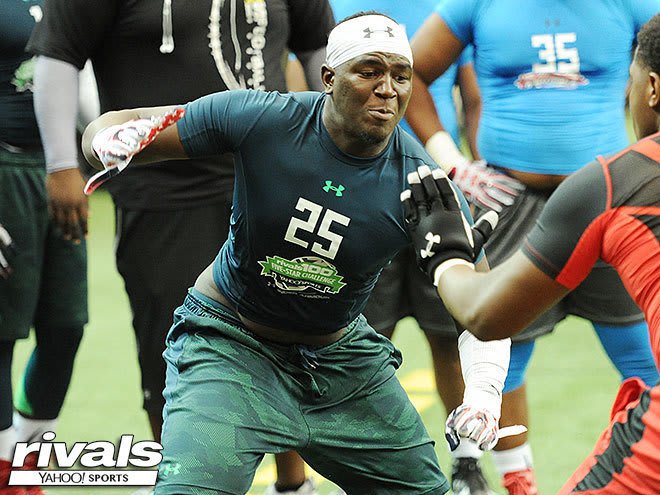 Don't get Kirby Smart wrong.
Yes, he would have liked to have signed more than two defensive linemen, but that doesn't mean he's unhappy with the way National Signing Day turned out.
"Would I like to have had more? Yes. Was I pleased with what we had last year? Yes. But ultimately there's a limit for what you can have," Smart said. "There's a target area for what you can have at each position. We're kind of on our target area in that position."
In other words, while Aubrey Solomon would have been a welcomed addition, it's not like the Bulldogs are in trouble from a position standpoint despite the fact that he elected to sign with Michigan instead.
The Bulldogs will go into spring practice with all nine lettermen back at the position from 2016, led by Liberty Bowl MVP Trenton Thompson, who could be in line for an All-SEC type year.
Wednesday's additions of Devonte Wyatt and Malik Herring should fit right in quite nicely.
"I don't think you ever turn down a good defensive lineman. They're just hard to come by, and it's really hard to get those guys," Smart said. "The top five, six in the country, they're always the most competitive guys to get because that's the hardest position to find. We did try to target more athletic, faster, 'twitch' guys."
Wyatt and Herring resemble that remark.
"We think Devonte Wyatt is that way. He can run, he's got some quickness. Malik (Herring) is that way. He can run, he's got some quickness," Smart said. "We hope some guys we signed last year can grow into those guys, some of the smaller guys."
Herring could certainly be one of those players.
Physically, the former Mary Person's star resembles sophomore David Marshall, who added approximately 15 pounds to his 6-foot-4 frame and enjoyed a solid freshman year, making 24 tackles with 2.5 sacks.
Wyatt too, can be expected to add 10 or 15 pounds, while adding to the list of options Smart and position coach Tracy Rocker will operate with next fall.
"Some of the guys in this class might end up growing into that. I don't ever think you can sign enough defensive linemen," Smart said. "It almost turned out this year like the defensive line is like the offensive line last year, where you wished you could've gotten that one more guy, or an extra guy, but we're certainly pretty tapped out as far as our numbers."