Tuesday Post-Practice Notebook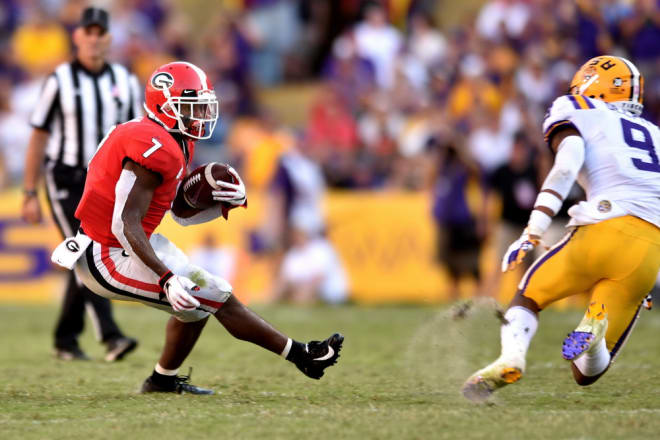 Injury update
Running back D'Andre Swift is currently bothered by an ankle injury, but according to head coach Kirby Smart it does not appear to be serious.
"He wasn't outside when y'all were there. He's got a little bit of an ankle contusion/sprain, but think he'll be fine," Smart said. "He was getting treatment during that time. Hopefully, he'll be back by the end of this week."
In other injury news:
…Outside linebacker D'Andre Walker was back at practice Tuesday after suffering cramps at LSU.
…Defensive lineman Devonte Wyatt (leg) returned to practice.
…Smart said defensive end David Marshall (foot) is doubtful for next week's game against Florida and that backup nose DaQuan Hawkins-Muckle remains out with an undisclosed injury.
…Right guard Ben Cleveland continues to make progress, although no timetable has been given for his return.
"He's running under water where it's not full weight bearing but he's running. He's off of the crutches, out of the boot," Smart said. "That was a positive coming back from the game, but he's not like he's going to be back right now, but we think he's going to be able to help us."
…Freshman defensive back Divaad Wilson (ACL) is close to getting back. "We don't know yet. He's not cleared to do that yet. We thought he would be, which we're not live tackling today," Smart said. "We hope he's cleared for Florida, but he's not as of yet. We hope to. He's getting more work obviously. He's not cleared completely yet."
Campbell, Camarda getting pushed
Neither cornerback Tyson Campbell nor punter Jake Camarda had good afternoon Saturday against LSU and that's apparently opened the door for others to earn more playing time.
Campbell was targeted 12 times by LSU quarterback Joe Burrow, who completed eight passes against the freshman for 153 yards.
Camarda, meanwhile, struggled not only with distance, but also shanked several kicks.
"We're pushing guys to go out there and play and do some good things. Jake, we worked some other guys in there kicking today. He's got to execute better. Talented kid, just didn't have his best day," Smart said. "It's kind of the same way with Tyson. We know that he's a really good, talented player and he's played better in some other games. He went against some good players Saturday and they went after him. He didn't make as many plays as he'd like to. It probably took some of his confidence away but he's got to grow up fast and we've got to help him. We've got to help him some."
Mark Webb and Eric Stokes are two players who could begin to take playing time away from Campbell, while grad transfer Landon Stratton and Bill Rubright could challenge Camarda for reps at punter.
Trio of defensive players making moves
Smart cited Malik Herring, Robert Beal and Jordan Davis for their efforts against LSU.
"All three played more snaps than they've been playing, but Jordan and Beal, especially, did a lot more than they've been playing," Smart said. "They've been on scout team a ton so we've used them as examples to say this your opportunity to leapfrog a guy. We're getting three groups of reps. We're getting a lot of reps out there this week where we can say how far as Chris Smith come, how far has Deangelo Gibbs come, how far as Justin Shaffer come. That's how you improve your team, how you improve your program, you get tons of reps and get to work. We did that today."
Their hard work is apparently paying off.
According to Smart, the trio as put themselves in position for addition game-reps, starting with next week's game against Florida.
"We really believe in those (scout team) reps. It's the guys who are down there are sometimes better than the guys who go against the scout team. Jordan is a great example of that. He played really physical in the game, he held the point, we actually did a little better against the run with him playing in there," Smart said. "But Robert has had an opportunity to continue to grow on the scout team. Robert works really hard. Robert got a little bit of confidence cause, because for the first time in a game he had two pass rush situations where he beat his guy pretty quick and I feel like he knows what to do a lot faster now and it shows up on the field. That helps him."