Thompkins leads Dawgs to victory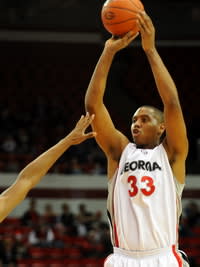 "We had one goal tonight, and that was to win," said Georgia head coach
Georgia's victorious effort was lead by sophomore forward
"Trey's numbers were very good," said Fox. "I said to my assistants that Trey should get 40 points and I think he should have gotten 40, to be honest with you. He certainly carried us at certain points during the game."
As impressive as Thompkins' statistics were, the Bulldog victory was not a solo effort. He was assisted by ten other players in the scoring column, most notably sophomore point guard
Georgia will take a weeklong hiatus from competition for the winter holiday, and return to face the Pepperdine Waves on December 30th at 7 PM at the Stegeman Coliseum in Athens. The game can be seen live on georgiadogs.com and heard on the Georgia Bulldog Radio Network.