The Bulldogs' Off-Bye Blues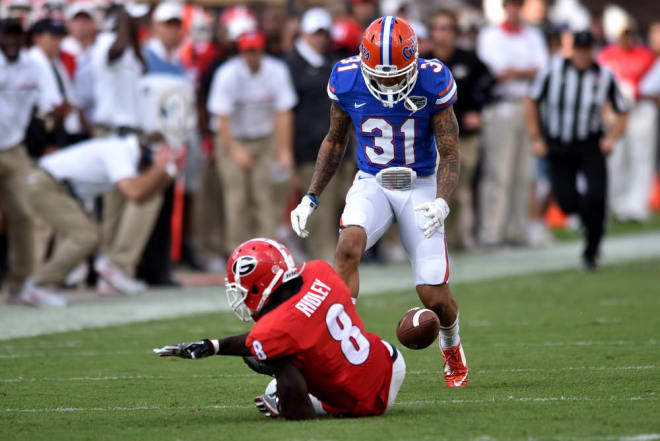 I hate to bring this up, especially during what is shaping up to be a banner year for the Bulldogs. However, no matter what kind of season Georgia is currently experiencing, there is an against-the-spread (ATS) trend for the program when coming off a bye week which is perhaps worth mentioning.
In trying to measure results for head coaches coming off an open week, comparing their straight-up records is hardly fair because of a dissimilar level of competition. Likely a better comparison would be the coaches' off-bye ATS records—in my mind, a good measurement of a team/coach in terms of overachieving or underachieving.
Something I often mention when discussing ATS results: It is generally said a game's point spread is merely the number to which a sportsbook has secured equal amount of money on each side, which is, for the most part, accurate. Still, that implies the point spread is based on public (betting) perception. Plus, if you were to look at the teams that have fared the best ATS over the last 10-15 years, they'd be the same programs that your average college football enthusiast would determine as "overachieving" teams during the same period: the Boise States, Wisconsins. Likewise, the programs with the worst ATS results are generally the same teams recognized as "underachievers": the Tennessees, Miamis, and including, for about the last decade, Georgia.
For Georgia's last five head coaches, the following table reveals their ATS record/winning percentage off a bye week, overall career ATS winning percentage, the most common opponent each faced off a bye, and the difference in their ATS winning percentage off a bye and ATS winning percentage not off a bye:
UGA Head Coaches Off/Not Off A Bye (ATS)
| Coach | Seasons | ATS Off a Bye | ATS for Overall Career | Most Common Opp. Off Bye | Difference (ATS Off Bye and ATS not Off Bye) |
| --- | --- | --- | --- | --- | --- |
| Dooley | 1964-1988 | .457 (16-19) | .545 | GA Tech- 24 | MINUS .101 |
| Goff | 1989-1995 | .500 (7-7) | .494 | GA Tech- 7 | PLUS .008 |
| Donnan | 1996-2000 | .583 (7-5) | .517 | Auburn- 5 | PLUS .083 |
| Richt | 2001-2015 | .409 (9-13-1) | .497 | Florida- 6 | MINUS .100 |
| Smart | 2016-2017 | .000 (0-1) | .550 | Florida- 1 | * |
The Bulldogs' ATS outcomes off a bye beginning in 1964 are certainly mixed results. For Vince Dooley who, overall, was the most successful against the number by far (excluding Kirby Smart because of his small sample size), he struggled off a bye, going 4-10 ATS from 1969 through 1980 and 3-9 ATS from 1982 into his final season of 1988.
Ray Goff covered his final five games coming off a bye. After not covering his first off-bye game, Jim Donnan covered six of his next seven.
During the first half of his tenure, Mark Richt had tremendous ATS success coming off a bye, covering seven of his first nine contests under such circumstances. However, beginning in 2008, he endured a lowly stretch after having a week off, recording a 1-10 ATS mark through 2015.
Therefore, beginning with the Tennessee game in 2008 and ending with Smart's lone result following an open date (14-point loss to Florida last season as a 7½-point underdog), Georgia is a staggering 1-11 ATS in its last dozen games off a bye. Three of the 11 losses, the Bulldogs were favored by at least 6½ points and lost straight up. The one game they covered, barely covered, when as 2½-point favorites over Florida in 2011, Georgia won by four points. Notably, the 11 losses did not cover by an average of a lofty 11 points.
What's more, I glanced over the Bulldogs' ATS results beginning in 1964 through last week's game—a total of more than 500 games—and never, and really not even close, did Georgia go 1-11 ATS during any 12-game stretch.
So, what does this all mean for a week from Saturday in Jacksonville? Perhaps nothing at all. As likely a 12-to-15-point favorite, the Bulldogs, I actually believe, have a good chance of bucking their recent trend of not covering off a bye.
Why? If it signifies anything, a team consistently not playing up to standard after a week off conveys to me a program of complacency and a lack of urgency—maybe only in the slightest. I believe that is no longer the case with the Georgia program—not even a hint. As Coach Smart has said, "There will be no comfortable," including, I presume when it comes to, and immediately following, a bye week.