Thankful for Number 94
Happy Thanksgiving.

On this day of giving thanks (and football), I'm reminded of a story which first circulated just prior to the Georgia-Georgia Tech game 53 years ago—an account of how the Bulldogs' football program, after firing its head coach, instantly turned around upon the arrival of a new addition. And, although a young, first-year head coach and his assistants certainly were a major reason for Georgia's reversal of fortune in 1964, I do not speak of the dawning of the Vince Dooley coaching regime.
After a lowly 10-16-4 combined mark from 1961 through 1963, Georgia hired Dooley and, soon afterward, received it or, if you prefer, received him—he was recognized as both—but most referred to him simply as "Number 94."
When Number 94 first came on campus that summer, it was said "students and faculty members alike lined the streets to watch" his arrival. On the gridiron, Georgia was suddenly known for its hustling and dazzling play on defense and, as the 1964 regular season drew to a close, reportedly, "it can now be revealed that the '94' helped make…the razzle-dazzle possible."
Number 94 had the uncanny ability to anticipate the various play patterns of opposing offenses which, in turn, made the entire Bulldogs defense much more "knowledgeable," as Dooley acknowledged, "like mind readers at times." During a time when two-way players were on the decline, Number 94 was just as valuable to Georgia's offense as to the defensive side of the ball. "Needless to say, we're enthusiastic," Dooley remarked regarding the newcomer's overall performance.
With the Bulldogs entering their game against the Yellow Jackets with a 5-3-1 record, and already heading to a bowl game, the Sun Bowl, for only the second time in 14 years, it was declared Number 94's "contribution to the red-shirted Dogs throughout the fall has been nothing but short of sensational, most fans and seasoned analysts, alike, agree"—and he was likely "the Georgia Bulldogs' most valuable player of the '64 season."
When I initially heard the beginning of this story, I racked my brain trying to figure out who—apparently, the MVP of Coach Dooley's first Georgia football team—wore jersey No. 94 in 1964. I was absolutely stumped—that is, until I was informed that "he" was not Number 94 the Bulldogs' football player, but Georgia's Number 94—the school's IBM 7094 computer.
Upon his arrival to Georgia, Dooley was curious if a scientific approach could better his team's chances to win ballgames. Nearly filling an entire room at UGA's Computer Center, an IBM 7094 computer was purchased by the university for around $3.5 million which, considering inflation, would equate to roughly $28 million today. Serving as a liaison of sorts between man and machine, Georgia's head scout Frank Inman approached the center's Dr. J.D. Williams, who developed a program which coded information into Number 94.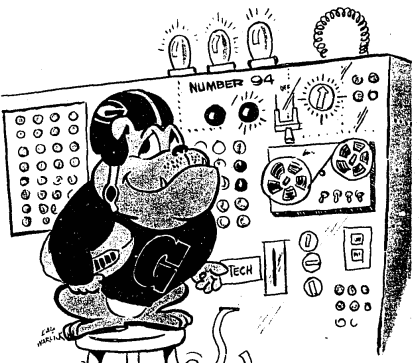 Scouting data from Inman was entered on a deck of "source cards" by Williams. The data primarily consisted of offensive and defensive play details like down and distance, formation, field position, etc., and obviously the results of the plays. For each game in 1964, Georgia used the opposition's play details from its previous four games. Taking about an hour to compute each game's data, Number 94 compiled the information and then printed it out on "output sheets" for the coaches' usage.
Although an opponent's effort, spirit, and determination obviously could not be considered, nor if the Bulldogs happened to encounter new plays, Number 94 was able to reveal what was called "the complete picture" of every offensive and defensive play for that week's opponent.
Notably, from 1961 to 1963, or the three seasons leading up to Number 94's arrival, Georgia's .400 winning percentage ranked tied for 98th of the then-135 Division-I college football teams. With Number 94 onboard in 1964, the Bulldogs finished out their campaign with 7-0 victories over Georgia Tech followed by Texas Tech in the Sun Bowl, before recording a combined 31-10-2 mark the next four seasons. Georgia's .731 winning percentage from 1964-1968 was the 13th-best in college football during the time period, and second in the SEC only behind mighty Alabama. The Bulldogs would not achieve a higher winning percentage over a five-year span until 1978-1982.
However, and seemingly out of the blue, the Bulldogs promptly followed their extraordinary turnaround by finishing 5-5-1 in 1969, and then another .500 season in 1970 at 5-5, begging the question: What the heck happened?
There are a number of theories as to the primary reason behind Georgia's sudden two-season setback following its five-season success. For one, understanding that technology develops so rapidly, doesn't it always appear like when a new computer is purchased, in little time, it already seems out of date? (Y'all remember that tomorrow when standing in a line for hours for a new laptop while the madness of Black Friday looms.)
Well, by the late 1960s, IBM's 7000s had become obsolete and were replaced by the company's System/360 model. In other words, Number 94, the individual, if you will, which played a major role in turning around the Georgia football program in the mid-60s, had run out of eligibility—so to speak—by the end of the decade.