Sugar Bowl Notebook
Chaney assessment of offense in 2018
NEW ORLEANS – Offensive coordinator Jim Chaney was asked to give his assessment of the Georgia offense during Sunday's press conference at the downtown Marriott, media headquarters for Tuesday night's Sugar Bowl (8:45 p.m., ESPN).
On one hand, Chaney said, he has to be pleased with the fact the Bulldogs come in averaging almost 40 points per game (39.2). But as a coach, he points out, you're always searching for that perfect game. There are always areas to improve.
"I feel good about it. I think that, as a coach nowadays, when you're clicking around that 40‑point mark, you feel like you're doing okay. You're scoring points," Chaney said. "But when you sit in this chair, you're never happy. We're looking for that perfect game and perfection at all times. Are we content with what we got done? In some ball games. Other games, we didn't play particularly well."
Georgia's 36-16 loss to LSU jumps to mind, because it likely kept the Bulldogs out of the College Football Playoffs. In that game, the Bulldogs were having early success running the ball. But after the Tigers managed to claim the lead, Georgia abandoned the plan.
Chaney admitted the game caused some personal soul-searching.
"I think, when success doesn't come your way, you have to reflect. And you guys know me. I do that a lot. I look at myself. I don't think I called a particularly good football game. I don't think we particularly played a very good football game, and I think we all had to come to grips with that," Chaney said. "The reality of it was, in our opinion, we needed to go out and get it done better on the practice field. You could see that change from about that moment on. Okay. We've got to go out and we've got to flat work harder."
The result showed.as the Bulldogs averaged 41.6 points in rattling off five straight wins before falling to Alabama in the SEC Championship, 35-28.
What did Chaney tweak to get such improvement?
"I don't know. There's no magic wand or secret pill. You guys know all that stuff I talk about. You've got to go out and work. And I think our kids came back out to work, and they really had a good couple of weeks prior to the Florida ball game in practice," Chaney said. "And it paid off. When you can reap the benefits, and you can actually see, 'Oh, I work hard, good things come my way'—that's the key to the deal.
"We were having some good things come our way, but I'm not necessarily sure we were working as hard as we should have. It kind of opened up - like you said, it opened our eyes a little bit. Hopefully, we've all learned from that."
Next year? A lot still depends on whether any offensive players elect to leave early for the NFL. Even so, the 2019 edition promises to be just as potent.
Jake Fromm will be embarking on his third straight year as the starter at quarterback, with running back D'Andre Swift primed for an even bigger season.
All eyes will be on receivers Riley Ridley, Mecole Hardman, and tight end Isaac Nauta, and whether or not they choose to return. But even if they don't, Georgia's offensive cupboard figures to be deep enough to post numbers just as fat as those we saw this past year.
At least that's what Chaney is hoping.
"I think we did throw the ball a bit better than we have in years past, and I do believe that will continue to grow and continue to develop. I've talked to you guys a lot about familiarity with the offense. And Jake (Fromm) just ran through his second year in the system. That shows. Jeremiah Holloman—third year in the program," Chaney said. "Those first few years we were playing a bunch of young kids, except for the boys that took off for the draft. The thing I'm most proud of is those kids who left for the draft, and the quality individuals they are, the young kids stepped back up. And we were able to maintain and continue to achieve at some points that we needed to win a few ball games."
Holyfield mum on leaving—or was he?
Elijah Holyfield told reporters Sunday he hasn't made any decision about whether or not he's leaving Georgia a year early for the NFL, although a comment made later during his interview session certainly opened some eyes.
"Jake (Fromm) is going to improve even more, and next year he will be even better. Same thing with D'Andre (Swift) and same thing with me," Holyfield said. "We are all going to be very deadly next year."
The junior had something a bit different to say when asked to comment specifically about the possibility.
"I haven't really given it much thought," Holyfield said. "I've just been trying to focus on my team and this game, so I really haven't given it much thought."
The deadline for underclassmen announcing for the NFL Draft is Jan. 14.
"I haven't really talked to my parents about it," Holyfield said. "People have asked me, but I tell them the same thing, I'm just focused on my team and beating Texas."
As Georgia's second-leading rusher, Holyfield only needs 44 yards against the Longhorns to join D'Andre Swift as a 1,000-yard rusher, carrying on a one-year tradition started by Nick Chubb and Sony Michel, who accomplished the feat last year.
Holyfield currently has 147 carries for 956 yards and seven scores.
One of Georgia's most consistent performers, Holyfield twice reached the 100-yard mark, highlighted by an 18-carry, 115-yard effort against Kentucky. He also rushed for 100 yards against Middle Tennessee, an effort that included a career-best 66-yard run.
Chaney on Nauta and Ford
Chaney said he didn't know what's going to happen regarding the futures of tight ends Isaac Nauta or Luke Ford.
Nauta is considering leaving Georgia a year early for the NFL, while Ford placed his name in the NCAA's transfer portal and could possibly leave the program after the Sugar Bowl.
"What's going to happen is going to happen in the future. I can't anticipate that," Chaney said. "Once again, as I just mentioned, you try to talk to them and do the best job you can."
Should both players go, that would leave junior Charlie Woerner, freshman John FitzPatrick, and incoming freshman Ryland Goede as Georgia's only scholarship tight ends.
"Does it make you worry about the depth of the position? Certainly, it always does. You worry about that at every position," Chaney said. "You continue to recruit your butt off and do the best you can to put yourself in a position to have enough players at every position to be able to compete."
Mathis, Bennett welcomed additions
Even if Fields does go through with a transfer, the addition of signees Dwan Mathis and Stetson Bennett will mean the Bulldogs will have three scholarship quarterbacks on hand next fall.
"He's an athletic kid," Chaney said of Mathis. "We've been trying to get the depth you'd like to have at that position for some time. And it just showed up at that particular time in the recruiting cycle that we could do that. He's a good, talented kid. We had him in camp a couple of years ago. We've always kept our eyes on him. We watched him and liked him. He's athletic. He can deliver the ball the way we like for him to."
Stetson Bennett, of course, already knows Georgia's offensive system. Therefore he'll be a welcome addition as well.
"Stet, we knew everything about him," Chaney said. "We figured he could come right back into our program and know our system very well. And he's a good football player, so we're glad to get both of them."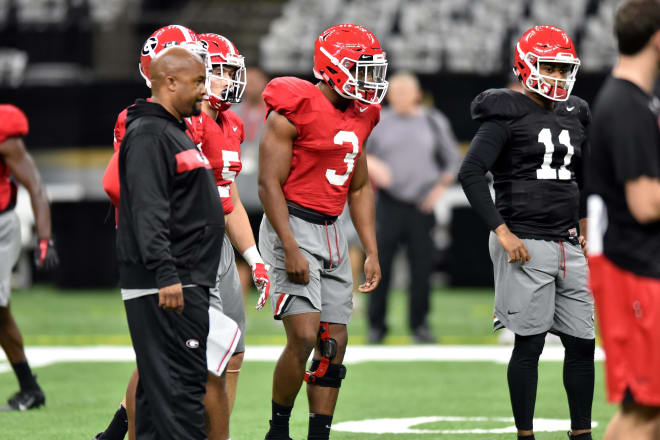 Swift not betting against Zamir White
Based on what he's seen, D'Andre Swift isn't about to bet against Zamir White being able to come back after suffering two ACL injuries in the past year.
"He's getting stronger. His mindset is just great," Swift said. "He keeps his spirits high. Those two injuries right there, some people might quit off those. But with him, his mindset is stronger, and he's getting better every day."
White's rehab certainly seems to be going well since suffering his second injury back in August while covering punts.
The freshman was seen jogging back last week in Athens. Saturday he was on the field at the Superdome, going through non-contact drills with Georgia's other backs.
Swift said he sees no reason White can't come back to normal, despite what may seem like long odds. "Most definitely," Swift said. "I hope he will, I pray he will."