State of the offensive line
We started out our in-depth series looking at each individual position group by examining Georgia's running backs, which despite the loss of Nick Chubb and Sony Michel, still looks to be one of the Bulldogs' strengths this fall.
Today, let's take a look at the offensive line.
In just two years, Kirby Smart and offensive line coach Sam Pittman have transferred this unit into what looks to be a potential powerhouse.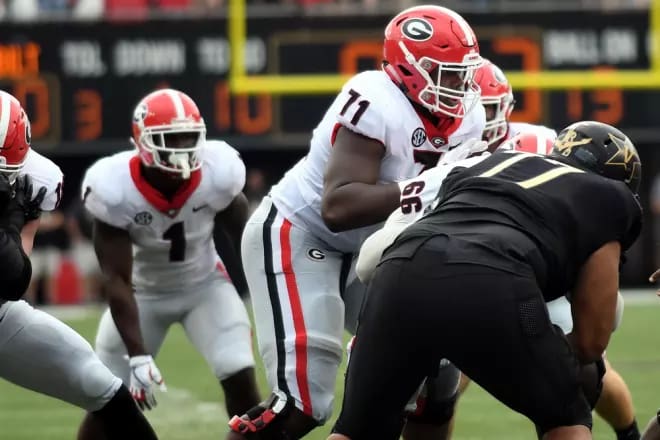 2017 SUMMARY
When last season began, Georgia's offensive line may have been the biggest question mark regarding the Bulldogs' 2017 squad.
With three new starters, a first-time center in Lamont Gaillard, there were many who feared the unit would be a weakness.
Boy, were they wrong.
Isaiah Wynn may not have been the biggest left tackle in the SEC, but he was one of the most effective, allowing just one sack the entire year.
Of course, he had plenty of help. Freshman Andrew Thomas had some early bumps but served the Bulldogs well at right tackle, while Kendall Baker seemingly came out of nowhere to become the starter at left guard, starting all but the opener against Appalachian State.
Gaillard became a stalwart at center, while redshirt freshman Ben Cleveland was inserted into the starting lineup in Week 11 against Kentucky and never looked back.
For the first time in years, depth wasn't a problem. During the course of the season, Pat Allen, Dyshon Sims and Solomon Kindley also started at various times.
HIGHLIGHT OF 2017
It's a bit more difficult to quantify individual success when it comes to the success enjoyed by offensive linemen, so we'll go with what in my mind was an obvious choice.
Although there were certainly a number of efforts to choose from, we'll use the Rose Bowl as the greatest example of how good Georgia's offensive line actually was in 2017.
Wynn, Gaillard and company made the defensive front of the Big 12 champs look like a kindergarten corps as the Bulldogs piled up 527 yards of total offense, including 317 on the ground.
Overall, it was just a dominating effort by Georgia, which used the win to propel itself into the national championship against Alabama.
LOWLIGHT OF 2017
As we roll through this particular series, don't be surprised if we harken back to Georgia's 42-17 loss to Auburn more than a few times.
We mentioned last time how Georgia only rushed for 46 yards, but in this game, pass protection was also an issue.
The Tigers sacked Jake Fromm four times, as it was otherwise just a miserable day all the way around for the Georgia offense – the offensive line included.
KEY DEPARTURES
The biggest departure will be Wynn, who despite being one of the smaller left tackle in the SEC, coupled his great strength and technique to become one of the best at his position in the SEC.
He followed that up with an outstanding week at the Senior Bowl, an effort which some NFL draft experts believe could bump him up to late in the first round.
Otherwise, the only other scholarship players who won't be part of the offensive line this fall will be Dyshon Sims, who graduated, and Sage Hardin, who gave up the sport due to injury.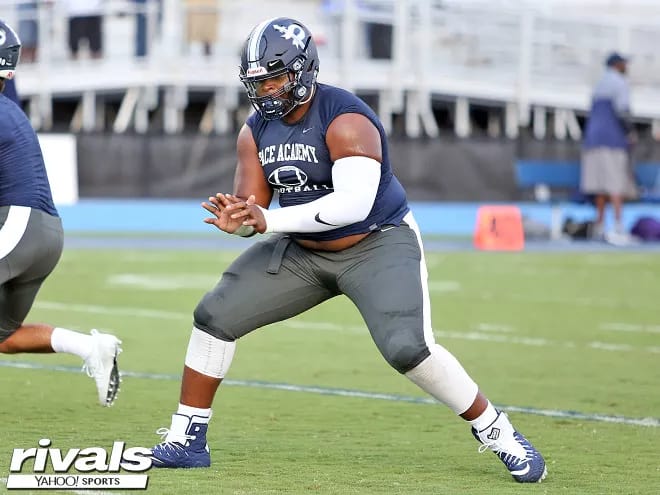 KEY NEWCOMERS
We can go on a while here, as Georgia's incoming class of offensive linemen – at least on paper – could really be something to watch.
For purposes of this story, we'll start with a pair of five-star prospects. Jamaree Salyer, regarded as the No. 1 offensive guard by Rivals, could actually play a number of positions – he's that good.
Ditto for Cade Mays. Pittman revealed before the Rose Bowl that Mayes and redshirt freshman Isaiah Wilson will battle for the starting job at right tackle. That's high praise for an incoming freshman.
Newcomer Trey Hill – like Mays – is an early enrollee and will get along look at guard, and perhaps center, this spring.
Warren Erickson is a former four-star recruit who is already on campus, while 6-foot-7 Owen Condon is a likely redshirt but coaches expect him to develop into a contributor down the road.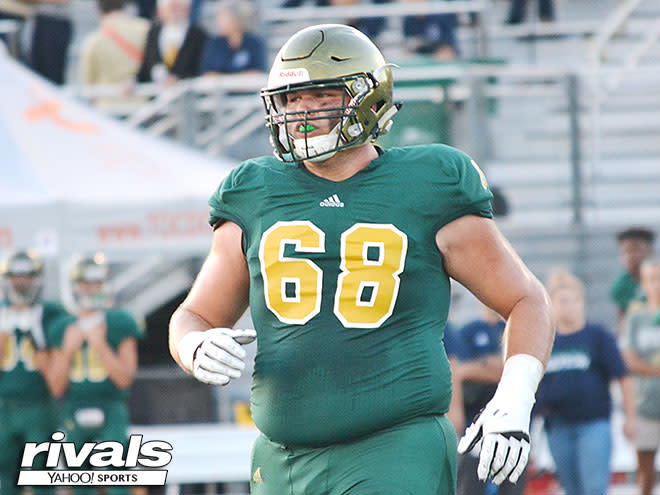 OUTLOOK FOR 2018
Obviously, nothing is set in stone, but Andrew Thomas at left tackle certainly appears to be about as close to a guarantee as you can get.
The former Pace standout was moved to the left side from right tackle immediately after the national championship, and barring something totally unforeseen, will be the man at the position for the season-opener against Austin Peay.
Gaillard will start for the second straight year at center, with Cleveland expected to hang onto his starting job at right guard.
Left guard will probably be the most interesting position to watch.
Baker did an excellent job last year in his first season as a starter, but if Salyer is as good as we think he is, he'll be tough to keep off the field.
We've mentioned it appears either Wilson or Mays will be the new right tackle for 2018, all but assuring Georgia's it's most physically intimidating offensive line as the Bulldogs have had in recent memory.
These are fun times for Pittman.
State of the offensive line
| Player | Class | Season Review/Look ahead |
| --- | --- | --- |
| Andrew Thomas (6-5, 320) | Sophomore | Thomas enjoyed a solid freshman year at right tackle, starting all 15 games. He's currently learning the ins and outs of playing left tackle where, word is, he's picking the challenge up quickly. |
| Kendall Baker (6-6, 305) | Senior | Baker came out of nowhere to take over the starting job at left guard and started all but the first game. He'll likely go into fall as the starter, but freshman Jamaree Salyer could ultimately challenge for the job. |
| Lamont Galliard (6-2, 305) | Senior | Gaillard handled himself better than expected after starting the previous season at right guard. Although he toyed with leaving early for the NFL, he'll return as perhaps one of the best centers in the SEC. |
| Ben Cleveland (6-6, 340) | R-Sophomore | Cleveland moved into the starting lineup at right guard and didn't look back, getting better as the season went along. Now seemingly anchored at right guard, he's got a chance to develop into an All-SEC performer before all is said and done. |
| Pat Allen (6-4, 295) | Junior | Allen started the first game of the year at left guard, but saw his playing time fall off after Baker established himself as the starter. Allen will try to regain a starting job, but figures to be one of the key backups. |
| Solomon Kindley (6-4, 330) | R-Sophomore | Kindley started seven games at right guard before being overtaken by Cleveland. Still, the Jacksonville native is a big part of the offensive line picture for the Bulldogs. |
| Justin Shaffer (6-4, 345) | Sophomore | Shaffer saw action in eight games for the Bulldogs at left guard. Coaches love his strength and he's got a bright future, but the competition will be tough. |
| Chris Barnes (6-3, 288) | R-Sophomore | Barnes saw limited action last year and doesn't figure into major playing time. He may see time at center. |
| Sean Fogarty (6-4, 295) | Senior | A transfer from Savannah State, Fogarty served as the backup for Gaillard last year and figures to do so again this fall. |
| Sam Madden (6-6, 334) | Junior | Madden continues to plug along, but playing time will only come in an extreme emergency. |
| Netori Johnson (6-4, 325) | R-Freshman | Johnson redshirted last year after coming down with diabetes. How much that sets him back as he battles for playing time remains to be seen. |
| D'Marcus Hayes (6-5, 315) | R-Junior | Hayes struggled adjusting to big-time ball last year. He's still listed at left tackle in a backup role, but it's questionable whether or not he will ever see the field. |
| Isaiah Wilson (6-7, 345) | R-Freshman | Wilson apparently put his redshirt year to good use and is ready to challenge for the starting job at right tackle, according to offensive line coach Sam Pittman. |
| Jamaree Salyer (6-4, 305) | Freshman | Salyer is seen as a ready-now contributor for the Bulldogs. It will be interesting to see where he lands, but the guess here is left guard. Don't be shocked if he ultimately wins the job. That's no afford to Kendall Baker; it's just Salyer appears to be that good. |
| Cade Mayes (6-5, 300) | Freshman | Mays will play early and perhaps even start at right tackle. He will have to beat out Isaiah Wilson to win the job, but according to Pittman, the early enrollee certainly is going to get his chance. |
| Trey Hill (6-4, 330) | Freshman | Another big-body lineman that Pittman loves. An early enrollee, Hill will get looks, perhaps even at center, but it won't be a surprise if he winds up redshirting to get himself in a little better shape. |
| Warren Erickson (6-4, 290) | Freshman | There's a lot of Ben Jones inside of Erickson in regards to his work ethic and the attitude in which he plays. Erickson, perhaps Georgia's center of the future, would seem in line for a redshirt season, but time will tell. |
| Owen Condon (6-7, 270) | Freshman | Condon has the frame but obviously needs to add some weight before he can figure his way into some sort of rotation. |
From Earlier
Tailbacks: https://uga.rivals.com/news/state-of-the-program-part-1