State of the defensive backs
With several key losses coupled with the way Georgia lost the national championship to Alabama, the secondary figures to be one of the closest watched position groups when the Bulldogs begin spring practice here in a couple of weeks.
However, there shouldn't be a shortage of talent.
Coaches have gone to great lengths to restock the position with a number of young players. The trick this spring is to find out who fits where.
As we continue our State of the Bulldogs series, it's time to focus on the defensive backs.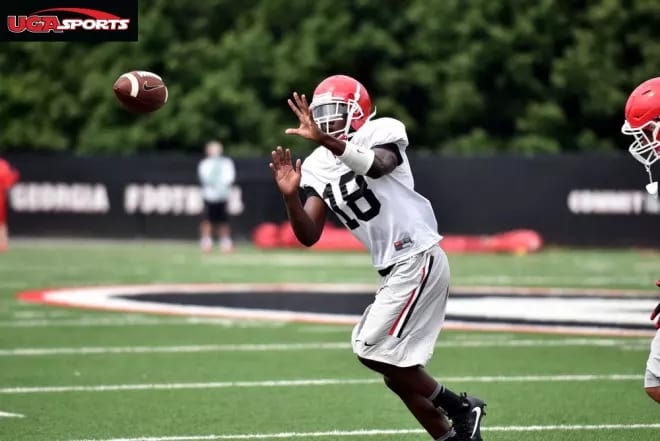 2017 SUMMARY
It was an overall good year for the secondary, although there were some hiccups along the way.
Deandre Baker had an outstanding year, and could have turned pro before electing to return for what could be a memorable campaign for the senior. Baker has developed into one of the best corners in the SEC.
Tulsa transfer J.R. Reed enjoyed a solid season playing both Star and Safety, while Dominick Sanders capped a strong season by tying Jake Scott and Bacarri Rambo for most interceptions (16) in the history of the school. Sanders also went on to become Georgia's all-time leader in interception return yards with 381.
Unfortunately, it's the final play of the year that fans will remember the most as it was the blown coverage with Malkom Parrish and Sanders that resulted in Alabama hitting the game-winning play.
HIGHLIGHT OF 2017
Georgia's Rose Bowl victory over Oklahoma provided one of the biggest highlights for the Bulldogs.
Needing a big defensive play, Sanders delivered when he intercepted Baker Mayfield and returned the football 39 yards to set up a score. The pick also allowed Sanders to tie Scott and Rambo on Georgia's all-time list, but more importantly set up a quick score that the Bulldogs would need to ultimately get the game to overtime and defeat the Sooners for a trip to the National Championship.
LOWLIGHT OF 2017
That would be the final play in overtime in the National Championship against Alabama.
After the defense had sacked Tua Tagovailoa back at the 41-line line, the Bulldog secondary picked the wrong time to blow a coverage, but that's exactly what happened when Sanders failed to get over quick enough to help bail out Parrish who was beaten off the ball.
Tagovailoa threw three three touchdowns in the second half against the Bulldogs.
KEY DEPARTURES
The Bulldogs lose a trio of players who started most of the games last fall.
A four-year starer, Sanders started Georgia-record-tying 54 games over the course of his career after coming to Georgia as an unheralded defensive back prospect out of Tucker High.
Parrish didn't enjoy the season he had hoped. His coverage skills seemed to take a dip from what he showed his first three years.
Aaron Davis gave the Bulldogs tremendous versatility, starting games at corner, safety and starter over his career. He will be missed in the secondary and the locker room. Not bad for a former walk-on.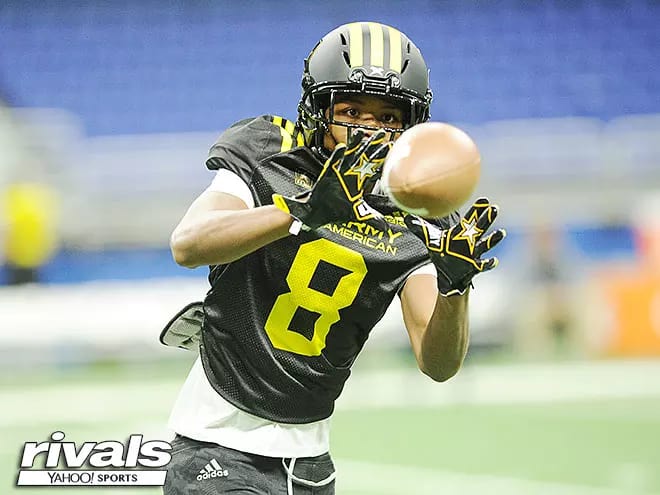 KEY NEWCOMERS
There's a lot to like here.
We'll start with Tyson Campbell, a five-star performer who picked the Bulldogs on National Signing day, choosing Georgia over Alabama and Miami.
At 6-foot-2 and 180 pounds, Campbell hails from the same American Heritage High School that produced Sony Michel and Isaiah McKenzie.
Tabbed as the fourth-best cornerback according to Rivals, Campbell is an electric performer, amassing 133 tackles, six picks and seven pass breakups in three seasons as a starter.
The state of Florida 2A champion in the 100- and 200-meters, Campbell is seen as someone who could come in and compete for immediate playing time.
He won't be the only one.
Divaad Wilson is an early enrollee who made eight interceptions last year, while Christopher Smith (Hapeville Charter) and Nadab Joseph bring tremendous athleticism and will be given an early chance to complete.
Former Michigan commit turned Bulldog signee Otis Reese is one to watch at safety. The former Lee County star boasts some of the more bone-jarring hits you'll see on a highlight reel and should give the Bulldogs a physical presence at the position.
OUTLOOK FOR 2018
You're going to need a program to keep up with everyone who will be competing for jobs.
The only positions that appear safe are cornerback where Baker has the spot on lockdown for the upcoming campaign and right safety where Reed is back after doing such a fine job last fall.
Otherwise, Georgia will have to find a starter for the other corner spot, Sanders' spot at left safety and Star.
Fortunately, there are plenty of options for defensive coordinator Mel Tucker to choose from, including Tyrique McGhee, Richard LeCounte, Ameer Speed, Latavious Brini, Eric Stokes, Jarvis Wilson, Tray Bishop, Mark Webb and William Poole.
That's the group Tucker will have to work with before the new influx of freshman arrive in late May, several of whom - led by Campbell - will have a chance to make a quick impact on the position come fall.
State of the secondary
| Player | Class | Season Review/Look Ahead |
| --- | --- | --- |
| Deandre Baker (5-11, 180) | Senior | Baker - who picked off three passes last year - enjoyed an all-conference worthy season as a junior for the Bulldogs. The Florida native could have turned pro but opted not to after a solid playoff run, and figures to be one of the top cornerbacks in the SEC this fall. |
| J.R. Reed (6-1, 194) | Junior | The Tulsa transfer burst on the scene for the Georgia last year, excelling at both Star and safety. A smart, instinctual performer, Reed finished second to Roquan Smith in team tackles with 79, including five for losses of 23 yards, five pass breakups and two interceptions. All-SEC potential |
| Tyrique McGhee (5-10, 187) | Junior | McGhee has seen extensive action his first two years with the program and stands an excellent chance of locking down the other starting corner spot opposite Baker. |
| Richard LeCounte (5-11, 185) | Sophomore | LeCount had his moments as a true freshman, showing a big-hit capability. Coaches still want him to improve his coverage skills, but LeCounte is a very smart player a favorite to start at safety. |
| Jarvis Wilson (6-2, 199) | Senior | WIlson doesn't project as a starter but does provide experience in a backup capacity. |
| DeAngelo Gibbs (6-1, 205) | Sophomore | Head coach Kirby Smart still declines to give an answer as to what exactly is up with Gibbs. He's currently not enrolled in classes, but as far as we know is still part of the program. Assuming he works out whatever issues have been bothering room, there's every reason to believe he'll have an opportunity to make an impact come fall. |
| Ameer Speed (6-3, 211) | Sophomore | Coaches love his size and, yes, his speed. He saw action in 11 games last year, making five tackles. Still somewhat raw in coverage skills, Speed makes up for it with his tremendous athleticism. His future is bright. |
| Tray Bishop (6-3, 205) | RFreshman | The young safety redshirted his freshman season and it was probably for the best. A foot malady befell the former Terrell County standout late last year, but he's healthy now and with a strong spring can put himself in position for playing time this fall. |
| Mark Webb (6-1, 200) | Sophomore | The converted wide receiver moved to cornerback during Week 2 of the season, and saw most of his action on special team. As the season went on, however, Webb was able to move himself up the depth chart and was at one point practicing with the second unit. |
| William Poole (6-0, 181) | Sophomore | The former Hapville Charter standout played in five games last year as a true freshman and will be looking to improve his stock with a strong spring. |
| Latavious Brini (6-2, 196) | RFreshman | Brini gained more attention off the field before being cleared. He is another DB with great size who will have an opportunity to at least provide quality depth with a good spring. |
| Eric Stokes (6-1, 185) | RFreshman | One of the fastest players on the team, Stokes made a solid impression while redshirting for the Bulldogs. He'll look to build on what he learned here in two weeks. Stokes says he has picked up a lot. |
| Tyson Campbell (6-2, 180) | Freshman | A former five-star performer, Campbell was one of the top prizes for the Bulldogs on National Signing Day. Gifted as a cover man and blessed with outstanding speed, don't be surprised if Campbell works his way into the starting lineup at some point his freshman season. |
| Otis Reese (6-3, 205) | Freshman | So, you like big hits? Players who dislodge footballs? Well then Reese is your guy. The safety with a tremendous physical presence could also be the ideal Star in Georgia's nickel package. |
| Nadab Joseph (6-0, 180) | Freshman | Joseph, who flipped to Georgia from Alabama combines speed and physicality and will be a weclomed addition to the secondary, where he figures to get a look at corner when he arrives in late May. |
| Christopher Smith (5-11, 175) | Freshman | A former high school teammate of William Poole, Smith made five picks and broke up nine passes his senior year. While not the biggest cornerback, he does not shy away from hitting. |
| Divaad Wilson (6-0, 180) | Freshman | The former four-star performer was an interception machine his senior year at Miami Northwestern, intercepting eight passes. He also excelled on special teams ,returning a pair of punts for touchdowns. |