South-Central Spotlight: Quarterback superlatives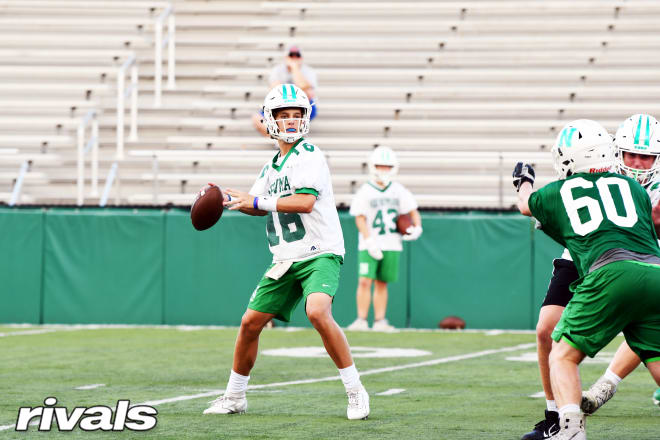 THE FRANCHISE: Garrett Nussmeier, Dematrius Davis
There is ample quarterback talent in the South Central region, particularly within the Lone Star State, so this came down to two different quarterbacks.
Garrett Nussmeier, a Rivals100 quarterback, has been exceptional to open his senior campaign. Through three games, the LSU commitment has completed 79-of-112 (70 percent) of his passes for 910 yards and 12 touchdowns with a 13th on the ground. More importantly, Flower Mound Marcus is 3-0 to open the season.

Nussmeier has been sharp early on as a senior. He spent the offseason adding more lower-body strength to allow him to extend plays and use his legs more to open up the deep passing game. He's a gamer with shades of Brett Favre in his playing style.
That's an aspect we're already used to with Dematrius Davis, who has engineered the two-time defending 6A state champs to 18 consecutive wins. Galena Park North Shore, which is also off to a 3-0 start this fall, has been driven by Davis' 620 yards passing and five touchdowns through the air and another four rushing scores.
Davis, an Auburn commitment, is already one of the winningest quarterbacks in Texas high school football history. He plays similarly to another, Kyler Murray, with his ability to take over games with his arm and legs and he has a proven clutch gene.
THE FUTURE STARS: Walker Howard, Conner Weigman
Howard is only two games into his tenure as St. Thomas More's starting varsity signal-caller, but he's playing like he's been the guy for years. The Rivals250 passer has 605 yards passing in his first two starts with eight touchdowns and a ninth on the ground. Howard has only played in one second-half series on offense to date.
Howard has been actively displaying a live arm and has been throwing all over the yard. He's attacked downfield with ease and has lasered passes to receivers in space routinely. The LSU commitment has also kept defenses off-balanced with superb mobility and speed to take off if a play breaks down.
Athleticism is a key trait with Weigman as well. Another Rivals250 quarterback in the 2022 class, Weigman has been on an absolute tear to open his junior season with 950-plus yards of offense alone through two weeks.

Weigman has propelled Bridgeland to a 3-0 start with a victory over defending Class 5A state champion Shadow Creek, and his play is a huge reason why. Weigman has passed for 1,012 yards with 10 touchdowns compared to two picks. He has another 243 yards rushing with three another three scores.

Missouri and Colorado recently joined the race for Weigman, who held offers from Baylor, Arkansas, Ole Miss and Minnesota.
THE NEXT BIG THING: Arch Manning
This one was obvious, wasn't it?
After a highly decorated freshman season for Isidore Newman, Manning has been surgical ever since Louisiana opened its high school football season in October. In his first two contests, the super sophomore accounted for 471 yards passing with a 79-percent completion rate. He boasts a 6:1 touchdown to interception ratio with three more rushing touchdowns, showing off the mobility that once made his grandfather, Archie Manning, so special with the New Orleans Saints.

Manning has a diverse group of receivers around him and is playing with a new sense of confidence in his second year at the helm of the Newman offense. His last name inevitably pushes him into the spotlight, but Manning's play has been superb so far.
THE LATE RISER: C.J. Rogers
Rogers has been forced to wait his turn at Class 4A powerhouse Argyle, but with a clean bill of health and playmakers around him, he's cashing in during his senior season.
The 6-foot-3, 200-pound quarterback, is coming off a knee injury last fall and took over the Argyle offense during this unorthodox offseason and hasn't looked back. He replaced Bo Hogeboom, who passed for 7,000 yards and 101 touchdowns over the prior two seasons. Rogers has stepped in and has managed to throw for 1,086 yards and 19 touchdowns while marching off to a perfect start this season as Argyle currently sits atop the class rankings.
Rogers does a good job of attacking in a short field with accurate throws and capitalizes on 1-on-1 matchups. He's also capable of throwing deep downfield. Clemson is one notable school that's been doing its homework on the Dallas-area passer.
THE OVERLOOKED: Kai Horton
Horton was the subject of our overlooked quarterbacks back in the spring and that theme has continued into the fall, where yet against the senior passer is putting up impressive numbers on one of Texas' best high school teams.
Through four games so far, Horton has thrown for 996 yards with 10 touchdowns compared to one interception. He's completed 72 percent of his attempts with 98 yards rushing, all while leading East Texas powerhouse Carthage to a perfect 4-0 mark. Most of Horton's action have come in the first halves of games after jumping out to fast starts on offense.
Stephen F. Austin and McNeese State have each offered Horton, who is also a basketball standout.
THE YOUNG GUN: Braedyn Locke
Rockwall lost its head football coach and five-star wide receiver Jaxon Smith-Njigba (Ohio State) this offseason, which would be enough to justify any decline in passing statistics for the junior quarterback. Think again.
In three games, Locke has accounted for 1,004 yards through the air, completing 64 percent of his passes with 11 touchdowns and no interceptions. Last week's showdown against five-star Quinn Ewers and Southlake Carroll put Locke in the spotlight and he performed on the big stage -- completing 31-of-44 passes for 352 yards and three scores in comeback fashion.

Locke is a smart decision-maker that's accurate with his throws and can fit balls into tight windows. He has excellent timing with his receivers, can throw well on the move and capitalizes in certain matchups. SMU, Miami, Kansas and Arkansas are among his early offers.
THE ATHLETE: Charles Wright
Texas looked locally to Austin High School when Rivals100 quarterback Jalen Milroe flipped his commitment to Alabama before the season. Thus far, Wright is giving Longhorns fans plenty to be excited about in the future at the quarterback position.

Wright had put forth some video game-esque numbers in two different contests this season. Last month, he passed for 206 yards with five touchdowns and had another 70 yards rushing and a sixth score rushing. Last week, the Texas commitment went off with 496 yards passing and six touchdowns and a seventh on the ground to erase a 21-point deficit and win on a successful 2-point conversion with eight seconds left.
Wright has been a welcome surprise through the early portion of the schedule. He is focused on throwing downfield and is willing to take chances. He's had a lot of success whipping the ball around the yard and has been exceptional creating plays with his legs as a legitimate dual-threat. In a lot of ways, Wright's style of play should be described as fearless.