Smart on Brock Vandagriff, other freshmen
One of the advantages of having a veteran team is Kirby Smart and his assistants do not have to feel pressured into rushing their freshmen into the fray until the youngsters are truly ready for the rigors of SEC football.
Naturally, there are always exceptions.
Tight end Brock Bowers and wide receiver Adonai Mitchell not only have 17 starts between them, but they have played integral roles in Georgia's offensive stats.
Others, like Brock Vandagriff, are getting some of the best training possible: the opportunity to compete as the quarterback for the scout team against the Bulldogs' No. 1 defense.
According to Smart, that's the best kind of training the former five-star could ever receive.
"I've seen Brock a lot up close, because he's been the scout team quarterback. He's simulated a lot of these guys we've had. He's really athletic, makes throws on the run, very accurate, competitive," Smart said. "He likes going against that defense each day. He doesn't always have the best protection. We're not hitting him either. He's done a really good job."
Redshirt freshman Carson Beck continues getting work as well, although not quite like he did earlier in the year.
"Carson is continuing to grow. He hasn't had as many reps as he had before, when he was working with the twos. Now his reps are through either mental reps, walk-through reps, or threes reps, which we get some in practice," Smart said. "I've been really pleased with both of them, and to be honest, I've got complete confidence in both of those guys as quarterbacks. I think they're really talented players."
Smart also touched on a number of some of his other freshmen, particularly those in the secondary.
Issues with depth have provided some with opportunities earlier than Smart would have liked. But so far, the group is holding its own.
"They're growing, they're getting better. You know, I think three or four of those guys were here for spring," Smart said. "So, they got to go through spring, which has put them in a position to be backups because of our lack of depth. But they continue to progress. I mean, they get lots of reps in practice, very few reps in games."
However, there have been a few exceptions.
"Kamari's (Lassiter) got to play a little more in the games we've been in, and because of Ameer Speed's injury," Smart said. "Javon Bullard's got to play — I wouldn't say quite a bit — but he rotates and plays because we have to work (Latavious) Brini at safety some, so Bullard works at star when Brini's at safety. He's done a good job coming along, but you know, the progress those guys make a lot of times in our defense is learning and being able to kind of make decisions and calls."
Smart also praised Lassiter and Bullard for their desire to help wherever and however they can.
"They've each gotten better at that, and you know, I tell them all the time I need more out of them on special teams, because that's where you kind of cut your teeth when you first get here," Smart said. "What can I do on special teams? How can I help? And Kamari and Bullard have been really big assets on that, and we continue to work with those other guys."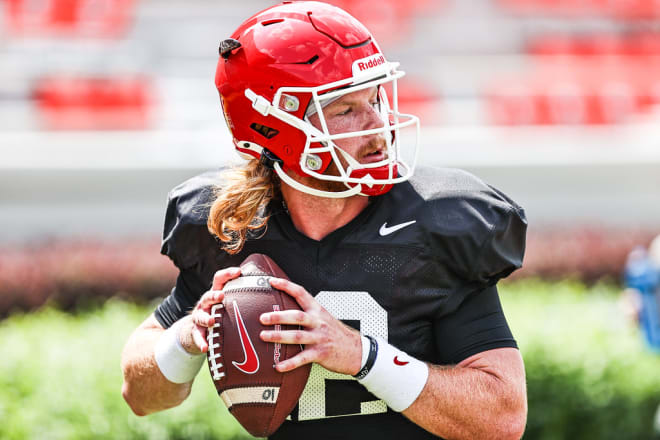 True Freshmen in 2021
| Name | Games Played | Notes |
| --- | --- | --- |
| TE Brock Bowers | 10 total, 9 starts | Continues to lead the Bulldogs in receiving with 30 catches for 516 yards and six receiving touchdowns. He also has one rushing score. |
| DB Javon Bullard | 9 | Bullard has made six tackles in his nine games as a backup at star. |
| LB Chaz Chambliss | 10 | Chambliss has played mostly on special teams, but last week recorded his first career sack. |
| DB David Daniel | 6 | Daniel was involved in a pedestrian auto accident earlier this year. He's made two tackles as a backup safety. |
| LB Jamon Dumas-Johnson | 9 | Dumas-Johnson continues to flash at linebacker. Not only does he have 12 tackles, including a sack, but he returned an interception 20 yards for a touchdown against UAB. |
| DB Nyland Green | 2 | Injuries have helped slow Green's freshman year. He has two tackles. |
| DB Kamari Lassiter | 10 | Of all the freshmen DBs, Lassiter seems to have the most trust. He's serving as one of the top backups at left corner. He has six tackles and an interception for is efforts. |
| WR Jackson Meeks | 7 | Meeks has two catches for 17 yards in limited action. |
| LB Xavian Sorey | 2 | Sorey still needs to get stronger, hence only playing in two games. He does have a tackle for lost yardage. |
| WR Adonai Mitchell | 10 total, 8 starts | Mitchell is Georgia's third-leading receiver with 22 catches for 313 yards and two touchdowns. |
| OL Amarius Mims | 6 | Mims has seen action in six games, mostly as one of the top backups at right tackle. |
| LB Smael Mondon | 6 | Mondon has made seven tackles as backup at inside linebacker. |
| DL Tyrion Ingram-Dawkins | 0 | Injuries suffered this spring are keeping him on the sidelines for this year. |
| OL Dylan Fairchild | 0 | Fairchild is progressing nicely, but is redshirting. |
| OL Jared Wilson | 0 | Coaches love the big-bodied Wilson. Like Fairchild, he is using this season as a developmental year. |
| DB Lovasea Carroll | 2 | Carroll has played in just two games since moving to corner from running back. |
| OL Micah Morris | 0 | Former Camden County standout is redshirting after offseason labrum surgery. |
| DL Jonathan Jefferson | 0 | Georgia's depth on the defensive line is giving Jefferson the opportunity to redshirt. |
| QB Brock Vandagriff | 1 | Vandagriff has been working extensively as the scout team quarterback. He has appeared in just one game. |
| DL Marlin Dean | 0 | Dean is using his freshman year to redshirt and get stronger. |