Smart irked with his defense's complacency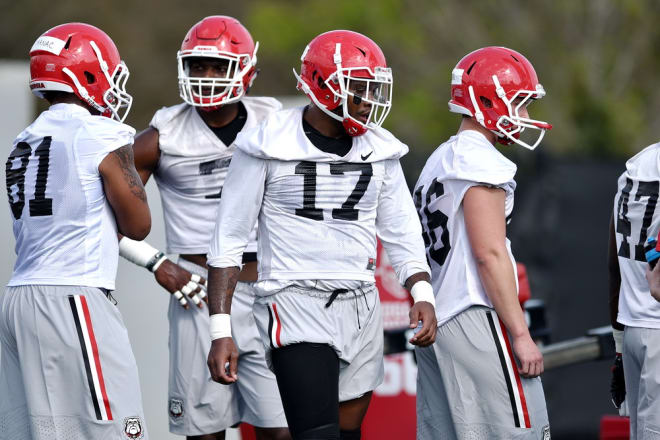 On paper, Georgia's defense should be one of the better units the Bulldogs have had in several years.
With every starter back except Maurice Smith at Star, there is plenty of experienced talent up and down the Georgia lineup. And that's one of the reasons the Bulldogs are already considered by some the team to beat this fall in the SEC East.
Head coach Kirby Smart wishes he could agree. But so far, he hasn't liked what he's seen.
"Actually, right now, I don't [like what I've seen]," Smart said after Tuesday's fourth day of spring drills. "Right now, I see some guys who are complacent and comfortable in their role – meaning, I've started here for two years, I'm comfortable in my role, I'm a leader on this team, I'm comfortable in my role and not challenging myself to get better."
Although Smart didn't offer any specific names, it was clear from his comments Georgia's head coach has been less than pleased.
"We go out there and have a two-minute and the offense goes down and scores twice, once on a field goal and once on a touchdown to win. And every single guy on that defense that was scored against started last year," Smart said. "I'm disappointed in that. I don't think there's a sense of urgency for that defense."
Smart seemed to subtly chastise the media for putting those thoughts in his defensive players' collective heads.
"As much as you guys want to say they're all talented, and they're all this and that, until they prove it on the field and they dominate like a team that has nine returning starters should dominate, I'm not going to be happy with their performance because I think that they should do that," Smart said. "But we haven't done that in four practices so far."