Smart adds former Auburn TE/ST coach to his staff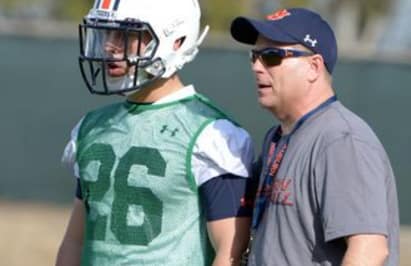 DESTIN, Fla. – Head coach Kirby Smart has hired former Auburn assistant Scott Fountain to join his staff with the Bulldogs.
Fountain's wife posted the news on Facebook and Fountain's Twitter handle was changed to show he has joined the Bulldog program.
Although it's unclear what position Fountain will hold with Georgia, he brings a wealth of experience coaching having served as the Tigers' special teams coordinator and tight ends coach from 2013-2016 after spending the previous four seasons (2009-2012) as Auburn's player personnel director.
He left the Auburn program on February 7 after his contract was not renewed. He was earning $325,000 in a contract that expired today.
Fountain came to Auburn with former Tigers head coach Gene Chizik in 2009.
At Auburn, Fountain coached some of the finest specialists in Auburn history, including three-time Ray Guy Award semifinalist punter Steven Clark, placekicker Cody Parkey, who ranked second in the SEC in PATs made (66), and kicker/punter Daniel Carlson, a Lou Groza Award finalist as a sophomore who has already set five AU records. He also coached H-back Jay Prosch, who was a fifth-round draft pick of the Houston Texans in 2014 and tight end C.J. Uzomah was a fifth-round selection of the Cincinnati Bengals in 2015.
He also spent two years as Chizik's tight end coach and recruiting coordinator.
More to come.