D.J. Shockley gives his take on the Georgia QB race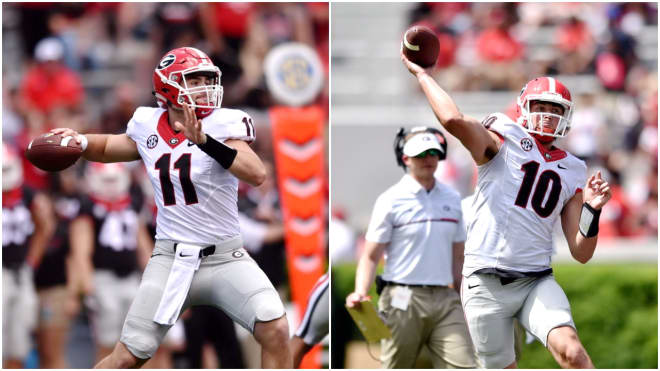 TALLAPOOSA, Ga. - It's fair to say that D.J. Shockley has more than a passing interest in Georgia's quarterback competition between incumbent Jacob Eason and true freshman Jake Fromm.
Shockley has been there.
Stuck behind David Greene before he finally received his opportunity to start in 2005, Shockley took advantage of his opportunity by leading the Bulldogs to their most recent SEC title.
While Eason and Fromm are just entering their first year together, Shockley's experience of having been in in a similar situation enables him to offer a unique perspective of what's in store for both young quarterbacks.
From a competition standpoint, Shockley said it doesn't get any better.
"I love it. Anytime you've got competition at that position, it's going to make the team better. Obviously, you've got two highly-touted players in Fromm and Eason," Shockley said. "They're going to push each other. I think it's great for the team and great for everybody around them."
Although Shockley - speaking at Brandon Wood's youth football camp on Saturday - sees Eason as the starter for Georgia's opener against Appalachian State, there are number of improvements he feels needs to be made.
"Obviously, the footwork part of it last year, we saw times where he was kind of off balance sometimes, inside the pocket and outside the pocket throwing," Shockley said. "Mechanically, if he's gotten better that definitely will help him. He's a talented guy, we all know that, but the details of the SEC, the details of what he does from play-action to dropping back, anticipating windows is going to be big for him. And if he takes a step forward, this offense is going to take a step forward."
Shockley believes Eason's experience last year should help.
As a freshman, Eason started 12 of 13 games after relieving Greyson Lambert in the opener against North Carolina. He completed 204 of 370 passes for 2,430 yards and 16 touchdowns with eight interceptions. Though, issues like the ones described by Shockley kept the youngster from being as proficient as he might have been.
"I think a lot of it is with just him having familiarity with the system, and just letting it go. I think there were a lot of times last year he was waiting to see things come open; he didn't anticipate a lot of stuff," Shockley said. "So, with another year in the system, understanding the speed of the SEC, trusting his wide receivers, tight ends, running backs, whoever it may be, that's going to be a big help."
Shockley disagreed with the notion that Eason might have let his five-star ranking as a recruit in Washington State get the best of him.
"Not really. Once you get there, you've got to block that out. Everybody who is there is good; you're playing in the SEC where everybody is five-stars, so you've just got to forget about that and just play football," Shockley said. "If you worry about the rankings, living up to the hype or whatever people are saying, you're going to be forever chasing something. He just has to play his game and continue to get better each week he steps on the field. People forget about the five-star rankings - they remember how you play each and every week."
As for Fromm, Shockley is impressed.
"Talented. He's got the moxie. I think he's one of those kids who is going to be special as well. I think he's going to push Eason which makes him good. Fromm has all the intangibles that you want and, from what I hear, he studies like no other. He's all about being a football guy," Shockley said. "He's a leader. You can see that from Day One. He's commanding that leadership when he's on the field. He's a true quarterback and he's going to be a guy that's going to be pushing Eason for the next couple of years. And if Eason ever stumbles, he's going to be ready to go."
Ultimately, Shockley believes iron sharpens iron.
"It keeps you focused knowing if you don't give your best every single day as you should, there's somebody waiting in the wings," he said. "When I was there, every single day I thought I had to get better at something, or I was going to be replaced by somebody else, or somebody was going to take my spot. Every repetition matters, every situation matters, and that's the way it's going to be for those guys moving forward."