See ball, hit ball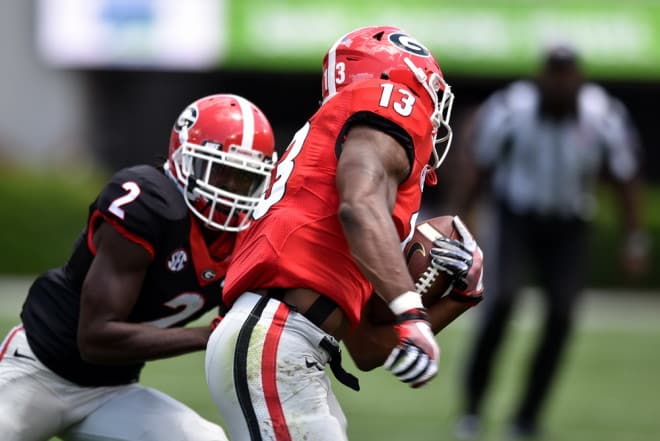 The question was innocent enough.
What did Kirby Smart think of freshman Richard LeCounte's effort in Saturday's G-Day game? Considering he led the Black Team defense with nine tackles, it must have been high praise, right?
Not quite.
"I'd say this, it's not a good sign when your safety is your leading tackler," Smart said. "But he's done that all spring – he's a see ball, hit ball guy."
Still, that's not necessarily a bad thing.
Most coaches will tell you that they'd like to have that enforcer in the middle of the defense, someone who's not afraid of sticking his hat on a receiver, someone who gives pause to anyone who dares catch a ball in the middle of the field.
Although our sampling is a small one, LeCounte appears to be growing into that role.
But as Smart is quick to remind, the young buck still has some maturing to do.
"I love coaching him, but I get so frustrated. I ask him the same question every day at the start of the meeting, and every day at the start of the meeting he gives me a different answer," Smart said. "I'm like, 'Richard, I asked you that yesterday, I asked you that the day before.' But what he does on the field, he runs fast, he tries to hit you and he likes tackling. The guy likes playing football. Those kinds of guys usually make good safeties."
With 13 career interceptions during his career at Liberty County High, LeCounte's penchant for making big plays is obviously something the Bulldogs hope carry over into college.
He doesn't figure to have to wait long to show what he can do. LeCounte finished the spring working primarily at safety and can be expected to receive reps there, along with on special teams.
"He's got to work to take care of his body this off season," Smart said. "But I'm excited about Richard and I think he's going to be a good football player."