Richt makes changes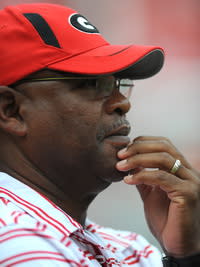 As first reported by UGASports
, Georgia coach
Mark Richt
made some changes to his offensive staff Friday.
Wide receivers coach
John Eason
will move into the position of Director of Football Operations, following the retirement of Steve Greer, who will officially step down on June 30.
With Eason assuming his new position, running backs coach
Tony Ball
now becomes the wide receivers coach with Bryan McClendon, a former Bulldog letterman and current graduate assistant, joining the staff on a fulltime basis as running backs coach.
"Coach Eason has been handling a lot of administrative duties in his role as associate head coach and he'll transition well into his new responsibilities," Richt said in a statement. "He's done an outstanding job coaching receivers not only here but throughout his coaching career. Tony (Ball) will be going back to coaching a position he spent a great deal of time with before coming to Georgia and I think Bryan (McClendon) is a bright young coach who will be a terrific addition to our full time, on-field staff. He's one of our own having come through our program as a player and graduate assistant. He knows the 'Georgia way'."
Georgiadogs.com later confirmed the moves.
Eason came to Georgia as part of Richt's original staff in 2001. A 1969 graduate of Florida A&M, he coached wide receivers at Florida State (1981-94), served as offensive coordinator, receivers coach, and assistant head coach at South Carolina (1995-98); and associate head coach with the Toronto Argonauts in 2000.
Ball is no stranger to coaching receivers. He served as the wide receivers coach at Virginia Tech from 1998-2005 and also at Louisville from 1995-97.
McClendon was a wide receiver for the Bulldogs from 2002-05 and has served as a graduate assistant with the Georgia offense the last two years. His senior season McClendon helped the Bulldogs to an SEC title as he recorded 35 pass receptions and six touchdowns including a game-winner in the closing minutes against Georgia Tech.