Retired UGA professor taking a page from Notre Dame playbook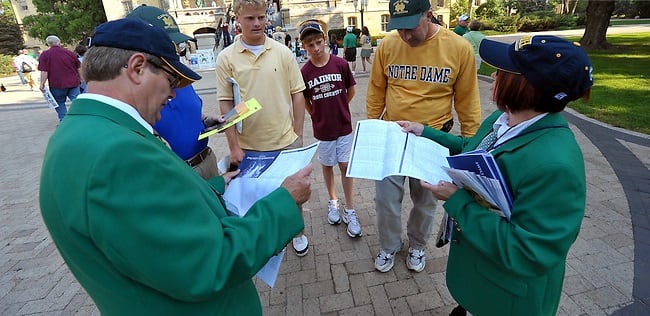 Georgia's trip last September to Notre Dame won't be forgotten anytime soon.
Sure, the Bulldogs' 20-19 victory over the Fighting Irish highlighted what was a bucket trip list for many, but it wasn't the only memorable part of the visit to South Bend – so was the hospitality shown to fans by some very special members of the Notre Dame community.
Everywhere you looked, volunteers resplendent in their green jackets with accompanying ties welcomed the legions of Bulldog fans, most of whom were making their first visit to the land of Rudy, Rockne, and Touchdown Jesus.
Retired UGA professor and emeritus athletic board member William Barstow didn't make the trip, but he certainly heard about the experience from his many friends who made the pilgrimage.
That's when a lightbulb went off.
Why couldn't Georgia have a similar group to welcome opposing fans to Sanford Stadium?
It does now.
During Tuesday's UGA Athletic Association Board meeting, Barstow announced the formation of the "Silver Dawgs," who will not only serve as on-campus hosts for home football games but visitors in Athens in town for the first time.
The goal: to make sure spectators have an enjoyable experience while visiting Athens and Sanford Stadium.
"I have to give Bill Barstow all the credit in the world," Georgia athletic director Greg McGarity said. "That was the highlight of the trip for a lot of people, that experience that they had on campus. I think when you walk in the stadium in 2018 you're going to notice a lot of things different, and I think Bill's passion for something like this is really going to make a difference."
Barstow told the board he's currently identifying retired individuals like himself to help fill the various roles.
"We're trying to find some nice, gray-haired people who want to do good things for the University," Barstow said while addressing the board.
"I think anything you do is an effort to improve things and if you affected just one person, you've made a difference," McGarity said. "I just know when your fans were up there, especially Friday, because I can remember eating on campus, walking on campus and seeing the interaction, the golf carts … We probably had 40,000 fans up there, so there were a lot of experiences."
According to Barstow, the plan is to not only place greeters at key points around campus, but also in lobbies of local hotels.
"It will depend on our opponent and how many fans come, but for a lot of people that will be their first time to Sanford Stadium and a lot of people don't know where certain things are," McGarity said. "It's an outreach effort and learning from something that others do and I think it will really be received well."