Reporter investigating UGA resigned over fabrications at prior job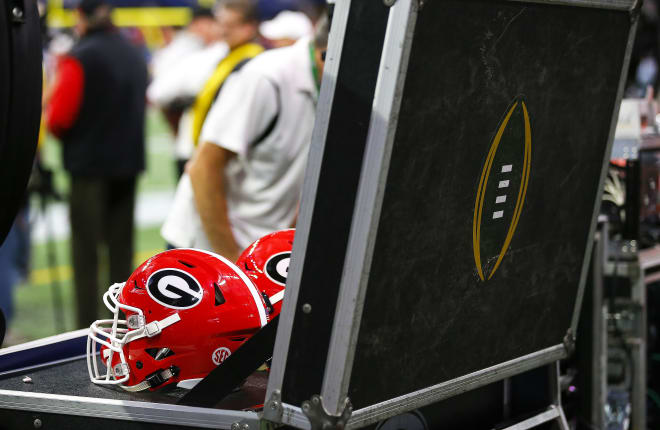 The University of Georgia Athletic Association did something very unusual earlier this week.
In response to an Atlanta Journal-Constitution report headlined "UGA football program rallies when players accused of abusing women," the UGAAA wrote a nine-page response alleging "errors, unsubstantiated allegations, innuendo, and possibly even fabrications."
For Alan Judd, the journalist who reported the story, this isn't the first time in his career that these sorts of allegations were presented against him.
Back in 1988, Judd worked for the Courier-Journal in Louisville, Kentucky, and was assigned to a series titled "Hollow Victories," which was to examine the lack of educational opportunities offered to the area's elite high school athletes.
After the stories were published, the Courier-Journal received calls and letters from subjects and those written about in the story, saying they were misquoted or that what was depicted was inaccurate.
Jon Fleischaker, an attorney who has represented the Courier-Journal and other media companies in Kentucky, was involved in the vetting process of this series. Fleischaker said he sat with Judd and the other reporter assigned to the series and went through their copy line by line. When it came to quotes, he asked them if those subjects were recorded.
Judd said they were.
Fleischaker took him for his word, which he now admits was a mistake.
"We didn't listen to the tape," Fleischaker said. "And then the story started to run. And people started to respond and say, 'I didn't say that. That's not what I did. That's not what happened.' And that they had been misquoted. It was just a cascade of stuff that raised concerns. And it was all on Alan's stories."
Once the newspaper received those complaints, Judd was asked to produce the tapes.
"I knew he had a tape where everything was OK until the crucial part that he had quoted, and then all of a sudden there was a buzz. He had taped over it," Fleischaker said. "There were situations where he said he couldn't find the tape. I think that was probably a day before he left. I mean, I think that was it. I think he would have probably been in big trouble anyway. But when he couldn't (produce the tapes), I think the die was cast and he was gone. He was gone very quickly."
Judd resigned following this incident. Then-editor David Hawpe wrote a front-page letter to his readers explaining what happened. An archived Washington Post notebook mentioned the incident, describing Judd as a "rising star who had been at the paper for almost six years."
"The reporter went home to get the tape," Hawpe wrote to his readers. "After he returned, he showed us notes he said he had taken after listening to the tape, which he said supported our story. We asked to hear the tape, and, when it was played, only the beginning of the interview was there. The remainder of that segment of the tape contained only background noise."
The newspaper was forced to issue "10 corrections, two clarifications and a statement" as a result. Fleischaker called this moment the "worst experience he has ever had with a reporter or a reporting situation." Fleischaker said this devastated Hawpe, who passed away two years ago. The Courier-Journal worked feverishly to correct the record and avoid a lawsuit.
Fleischaker decided to speak publicly after seeing the UGAAA letter. Due to his prior working experience with Judd, he believed this part of his work history to be known. On Judd's LinkedIn profile, he lists that he graduated from Western Kentucky in 1982 with his first listed job as a Tallahassee bureau reporter with the New York Times regional Media Group in 1989. He was hired by the AJC in 1999 and has worked there for over 24 years.
Fleischaker pointed out the irony in this instance. Throughout his nearly five-decade career he has sued and litigated against universities, including the University of Kentucky and the University of Louisville, often over access to open records. While Fleischaker said he didn't want to speak on Judd's reporting with the AJC, he wanted it to be known what transpired at the Courier-Journal with the context of the UGAAA letter.
"I think it's fair to say he writes really well," Fleischaker said. "He really does write well. Forget what the facts are, he writes really well. And that's the problem. I said to somebody, it's easy to write a good story if you can make up your own facts."
Judd did not answer his phone when called by UGASports.com. Following an email inquiry sent to Judd and his direct editors, Judd responded and stated his comments were to be off the record. It's important to note that on-the-record and off-the-record conversations are agreed upon between the reporter and subject, and UGASports.com did not agree nor was seeking any off-the-record comments.
"The following is off the record: something that happened 35 years ago, during a rough period in my life, has no bearing on anything today. The question you need to ask yourself is whether it is appropriate for a government agency — (In) this case, UGA — to use public resources to try to dig up dirt on a journalist who has published uncomfortable but true stories about that government agency.
"Obviously this has been fed to you — even my personal telephone number, which is known to a relatively small number of people at UGA. Is your devotion to the "Dawgs" so great that you want to try to destroy a person whose work over the past century has exposed atrocities in the state mental hospitals, saving countless lives; helped expose a cheating scandal in the Atlanta Public Schools that had life-altering detrimental effects on thousands of poor African-American children; spurred legislative changes to protect children in the state's foster care system; and much more.
"So do whatever you want to do to ingratiate yourself with Coach Smart and others at UGA. Drag up the worst moment in someone's life from 3 1/2 decades ago, and ignore everything since then.
"I hope whatever momentary advantage you gain with UGA is worth the personal degradation you put yourself through.
"Again, every word here is off the record. I might consider talking to you next week. Right now I'm too busy dealing with threats from Georgia "fans" — making sure that my family and I are safe — to deal with you any more."
The AJC declined to comment beyond the previous statement, which is that it is reviewing UGAAA's letter. In the inquiry, UGASports.com sent the following four questions:
1) When the AJC hired Mr. Judd in 1999, was anyone aware of this incident with The Courier-Journal or that he was employed at the Courier-Journal? (I ask the second part because this period of his career is omitted from his LinkedIn profile.)
2) Were any of Mr. Judd's current supervisors and editors aware of this incident prior to this email?
3) Does this prior incident and resignation give the AJC further reason to investigate the UGAAA claims that his reporting contains, per the letter, "errors, unsubstantiated allegations, innuendo, and possibly even fabrications?"
4) Considering the severity of what happened with the Courier-Journal, and if the AJC knew about this, were practices put in place to ensure Mr. Judd didn't conduct the same methods as an employee with the AJC?
As mentioned in the questions, Judd's LinkedIn bio states that he graduated from Western Kentucky in 1982. The first job listed is as a Tallahassee bureau reporter with the New York Times Regional Media Group from 1989-1999. He was hired at the AJC in April 1999 and has worked there ever since.
UGAAA's nine-page letter littered with accusations of inaccurate reporting are similar to the Courier-Journal's findings almost 35 years ago. UGAAA General Counsel Michael Raeber alleged that Judd's depiction of a conversation between DIrector of Player Support Bryant Gantt and a Morgan County traffic clerk, regarding a speeding ticket given to Chandler LeCroy, one of the two individuals – football player Devin Willock and recruiting staffer Chandler LeCroy – who died in a fatal car crash following the football program's championship parade in Athens in January.
Two allegations in the UGAAA letter involved misrepresenting quotes.
"The article claimed Mr. Gantt asked a Morgan County Traffic Clerk 'to send the ticket to indicate LeCroy was driving only 14 mph over the speed limit,'" Raeber wrote. "When I emailed the Clerk to ask if this report was accurate, she responded in writing, 'That's very inaccurate,' saying she was very upset by Mr. Judd's 'false accusations.' The Clerk explained that Mr. Gantt's question was one she gets frequently–whether the staffer was eligible for a defensive driving course to reduce the amount of fine and/or points, as expressly provided under Georgia law. She said the interaction was brief, Mr. Gantt did not attempt to influence her in any way, and she found nothing inappropriate about the interaction."
Raeber also wrote that a former Athens-Clarke County Deputy Solicitor disputed his quotes in a June story looking into the culture of the UGA football program.
"In an unsolicited email to Mr. Gantt after the story ran, the former Deputy Solicitor stated that 'all my direct quotes were taken completely out of context and used in a tone negative to you and the Athletic Association,'" Raeber wrote. "This was not at all the tone of my conversation with the reporter." She said she told the AJC that 'many of these guys were far away from home, and where local kids would have their parents' support through the court process, many of these kids did not, and that was a role you helped fill: surrogate parent. I told him it was not uncommon for other UGA students to come to court with their parents and for parents to call and e-mail me about their child's case, and that was the role you filled for the football players."
Since the fatal car crash in January, it has been reported extensively that Georgia has dealt with numerous issues with football players and staffers driving at an excessive speed. This week, Victoria Bowles, the former staffer who was a passenger in the rental car driven by LeCroy during the crash, filed a lawsuit against the UGAAA, former UGA football player Jalen Carter and LeCroy's estate. The UGA football program has seen a number of players arrested for excessive driving since the car accident too. Samuel M'Pemba, Marcus Rosemy-Jacksaint, and Jamon Dumas-Johnson were all arrested and charged over incidents related to excessive speeding. De'Nylon Morrissette was arrested for suspicion of DUI.
With SEC Media Days approaching next week, head coach Kirby Smart and the players attending will have no shortage of questions to answer. But as the UGAAA letter stated, criticism by itself isn't the issue it is upset about.
"We do not shy away from good reporting that informs the public and helps us consider our programs and the ways we can improve them," Raeber wrote. "But we also do not shy away from calling out reporting that fails to meet these standards."
--Paul Maharry contributed to this report.