Quenton Nelson on Georgia game: "It was insane"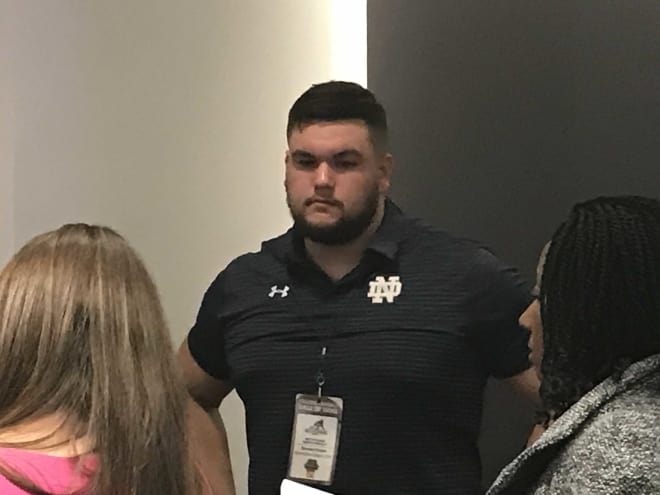 ATLANTA – As he's reminded of Georgia's trip to South Bend the second game of the year, Notre Dame guard Quenton Nelson continues to shake his head.
It was an experience he'll never forget.
Not only did the finalist for the Outland Trophy leave impressed with what he saw from the Bulldog football team, the memory of thousands upon thousands of Red and Black clad fans still sits fresh on his mind.
"It was insane. I thought we were playing a home game but half, maybe half, the stadium was colored in red and their fans did a great job in that game," Nelson said at the College Football Hall of Fame. "It (crowd noise) didn't really affect us, but it was the first time I remember seeing a bunch of red in Notre Dame Stadium."
That's not all.
The sight of fans breaking out their smartphones to light up the stadium at the start of the fourth quarter was one he won't forget.
"It was pretty sweet," Nelson said. "A lot of our players wanted our fans to copy and start doing it. Credit to their fans and their team."
Irish coach Brian Kelly warned the team the day before the game not to be shocked by what they saw.
"On Friday, you started to see a lot of red and Georgia Bulldogs in South Bend, and I think on Friday, Coach Kelly said there was going to be a lot of red in there so don't be surprised," Nelson said. "But yeah, I was surprised."
Nelson also had kind words to say about the Bulldogs, whose 20-19 victory over the Irish helped propel them into the College Football Playoffs.
The Irish senior is not surprised to see Georgia in this position.
"I thought they had a really good front seven, which always helps in a college football defense and then offensively, they've got two great running backs and you could tell they had a great young quarterback who was growing," he said. "It was definitely a team you could see in the College Football Playoffs, especially after they went out and stomped Mississippi State after they had beat LSU."
Nelson was especially impressed with what he saw from Georgia's defensive line.
"What's great about Georgia's defensive line is the depth that they have. They kept switching guys in and out. No. 13 (Jonathan Ledbetter), he was a great player, very strong, great technique, and then '97' (John Atkins) and '52' (Tyler Clark) did a great job," he said. "I would say at the top, just their d-line, everybody was big, strong, good technique and their linebackers were very athletic. Roquan (Smith) and their other linebackers just getting to the ball … yeah, they were very athletic."
Smith made quite the impression as well.
"Most guys before every play you make an angle of where you're going to go to get someone, and usually my angle is always good in terms of getting to the second level," Nelson said. "With him, you have to widen it more because of how fast he moves laterally and gets to the ball."
"That was a very good team."