{{ timeAgo('2020-10-18 00:04:11 -0500') }}
football
Edit
Postgame News and Notes from UGA
TUSCALOOSA, Alabama – It was said that whoever won the turnover battle Saturday night in Tuscaloosa would wind up winning the game.
That wound up being exactly the case as two second-half interceptions by Stetson Bennett led to a pair of touchdowns that Alabama used to salt away a 41-24 win.
"The first one was a batted ball. The second was tipped up," Bennett said. "The third one, I was trying to do too much and just threw it across my body. It wasn't smart, and I just threw it right to the guy."
After Alabama jumped ahead 27-24 early in the third, it appeared Bennett was about to bring the Bulldogs right back before a pass across the middle was intercepted at the 2-yard line by Malachi Moore, who returned it 42 yards to the Alabama 44.
Six plays later, Najee Harris rolled in from the 2, after a pass interference against Eric Stokes on a third-down gave the Crimson Tide a first-and-goal.
On Georgia's ensuing possession, Bennett throw his third pick, courtesy of safety Daniel Wright, who brought the football to the Georgia 35-yad line. Twelve plays later, the Crimson Tide was in the end zone again.
"He made a couple of bonehead mistakes (earlier) in the game and got away with them, but some of them (interceptions) weren't his fault," head coach Kirby Smart said. "He had a batted ball that was a pick, he had a ball that I don't know for sure, but I thought Jermaine should have caught. It went up Jermaine's hands a little bit, and they picked it off."
Bennett has certainly had better days.
Along with the three interceptions, Alabama was able to tip or block seven balls during the course of the game. Bennett finished the game by completing 18 of 40 passes for 269 yards and two touchdowns to go with the three picks.
"There were another couple of poor decisions that he got away with, that happened in the Tennessee game," Smart said. "He threw a ball deep into Cover-2 that he wasn't supposed to. So, he's not perfect. He's learning, he's growing up; he also made some good throws. He made some plays, and even made some checks to put us in good situations. But Stetson has just got to play within himself and allow people to help around him."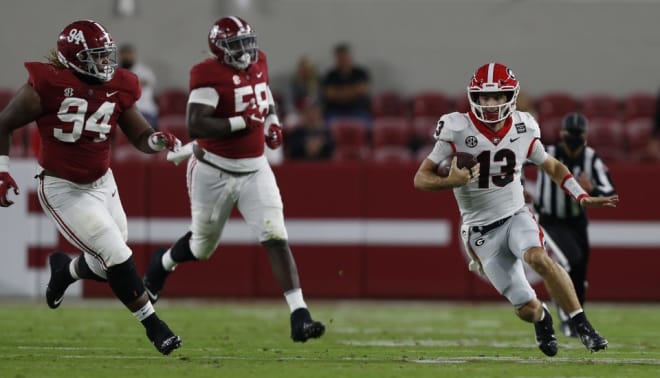 End of second quarter explanation
After taking a seven-point lead with just 23 seconds left until halftime, it appeared Georgia—which was set to receive the third-quarter kickoff—had set itself up quite nicely.
But Alabama had other ideas, driving 41 yards in the waning seconds to kick a 52-yard field to go into the half trailing 24-20.
Moments before the kick, it appeared quarterback Mac Jones had run out of time as he spiked the football with no time on the clock.
In fact, Smart had sent his team toward the locker room before the officials brought them back for the field goal attempt, which Will Reichard drilled with room to spare.
"They (the officials) went back and reviewed, and that play goes back to the way it was last year. There were three seconds. The (side judge) told me they were done, so I sent the guys in," Smart said. "We rep that play every week. My plan was to block the field goal or maybe get a field goal return; but we shouldn't have played as soft as we did with that much time left."
Smart disagreed with the notion that the play was a change in the game.
"I don't think it was a huge momentum swing. I did think it brought the crowd back into it," Smart said. "But again, we probably didn't play aggressive enough defensively, and that's on me."
Injury Update
Fortunately, the news appears mostly to be good.

The Bulldogs didn't suffer any significant ailments against the Crimson Tide, instead getting three key components back for Saturday night's game.
That included Monty Rice, who injured his foot early last week, but when the game began, was in the starting lineup and played throughout the game.
Two other players who missed the last game—running back James Cook and linebacker Jermaine Johnson—also made their presence felt.
Cook was on the end of an 82-yard pass to put the Bulldogs up 14-7, with Johnson getting a key sack of Mac Jones in the second quarter to force a field goal.
Running back Kenny McIntosh did not play in the second half, but there was no word after the game on whether he was injured or not.
This and that
…Wide receiver Demetris Robertson wore No. 80 instead of his customary No. 16.
…Stetson Bennett's 82-yard touchdown pass to James Cook was the longest for Georgia since a school-record 98-yarder from Aaron Murray to Reggie Davis against North Texas in 2013.
… Senior defensive tackle Julian Rochester made his 20th career start, but his first since 2018. The longest active starting streak on offense belongs to center Trey Hill, now with 22, while Richard LeCounte leads the defense with 22 straight.
…Freshmen offensive lineman Tate Ratledge and freshman defensive lineman Nazir Stackhouse made the trip, after not traveling to Arkansas.
…Jack Podlesny's 51-yard field goal in the second quarter was his second of 50-plus in as many games. He's now 8 of 10 for the year.
…Jermaine Burton's second-quarter touchdown catch was the first of his career.
… Coming into the game, Georgia led the SEC and ranked fifth nationally in scoring defense at 12.3 points per game, while Alabama led the nation in scoring offense at 51.0 points per game. In the first half today, Georgia held No. 2 Alabama to 20 points on 298 yards of total offense on 41 plays. However, in the second half, the Tide scored 21 points, including 14 off of turnovers, and finished the game with 564 yards of total offense on 76 plays.
… Cook established career highs as he tallied four catches for 101 yards (all in the first half) including an 82-yarder for a TD. Sophomore George Pickens had five for 53 yards. Freshman Jermaine Burton finished with four for 58 yards, both career high.
…Junior punter Jake Camarda finished with four punts for a 49.0-yard average, placing three inside the 20 and two going for 50-plus yards. He also served as the kickoff specialist tonight for the first time in his career. Coming in tonight, Camarda ranked No. 1 nationally in punting (51.4 avg.) and net punting (47.7). Alabama had just one punt return for 2 yards. Sophomore Zamir White had two kickoff returns for 58 yards. Redshirt sophomore Kearis Jackson had two kickoff returns for 56 yards. White finished with 57 rushing yards on 10 attempts.
Next up
Due to the SEC's rescheduling, the Bulldogs will have this weekend off before traveling to Kentucky on Oct. 31. Game time is set for noon.