Phase 3 now underway for Dawgs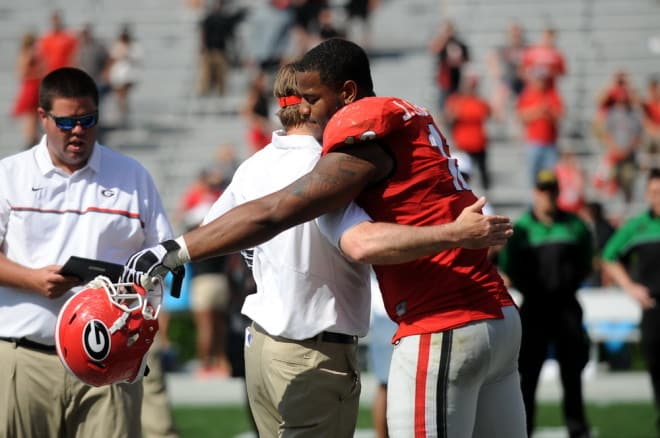 Spring practice is over, but the preparation for the 2017 football campaign is only just beginning.
"The key for preseason camp is how we manage our Phase 3, which is Maymester, final exams, workouts this summer, that's the next step for us," head coach Kirby Smart said. "Can we get bigger, stronger, faster? Can we outwork the teams we're going to play from now until fall camp?"
Players seem to be listening.
"Oh yeah, I'll be here," said redshirt offensive lineman Pat Allen, echoing the intentions of other Bulldogs spoken to after last Saturday's G-Day game.
Off-season? Not really.
NCAA rules now allow a maximum of eight hours of mandatory workouts for players for eight weeks of the summer. Coaches are allowed to watch conditioning sessions and meet with players for up to two hours each week, although any on-the-field work with footballs remains prohibited.
But Smart wants his players to strive for much more than just what is simply required.
"There's so much you can do without coaches out there," Smart said. "Go out there, do it, get better, and that's what we're challenging those guys to do. Go out there and take the leadership role. Jacob (Eason), Jake (Fromm), let's keep getting better and let's keep moving forward because I do think we got better this spring."
The number of players he had available for spring were certainly more to Smart's liking.
"We had more people out there this spring. We had more sheer numbers. We had 17 offensive linemen. There's a lot of schools who would die to have 17 offensive linemen in their spring practice because you get three units," Smart said. "It makes the core of your team better, and that part excites me."