Reggie Carter on the returning Natrez Patrick: "He's hungry"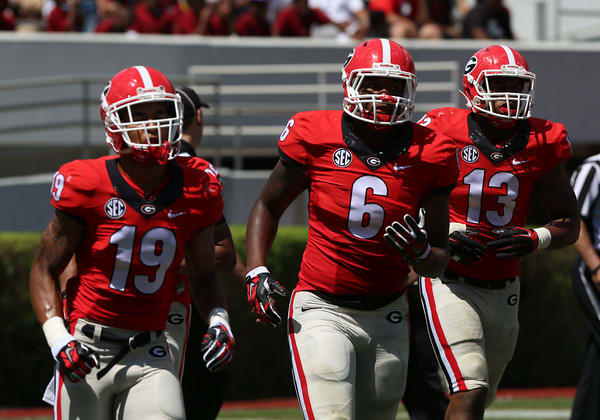 Georgia will get a valuable piece of its defense back for Saturday's game against Auburn when linebacker Natrez Patrick is expected to return after serving a four-game suspension.
Patrick hasn't played since the Bulldogs' win at Tennessee, as the result of the suspension following his second arrest for a misdemeanor possession of marijuana.
"It's going to be huge," linebacker Reggie Carter said. "When both of us were out, the young guys were doing good but it's great to have everybody back. It's great having a leader like Natrez back."
Carter said Patrick can't wait to get back on the field.
"He's very hungry. He did a great job with the demonstration squad (scout team)," Carter said. "He's hungry, he's ready to get back out there."
Although how much Patrick plays remains to be seen, his return should definitely boost Georgia's inside linebacker corps that will need to be at its best against a strong Auburn running game led by Kerryon Johnson.
"He's been practicing with us the last couple of weeks," Smart said during Monday's press conference. "The competition will continue to go on."
Freshman Monty Rice and junior Juwan Taylor saw most of the action in place of Patrick before the recent return of Carter, who missed two games with a concussion.
"Getting back in shape is the tough thing because you're taking time off from not being part of the game, so he's going to have to work hard this week in practice," Carter said.
"That's (Patrick's return) always good because he's a thumper, too," nose guard John Atkins said. "It's always great to have a thumper behind you because you know he's going to make sure the tackle is secure."