Patrick is all Dawg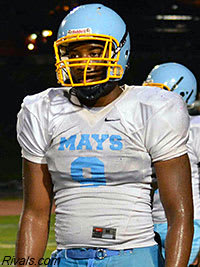 Friday night, the four-star performer no doubt put a smile on Pruitt's face after committing to the Bulldogs at halftime of his team's spring game at Lakewood Stadium.
"Man, it was an instant fit, an instant fit," Patrick said. "The first time I went to the campus I felt the love and every time I went, it was consistent. I just fell in love with it."
Patrick becomes the Bulldogs' eighth verbal pledge for the Class of 2015 and the fifth four-star according to Rivals.com.
The 6-foot-3, 243-pound Patrick chose the Bulldogs over Ole Miss. Alabama and Auburn were also in his final four.
He's the nation's third-ranked player at his position and 59th overall, according to the latest player rankings.
Rivals national recruiting analyst Mike Farrell said the Bulldogs got themselves a great one.
"He's a great edge rusher and an important in-state get," Farrell said. "He has the ability to play with his hand down or stand up so he could be perfect for the Jarvis Jones role. He's an explosive kid who will harass the passer and string things out in the run game."
According to Patrick, there was a lot about Athens that he could relate to, including the fact that Bulldog running back coach and recruiting coordinator Bryan McClendon is also a Mays alumnus.
Coach McClendon came up exactly the way we did, high school, middle school, so there was an instant connection," Patrick said. "But also the staff, Coach (Jeremy) Pruitt, his new guys, it was an instant fit."
Listed as a weakside defensive end, Patrick said he'd probably be playing outside linebacker for the Bulldogs.
"Coach (Pruitt) talked to me about playing the outside linebacker position," he said. "Probably 'Jack' because he rushes more. Like on third down, he will rush the passer and come off the edge so probably the 'Jack' position."
But whatever Pruitt wants is fine with him.
"I'm comfortable with both defensive end and outside linebacker," he said." I feel like I am a versatile guy so I don't mind doing either one."
Patrick will join other top high school stars at the Rivals100 Five-Star Challenge Presented by Under Armour set for M&T Bank Stadium in Baltimore, June 6-8.
He plans on doing a little recruiting along the way.
"Oh yeah, Trenton (Thompson), (Jonathan) Ledbetter, Dallas (Warmack) ...," he said. "We need to keep these guys in Georgia.