Opposition Research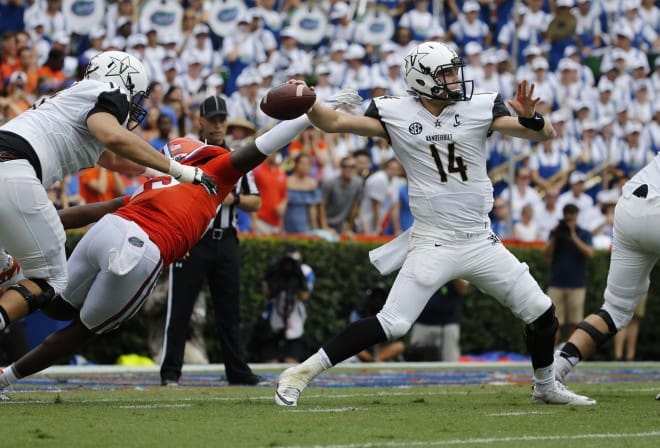 As we continue our Opposition Research, it's time to touch base with VandySports.com publisher Chris Lee.
UGASports.com: Sum up where Vanderbilt is as a football program right now.
Lee: "One that's making progress, but maybe not as much as we thought before the 59-0 shellacking by Alabama. That, and the Florida game have brought the fan base quickly back to earth.
"But who could blame them? Through three games, Vanderbilt had the No. 1 scoring defense and total defense in the country, and had just beaten 18th-ranked Kansas State.
"And remember, that came on the heels of some good things as last season progressed. There was the upset in Athens, a 38-17 thumping of Ole Miss (Vandy was a 13-point underdog) and the 45-34 upset of Tennessee helped. Those wouldn't have moved the needle much at most Southeastern Conference schools, but at a place that's historically struggled, it did.
"Reasonable Vanderbilt fans know that beating Georgia this year is unlikely. But after that, there's not a team on the schedule that the Commodores can't beat. Post-Georgia, Jeff Sagarin's computer rankings have VU as a favorite in three remaining games, and no more than an 8-point underdog in the other three.
"If VU finishes the season above .500, coupled with the fact that coach Derek Mason is assembling an outstanding recruiting class by Vandy standards... well, those things should be a sign that the program is generally headed in the right direction."
UGASports.com: What should Georgia's biggest concern be in this game?
Lee: "Quarterback Kyle Shurmur doesn't have outstanding numbers, but he's had a great season for VU. Shurmur has 11 touchdowns and just one interception--that, a ball that tight end Jared Pinkney volleyball-set to Alabama safety Ronnie Harrison--and really hasn't come that close to throwing one otherwise. Shurmur's receivers aren't elite guys for the SEC, but he's got five or six good enough to get the job done, and on the whole it is a veteran group.
"Shurmur was a former four-star recruit, and the son of NFL offensive coordinator Pat Shurmur. If he's got a little time and an open man, he can pick a defense apart.
"Vandy's best chance to win is to let him do his thing, and Shurmur is capable of doing his part.
"On defense, the Commodores have proven capable of generating a pass rush, and on the whole, the secondary is good. Cornerback JoeJuan Williams is not a guy you want to throw on.
"Pass rush and a secondary work hand in hand. I'm not sure VU will be able to get pressure on Georgia, but if it does, that could be a concern for the Bulldogs."
UGASports.com: Is this a good matchup, or a bad matchup for Vanderbilt, and why?
Lee: "I think it's a very poor matchup for Vanderbilt.
"Vanderbilt hasn't run the ball on anyone. I think VU's best chance is to throw the ball, but Georgia is giving up 3.3 yards a throw in SEC play. Plus, although Vandy has pass-blocked well, Georgia has an outstanding front seven, and that could really spell trouble if the Bulldogs can get to Shurmur, who isn't mobile.
"On offense, Georgia is going to try to run the ball at Vanderbilt. That's something that's given the Commodores fits lately, as I outline in the first part of this article.
"Georgia's going to give most teams trouble this year, and unsurprisingly, Vanderbilt's not an exception."
UGASports.com: What are fans' feelings about Coach Mason right now?
"The last two games have put a huge damper on enthusiasm, but I think most fans generally think Mason is the right guy for the job, and I'd agree.
"Mason's 2014 season, with the quarterback carousel that got him so much unwanted attention, was an awful first impression. But to his credit, Mason recognized what needed to change and acted quickly once the season was done.
"The job was also much tougher than it was in the midst of James Franklin's tenure. The rape scandal that involved four of Franklin's recruits was absolutely devastating. It walked back administrative support for football in a way that would be impossible to overstate. Vanderbilt has always been a tough job, but I could also make an argument that the long-term harm that came of that scandal nearly set VU football back further than Franklin's success had pushed it forward.
"There have been hiccups each of the last two seasons, but they've become increasingly fewer. The press conference gaffes have totally disappeared. He has the respect of his players. He's definitely more in command, and his standards for the program seem higher than they were. I guess that's not surprising, given that he spent several days in the off-season learning personally from Bill Belichick on how to run a program.
"If Mason finishes strong and keeps his class together, he's got a chance to have some long-term success, because the quality of high school talent in his back yard has never been better."
UGASports.com: How do you see this game breaking down? Score prediction?
Lee: "I don't see Vanderbilt having much of a chance. It's going to have to generate a pass rush and force turnovers--something it hasn't done in SEC games--and figure out a way to generate points--something tough to do against Georgia, and especially tough when you can't run the ball at all.
"If Georgia's offense was as bad as it was last year, I'd say that there's a path to victory in the way that the Commodores pulled it off last season. But clearly it's not, and that likely puts it out of reach.
"I'm thinking something along the lines of 34-10, Bulldogs."