Opinion: As a second-year head coach, Smart seems more relaxed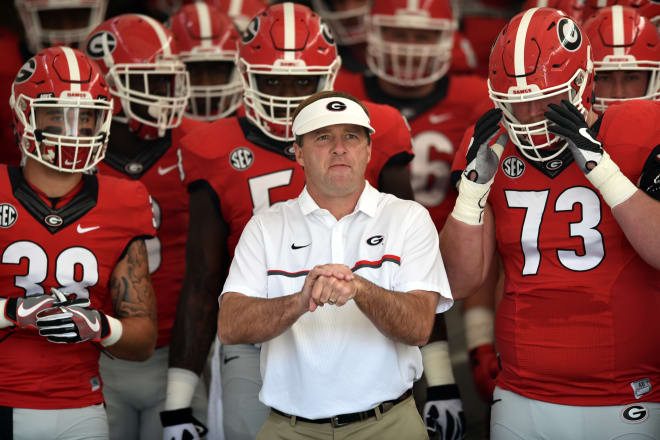 HOOVER, Ala. – Not to suggest that Kirby Smart wasn't comfortable his first year as a head coach, but he certainly seemed more relaxed running Tuesday's gauntlet of recorders and cameras at SEC Media Days.
Smart, whose occasional flare-ups with the press have been well-chronicled, joked around and made small talk with members of the media throughout his nearly four-hour tour of the festivities being held here at the Wynfrey Hotel.
Confidence? Perhaps.
With a year under his belt and 18 starters returning on offense and defense, there's probably reason for Smart to feel a little better about his team's chances this fall after finishing 8-5 a season ago.
He certainly knows more about his program than he did this time last July.
"The ones that stick out the most for me are understanding our depth issues and being able to improve those. Sometimes, you don't really know that until you go through a season," Smart said. "I think the expectations of our players and coaches … I don't think you have a perfect synergy until you've been through a season of understanding what those expectations are."
If you've listened to Smart much at all, then you know "synergy" is one of his go-to words.
Especially when you start talking expectations.
Although we won't know the SEC media's opinion of Georgia until the preseason predictions are announced on Friday, expectations for the Bulldogs are high after one year of Smart and the players getting to know one another.
Winning the SEC East should be considered an accomplishable goal.
"I think understanding expectations is a powerful synergy that exists between a player and a coach," Smart said. "There's no question in my mind the area is significantly heightened after you have been through a season together. You know, the expectations are conveyed and understood much easier after season one."
Smart insists gains have been made to put the Bulldogs in position to do exactly that.
"We've got competition at every position on our team, which is an ingredient that's hard to measure. But it must -- it's a must if we're going to get to the place that we got to get to improvement-wise, and that competition has been much heightened," Smart said. "Our offseason strength and continuing and mindset training continue to develop our players at a pace I know it takes to compete at championship levels.
"Spring practice was extremely physical and competitive, and our players got to expand their knowledge of both offensive and defensive systems. We've been able to improve on all three phases, which is important to our growth and development. We had six mid-year enrollees who came in and 16 other newcomers who arrived the last day of May. They've been there more than a month, which I think is important for their academic development but also for their football development. We've been able to integrate those freshmen in with the rest of the team, and our upperclassmen have done a great job helping us with that."
Running back Sony Michel agrees.
"The expectations he brought and the standard, just got higher and higher and bigger and bigger. We just have to live up to it," Michel said. "I'm excited, the challenges he brings to the team. It shows that Coach has faith in us that we can possibly accomplish those goals."
Smart's proving to be not as close-minded to advice as you might think.
Color me surprised.
Head coaches are known for doing things their way, but Smart insisted one area he grew in year one as the head man is you shouldn't always discount what others have to say.
"I've always believed the chain of command goes all the way down and everybody has evaluations. We do evaluations for every coach. But we also have coordinators who come and bring things that can be done differently as the head coach, whether that's how much we practice, how much we tackle live, do we go to a movie tonight?" Smart said. "Every decision that goes into being a head coach ... I sat 10 years of analyzing that, and if you don't think about it then you're not getting better, you're not doing the quality control things that you need to do. A good coach has people giving him feedback, and we've got a lot of people on staff to give feedback on decisions I make as well as decisions they make."
Sounds like words of a maturing coach.