Nyland Green has 'it factor,' Jalen Kimber's ascending
Last year, Jim Donnan was on-site at Georgia's practice facility, chatting with his former pupil-turned-head-coach Kirby Smart. As the two were chatting, Donnan, Georgia's coach from 1996-2000, said Smart had to leave their conversation to welcome a VIP guest.
"All of a sudden, he told me, 'I gotta go,'" Donnan said, telling this story on this week's UGASports Live podcast. "He left and went sprinting down to the other end of the facility, and there comes this kid walking in. And it was Nyland Green. I can see why he sprinted down there. I guarantee that impressed the kid. Here comes Kirby, 90 mph, welcoming him in the building, because he's waiting for him."
Donnan recalled this moment happening just before the Covid-19 pandemic halted programs from hosting visits and coaches from traveling to see recruits. The attention Donnan saw Smart give Green was one of many indicators as to just how important he was in the recruiting class of 2021.
Fast forward a year later, and the Bulldogs were able to snag Green as a commitment. Green very well could wind up with some early playing time in what figures to be a young secondary. Donnan was also impressed with stories about the early-enrollee at practice in the lead-up to Georgia's Peach Bowl victory over Cincinnati.
"He really came in for the bowl practice and jumped right in there. You can see about a kid who has that 'it factor,'" Donnan said. "The fact he jumped in there and tried to cover (George) Pickens—not necessarily that he covered him—but when guys jump in there and do that stuff, I like that competitive nature."
On this week's show, Donnan and the UGASports guys broke down all of Georgia's current roster options at cornerback.
In setting up the review segment, Donnan said that when he was a coach, he used a scale to describe players' readiness to hold a starting position.
• 4: A starter who has the potential to be an All-American.
• 3: A starter in the SEC.
• 2-plus: A player who is in-between being a starter and a contributor.
• 2: A contributor.
• 1: A teammate who probably won't play.
As an early-enrollee, Donnan labeled Green a 2-plus.
"He's got the length, he's got the physical tools to go with his innate football acumen," Donnan said. "I just like his composure and how he acts around the team."
During the podcast, both Donnan and UGASports' Jake Reuse were bullish on young cornerbacks Kelee Ringo and Jalen Kimber, noting the latter has the chance to surprise a lot of fans in the long run.
"I just like the way he goes about his business," Reuse said. "He's a kid who's been really quiet, and it caused him to be overlooked by fans. But I think Jalen Kimber is a guy who can be a big contributor for Georgia, especially down the line. Maybe not this year, but I think he'll make his mark in Athens before he heads out."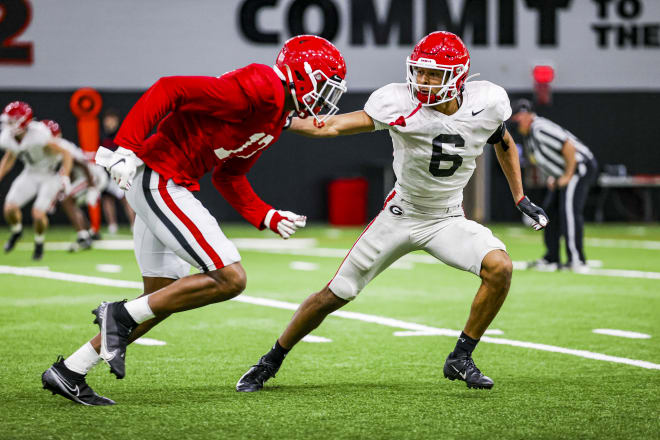 Donnan thinks Kimber is nearing his ascent to become a starter.
"The one thing about Kimber is, he got an inordinate amount of work here last year working in the bowl game, when we had those guys leave and come out early," Donnan said. "I would say he's a 2-plus-plus. He's as close to a 3-starter as you can have. Maybe he doesn't have quite the size, as far as the girth, to be a real physical corner.
"But I would say, if you just had to compare him at this stage of his career to somebody who's played for Georgia, I'd say it's Eric Stokes. A very similar makeup, not a real big name as far as a guy who just wows you, but he's going to come on strong and have a really good career at Georgia. He has really good instincts, and I'm glad he came to Georgia."
While the secondary loses a lot of key players from the 2020 roster, Donnan said he isn't too concerned with the unit. He believes enough talent remains to fit the scheme, with Georgia poised to boast a strong defensive front and linebacking group.
Donnan also hypothesized that an offensive player could be a potential fit at cornerback.
Due to speed alone, Donnan wouldn't be surprised to see running back Lovasea Carroll get a look at cornerback if Smart feels he needs additional depth at the position.
"I don't want anybody to go out there and say, 'Jim Donnan said they're going to put Carroll out there at cornerback,'" Donnan said. "All I'm saying is, you got a guy who played there some (in high school), and he's got that kind of speed. There's nothing wrong with looking at him over there. Just like we did with (Mark) Webb. With Webb, we had all those receivers, and we put Webb over there."
If you want to see how all the other cornerbacks ranked on Donnan's scale, listen below: