Notebook: Dawgs keeping it hush-hush going into opener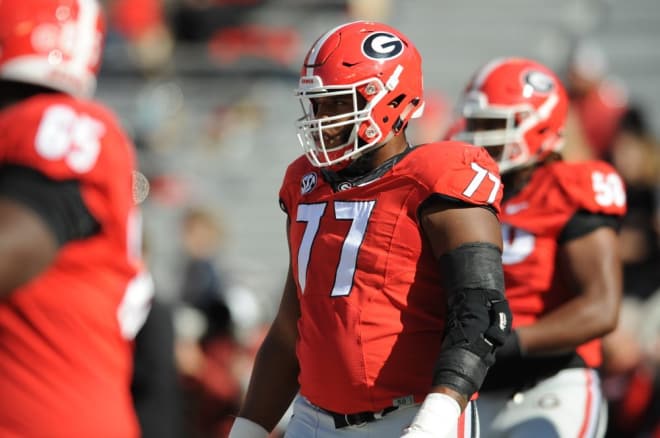 If Kirby Smart knows who his starting offensive line will be for Saturday's opener against Appalachian State, he's not saying.
For the first time in memory, Georgia did not provide a depth chart for its opener, and Smart wasn't any clearer when asked specifically about the offensive line during Monday's press conference at the Butts-Mehre Building.
"Those guys continue to work hard. I think the first game, one of the biggest concerns you have as a coach is conditioning from the standpoint of how many guys can play every snap. Can those five guys be the guys that play every snap, or do we need to plan on having a rotation built in, like we did last year?" Smart said. "We kind of had a rotation going at guard. You can say the similar thing there at tackle. It depends on the flow of the game and how things are going."
Georgia's first-unit has remained the same during the media's brief viewing periods over the past two weeks, with Isaiah Wynn at left tackle, Pat Allen at left guard, Lamont Gaillard at center, Solomon Kindley at right guard and freshman Andrew Thomas at right tackle.
However, Smart maintained last week that redshirt freshman Ben Cleveland is still in the running at right tackle, and a final decision has not yet been made.
"To be honest, this is a different kind of team (Appalachian State), defensively. They [App State] are as quick and as fast as we'll play all year, believe it or not, they are. They are not overly big, but they are unbelievably quick and they do some different things, scheme wise, than what you normally see," Smart said. "I think it might fit one lineman better than another and we may see rotations in there. As far as having it set, we haven't determined it yet. A lot of it will come out in the next two days."
Backs to play after Chubb/Michel still unclear
Nick Chubb and Sony Michel are Georgia's top two running backs.
That much is obviously clear.
What's not clear is who the Bulldogs' offensive coaches plan on playing after that.
"I think each guy brings something different. Elijah [Holyfield] is a tough, downhill runner. He does a really good job with the things he does. He is going to be a special teams player for us too. Brian [Herrien] is the same way. Brian is more elusive, a little more space guy who can do some things in different packages for those guys," Smart said. "D'Andre Swift has shown that he can do a lot of different things in camp. I don't think there is a clear pecking order for those three guys."
But play they apparently will.
"I certainly love the fact that they have bought in to the team concept and that it is not total number of carries--it's making sure that the carries they get are effective," Smart said. "They also have to play well on special teams. That's where when you find a 210-pound guy that can run--they are hard to block."
App State's Jalin Moore an "SEC back"
Smart likes what he sees from Appalachian State junior running back Jalin Moore.
Moore (5-foot-11, 205) led the Mountaineers in rushing last season with 1,402 yards and along with quarterback Taylor Lamb, are the two main components of the team's offense.
"He is a very talented running back. When you watch, their scheme fits his style of running to a 'T.' They do a great job of their zone scheme. They can reach anybody at any technique. They do a tremendous job. You can see their offensive line's quickness and get-off to get people blocked," Smart said. "He is an SEC back, so he does a tremendous job and our guys obviously have to hit and tackle some pretty good backs on our team and that is what we challenged them with. This guy, just like the guys you go against in practice every day, so you have to go out there and hit him and wrap him up and knock him back. They have a great scheme for their back and their quarterback."
Quotable:
"I thought last year we played okay on defense, we didn't play great. I think this year we need to play better. We need to play with a little more demeanor and attitude. I have seen some of that in camp. I think they've done a good job of changing some things up. We have tried to look at some things differently, that we can do in the red area, from giving people negative plays, and trying to be more aggressive. I think they have worked on that, they're showing flashes. I think the big thing for us is how many guys can we play and be effective. How deep can we go? After the first 11, that's where it starts getting tougher and tougher on defense for us. How many guys are going to be able to go out there and play winning football at every position? We would like to play a lot of guys because I think you can be a good defensive unit when you're fresh." – Kirby Smart on the response he's seen from his defense in preseason.
This and that
Dawg Walk is set for 4 p.m. … Saturday's game will be broadcast on ESPN. Mike Patrick and Tommy Tuberville will have the call.