King of Diamonds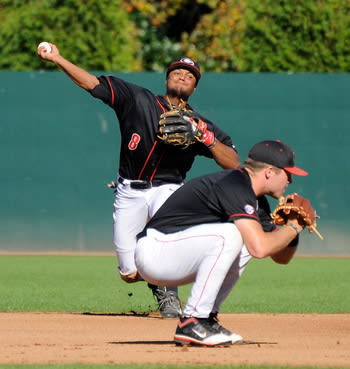 It's a long, long way from Palm Springs, California,  to Athens,
Georgia, but for new Bulldogs shortstop Nick King, it was a journey he was only
too happy to make.
"I wanted to test myself against the best," said King, who comes to Georgia
after two years at Riverside City College. "It's a lot different here, but
everybody has welcomed me with open arms. It's just amazing, the welcoming I got
and everybody has made me feel right at home. I want to do whatever I can to
help Georgia win."
From listening to skipper Scott Stricklin, the Bulldogs won't have to
worry about the position for the next two years.
"He can really field a ground ball. It's one of those things if you've seen a
big league shortstop field a ground ball, when you watch him (King) field a
ground ball, that's what it is supposed to look like. It just looks right,"
Stricklin said. "He moves his feet really well, he gets his body in good
position, he's got great hands, he's very athletic and he's got a very good
throwing arm. He does everything you want a shortstop to do so we're excited
about Nick."
Center fielder Stephen Wrenn agreed.
Wrenn gets a bird's eye view of King's ability at short, and according to the
sophomore his new teammate picks it as well as anyone he's ever seen.
"He's phenomenal in the field, absolutely incredible," Wrenn said. "He's got
range, he makes all the great plays, but at the same time makes the routine ones
every single time. He takes a lot of pride in what he does."
So why Georgia?
As a senior at Palm Spring High, King excelled in both football and basketball
with baseball just a sport he played to pass the time between seasons.
After a senior season which saw him tally 793 rushing yards and 12 touchdowns to
go with 56 receptions for 747 yards and seven touchdowns, King - who also
intercepted six passes - dreamed of a major football scholarship offer. He
thought one was coming from UCLA, but after Rick Neuheisel was fired, that
opportunity was gone.
An offer to play basketball at Colgate was also on the table, but 
it was becoming apparent that his talent for baseball was greater than even King
originally thought.
But giving up football wasn't easy.
"It was probably the toughest decision I've ever had to make," King recalled. "I
really wanted to play."
King now knows the decision to focus on baseball was the right one to make,
something he quickly realized after his sophomore year last season at Riverside
City College prompted a number of baseball scholarship offers, including
ones from Indiana, Purdue, Oral Roberts - and
Georgia
.
"Even then I really didn't know about the SEC, how tough and crazy it was," King
said. "But when I told people Georgia was where I was going, my friends were
like, 'Wow, that's big time.' I think I realize that now."
Granted, convincing mom Laurie wasn't easy to do.
Knowing her son was going to be playing his college baseball almost 3,000 miles
away was a fact that King said definitely had to be overcome.
"It was (difficult), but when me, my mom and brother came here for a visit, it
was just one of those things that you just couldn't turn down. Everything just
fell right into place," King said. "All the coaches, everyone, made me feel so
much at home. I think coming on a visit here, and my mom getting a chance to
talk to the coaches, just really reassured her that it was a great fit, a great
choice."