J.D. Bertrand's a Georgia Bulldog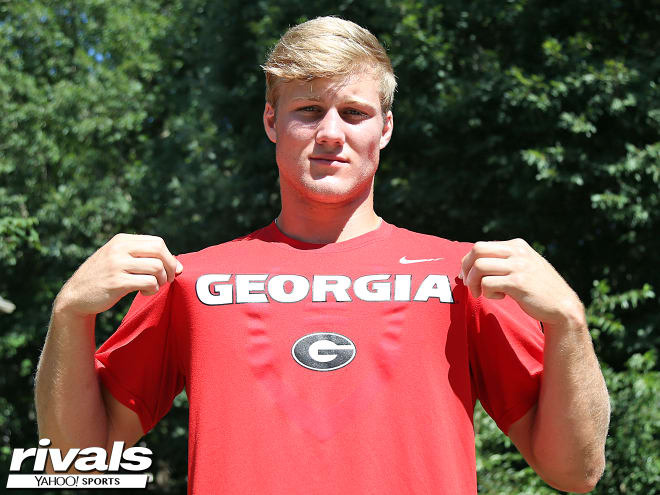 Yes, JD Bertrand still has two years of high school left, but he started the recruiting process a couple of years ago, he had the offers, he has taken a lot of visits and he has found the college he wants to attend.
Shortly after competing at the Georgia camp Saturday, Bertrand, a class of 2019 linebacker out of Roswell (Ga.) Blessed Trinity gave Kirby Smart and the Bulldogs coaching staff some big news.
RELATED: 2019 UGA COMMITMENTS | TALK BULLDOG RECRUITING ON THE VAULT
He had commitment all planned out and he is now a Georgia Bulldog.
"I knew I was ready to commit to Georgia after visiting LSU, North Carolina, Clemson and Georgia in June," said Bertrand. "I was able to evaluate each school, I knew Georgia was my top school after that and I knew then Georgia was right for me."
His parents are from California, Bertrand did not truly grow up a Bulldog fan, but the first college football game he saw in person was in Athens (Ga.). From that point, he has had high interest in Georgia.
"I probably had Georgia up top on my list from the very first time I visited there. I like the school, the coaches are great and it just feels like it is a great place for me. I love how it is close to home too.
"I feel I will be happy there longterm."
The hiring of Smart in December 2015 created some excitement among young football players in the state of Georgia. Smart invited Bertrand to Athens on numerous occasions over the past year and a half, the two struck a strong chord and the coaches played big role in his decision.
"I love how coach Smart is a defensive coach," said Bertrand. "He coached linebackers at Alabama, he knows a lot about defense and that is something I really like.
"I also think coach [Glenn] Schumann (inside linebackers) is a great coach. I think we have some similarities, I like him a lot and I feel we will work well together.
"I was able to sit down with the strength coach (Scott Sinclair) on my last visit too and I liked what he had to say and what he showed me too. The coaches at Georgia really have impressed me a lot."
The question Bertrand will likely get the most is about the timing. Offers are going out early, so many prospects are committing earlier. That also leads to more decommitments.
Bertrand has done his homework and he felt he was ready for this decision.
"I wanted to get recruiting out of the way so I can work on my game and my development. I have been going through this for two years, so I have seen many schools and I have been to a lot of games.
"I have experienced a lot of atmospheres, I have spent a lot of time with coaches and I just knew I am ready. I am strong with my commitment and I am definitely planning to stay with Georgia."
Now that he is committed, he plans to do a little recruiting. One of his best friends, Dominick Blaylock is a top target at wide receiver and he plans to make his decision later this summer. Ryland Goede is another 2019 UGA target at tight end and Bertrand is very close with him as well.
He is ready to start working on those two.
"I will definitely be in their ear trying to get them to commit and to come to Georgia with me," said Bertrand. "We would love to play together. We have talked about it a lot. I will be working on them.
"I will tell them and other recruits that they just need to go visit and to check out because I think they will get the feel why Georgia is the school for them."