Iron sharpening iron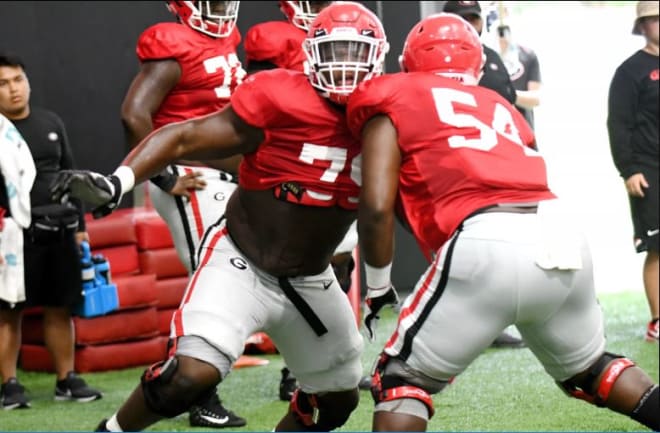 Iron sharpens iron. How many times have you read about Georgia head coach Kirby Smart uttering those very words? Probably quite a few.
That's certainly true when it comes to the daily battles being waged at practice between the Bulldogs' offensive and defensive lines, two units—at least on paper—that figure to be two of the best in the SEC.
"For us, it's the same approach as last year," left tackle Andrew Thomas said. "Whoever's in front of us, we're going to move them, and when we have to pass protect, it's the same thing. We're going to bring that same attitude."
Ditto for the defensive line.
The Bulldogs are having to replace the likes of nose John Atkins and tackle Trenton Thompson, but this year's defensive front, led by Jonathan Ledbetter, Tyler Clark and Julian Rochester, could ultimately be one of Georgia's most talented groups in recent years.
"Jonathan Ledbetter's going to make me better every day, Tyler Clark is going to make me better every day, Julian Rochester is going to make me better—every day," left guard Kendall Baker said. "Those guys are monsters."
For Rochester, the feeling is mutual.
"I think they're the best," he said. "They've worked really hard, and I feel the consistency level is what's so good. They work hard every single day, and we pound on them like they pound on us. Iron sharpens Iron. I feel like the sky's the limit."
Thomas, who has made a seamless move from right to left tackle, says the offensive line welcomes whatever challenge comes its way.
"We feel like we carry the offense," he said. "We know we have to play as a unit for us to be a good team. In the SEC, you have to be able to run block."
Last year, Georgia led the SEC in rushing, thanks in no small part to an offensive line which improved as the season went on.
According to Baker, nobody's resting on any laurels. Quite the opposite, actually.
After the Bulldogs signed on paper what looks to be one of the most talented group of linemen in recent history, the former Marist star knew he'd need to work even harder than before if he wanted to hold onto his job. He wasn't the only one who felt that way.
"I worked really hard this off season, because I knew what was coming," Baker said. "I knew I had a lot of stuff to do to make myself better, to make the team better. I wanted to stay out there (keep his starting job), so me and Lamont (Gaillard) worked all summer. We really didn't take a break."
So far, it appears as if that decision has paid off. He's lost some of the "baby fat" he said he carried for much of last year, and he's replaced it with muscle. Indeed. The 6-foot-6 Baker is a different looking player than he was a season ago.
"There's more competition out there; those young guys, they're pushing us to do what we've got to do to get better, because if you don't, you're going to get your spot taken," said Baker, who singled out freshman Jamaree Salyer, who is practicing at guard and center, as one newcomer who has caught his eye.
"He's nasty. He's good," Baker said. "He's going to play well. He's got to catch his mind up to his feet, but he'll be fine." Trey Hill, Cade Mays, and Warren Ericson are three other true freshmen trying to carve niches of their own.
"We're very deep," Thomas said. "All the way to the back row, one through 14, there's a lot of talent."
The defensive line may not be quite as deep, but the Bulldogs could well be rotating nine or possibly 10 players in the season-opener against Austin Peay.
David Marshall, Malik Herring, DaQuan Hawkins-Muckle, Michail Carter, graduate transfer Jay Hayes, Michael Barnett, Devonte Wyatt, and perhaps freshman Jordan Davis give position coach Tray Scott plenty of options.
"Every defensive lineman we have can play all four positions, every snap through the game," Rochester said. "We just try to stay in the best shape we can, and let Coach (Tray) Scott do the rest. We're ready."