Georgia investigating weekend actions of Bulldog baseball player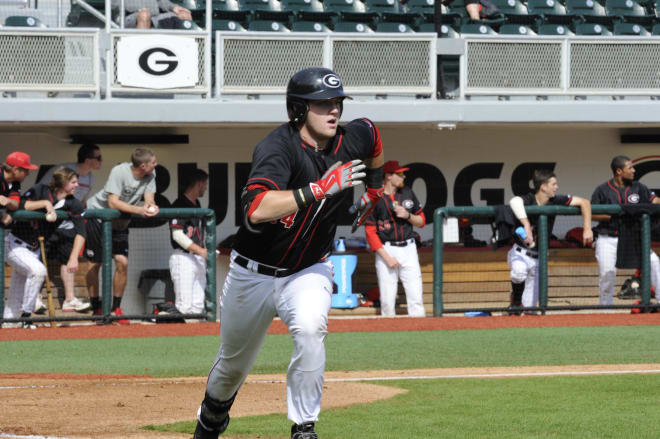 Georgia officials released a statement on Monday expressing concern over a weekend incident involving a member of the Bulldogs baseball team. The statement was in response to UGASports inquiries into alleged public misconduct.
No specifics were given in the email sent to select Georgia beat writers. According to multiple UGASports sources, however, the alleged incident involves first baseman Adam Sasser making racially derogatory comments directed toward a Bulldog football player during Saturday's game between Georgia and Tennessee.
"We are aware of a reported incident this weekend involving conduct by one of our student-athletes. While we are limited in what we can say about the incident at this time, I want to reemphasize that we do not c​ondone discriminatory behavior," Georgia athletic director Greg McGarity said. "The University's Equal Opportunity Office thoroughly reviews all reported violations of our Non-Discrimination and Anti-Harassment Policy to ensure an appropriate response."
The email also included a statement from head baseball coach Scott Stricklin.
"I expect every member of our team to behave at all times in a way that upholds the highest standards and values of the University of Georgia, and it is disappointing when that doesn't happen," Stricklin said. "While I cannot comment on this matter, we cooperate fully in any investigation involving an alleged violation of University policies."
A member of the 2018 All-SEC Second Team, Sasser is Georgia's leading returning hitter after hitting .317 with 10 home runs and 44 RBI, helping to lead the Bulldogs to a host spot in the 2018 NCAA Athens Regional.
Sasser was also Georgia's top batter in SEC play with a .346 average, with six home runs, 26 RBI in 30 Starts. In one of those games, Sasser tied a school record with three home runs as part of a four-hit, six-RBI performance to lift Georgia past Missouri, 10-6.
For his career, Sasser—a graduate of Greenbrier High—owns a .273 average with 13 home runs and 60 RBI in 139 games, including 104 starts.