Frazier explains the chip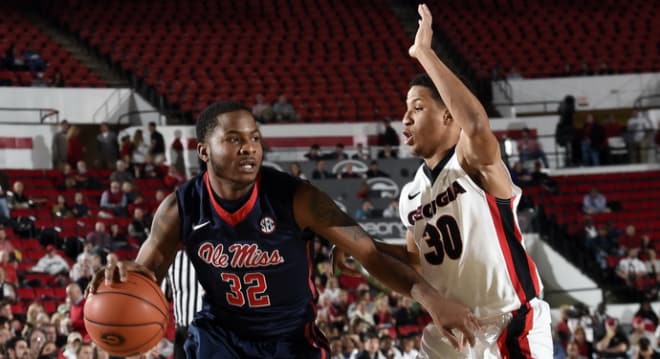 huge chip on his shoulder.
The reason is partly what you might think.
When you're 5-foot-10 and 150 pounds, you're going to have your share of
doubters, especially when you're playing major college basketball in the
Southeastern Conference.
But while part of Frazier's drive can be attributed to proving those sort of
skeptics wrong, that's not the biggest reason for his success.
"I've always had a chip, but it's a different kind of chip. My chip is I can't
the talk of the league Saturday following his 37-point effort in Georgia's 72-66
win at Mississippi State.
"A lot of people came in late to recruit me because I probably blew up my junior
year," he continued. "Once I got the opportunity to come here, I wasn't going to
let that go to waste. At the end of the day, all I was doing was playing
basketball so I'd be able to come here."
Many thought Fox was taking a chance giving the slightly-built Frazier a
scholarship with the Bulldogs.
Frazier's high school bio on Rivals.com lists him with offers from only Georgia
and Jacksonville University.
"When you're small you're going to get that (doubters) all the time. Coach said
you're going to be small and you will have a tough time guarding certain people.
But I think your talent is going to get you there. You just have to have the
heart to keep the drive going," Frazier said. "This being my dream school and
wanting to stay home, I didn't want people to be saying he made a mistake on
me."
said he never worried about what other coaches were saying.
"I don't know what other people thought about J.J. but I thought he was someone
who had a tremendous IQ for the game, terrific quickness, a great ability to
shoot the ball and was someone who used his change of speed to get shots," Fox
said. "I just thought he had a dynamic that would be a really good compliment
with Charles (Mann) because we had one big one and having a guy like that was
really going to fit our team."
As far as that chip Frazier claims that he has, Fox said he hopes he keeps it
the rest of the year.
In fact, the Bulldog head coach admitted he pushed Frazier harder as a freshman
than he ordinarily might have just to see how tough he could be.
"One of my assistants told me around Christmas that if you were as hard on
everyone as you were on J.J. last year most guys would have quit the team," Fox
said. "I really tried to be hard to J.J. to make sure he was tough and would
have a chip on his shoulder so if he's playing that way I think it's a good
thing."
Frazier's performance against Mississippi State would certainly lead one to
believe that the tough love was all worthwhile.
Included in Frazier's 37-point effort was an amazing 7-for-7 night shooting from
3-point range.
For those counting, his 37 points was the most in an SEC game this season and
most by a Bulldog player since Dominique Wilkins scored 37 against Florida in
1981. His perfect night from 3-point line equaled Ezra Williams' Georgia
single-game record set against LSU in 2003.
"I think Coach always though that I could shoot the basketball and that I could
play with instincts, that I can make other people better and if you give me a
chance I can catch the ball and run the floor," Frazier said. "I feel like this
year you've seen then. I can run the floor, and if you give me an open look I
can knock it down. For the most part, I think I'm doing my part."