Following the Future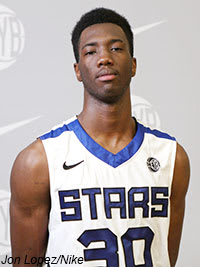 It's post-season time for high school basketball teams all over the country. The University of
members of the class of 2015 along with two more committed already in the Class
of 2016.
Four of them are playing on teams still alive in post-season state
tournaments.
•
cruised to 73-46 victory over Landmark Christian in the quarterfinals of the Class A Private state
tournament, the alma mater of current Georgia Bulldog Houston Kessler. Jackson,
who the Georgia staff plans to use as a point guard during his college career,
tallied 13 points and 12 assists in the blowout win. The Rivals150 prospect is
currently averaging 21.9 points, 7.4 assists, and 6.5 rebounds per game for
Athens Christian while leading the Eagles to a 29-0 overall
record. Athens Christian plays the winner of Greenforest Christian vs. Stratford
Academy on Saturday night at 8:15 PM at Kennesaw State University.
its next
update, also helped his Pebblebrook team advance to the Class 6A Final Four with
an 80-62 victory over Norcross. Ogbeide really struggled in the first half and was held scoreless, but
he bounced back with a huge second half. The three-star
prospect finished with 12 points, 15 rebounds, and 7 blocks. Pebblebrook takes
on Shiloh on Saturday at 4:45 PM at Georgia Tech.
•
The Bulldogs' lone out-of-state signee in the class of 2015 is small forward
still alive in the post-season in Texas and plays in the second round of their
region tournament on Friday afternoon. Wilridge estimates that he's averaging 18
points and 9 rebounds on the season and believes his team has what it takes to
make a run at a state title as they currently have a 29-3 record.
•
game on Wednesday night to help Seminole County advance to the Class 2A Final
Four. Harris pumped in 42 points in an 89-81 victory over Manchester in the
quarterfinals with 32 of those points coming in the second half. Harris and his
Seminole County squad take on Vidalia on Friday night at 8:15 at Columbus State
and UGASports will be in attendance.
•
Bainbridge, but his team did not advance to the state tournament. Crump and some
teammates were involved in an altercation with another team leading to
suspensions that caused them to miss a couple games in the region tournament.
Crump averaged 22.6 points, 4.7 rebounds and 3.3 assists per game as a junior
and led his team to an 18-9 overall record. He rattled off a pair of 50-point
games. Crump and Harris, who are close friends and committed to Georgia on the
same day, faced each other three times this season with Crump and Bainbridge
taking all three games.
Stay tuned to UGASports for all the latest on how Georgia's basketball signees
and
commits fare the rest of the way in their respective post-seasons.