Five Burning Questions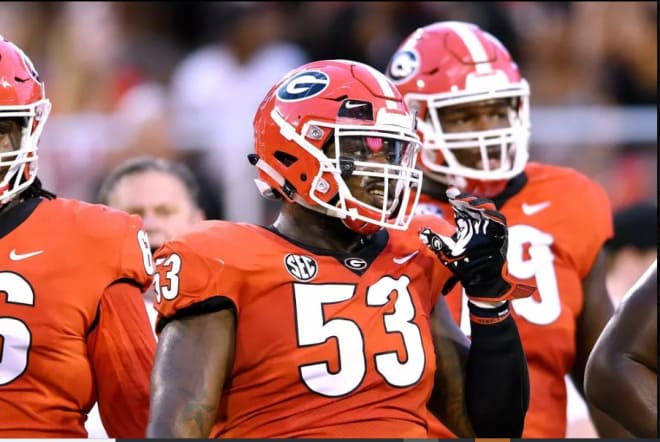 It's a game many have been anticipating: Georgia at LSU.
Although a bit of the luster was lost when the Tigers lost to Florida, this is a still a huge game for both teams.
For LSU, it's basically a must win for the Tigers if they want to stay alive in the chase for the SEC West. Georgia, meanwhile, needs to come out on top to stay in control of the SEC East standings. But the Bulldogs also require a victory to remain on track for another trip to the College Football Playoffs.
Below are Five Burning Questions we have about the Bulldogs going into this huge contest (3:30 p.m., CBS).
Can the Bulldogs eliminate the penalties?
You don't beat good teams – especially in their home stadiums – by committing silly penalties. The Bulldogs certainly had their share in last Saturday's 41-13 win over Vanderbilt.
Georgia was flagged 13 times for 115 yards, a number that's simply unacceptable.
Vanderbilt could not take advantage of the generosity by the Bulldogs, but against LSU, it's best not to count on that scenario repeating itself if Baton Rouge.
With that in mind, you can bet Kirby Smart and his assistants will do whatever is in their power to get the players to start playing "smarter" football. LSU doesn't need any extra help, and it's going to be imperative that the Bulldogs don't give the Tigers any.
Can the Bulldogs be physical enough on defense?
Smart certainly hopes so.
This has been a question we've asked at least once already in our Five Burning Questions series. The reason we're raising it again is because Smart did, in his press conference after the Vanderbilt game.
Although Georgia's physicality is not in question, Smart noted that his defense has yet to play as physically as he'd like, and that they'll need to do so against LSU, a team known for its toughness, particularly along the line of scrimmage.
One way or the other, Georgia's defense is going to have to answer that challenge, especially if the Bulldogs have any intention of coming out with a win.
Can the Bulldogs limit LSU's defensive difference makers?
If Deandre Baker is the best cornerback in the SEC, LSU's Greedy Williams may be No. 2.
It's going to be interesting to see how much the Bulldogs challenge Williams, but he's not the only Tiger defensive player Georgia will have to watch out for.
Safety Grant Delpit is just a sophomore and already considered one of the league's best, while middle linebacker Devin White is a preseason All-SEC performer and one of the best in the conference.
According to our sister site TigerDetails.com, opponents have been having success getting their offensive lineman to the second level in order to get a hat on White.
Smart will tell you that Georgia's doesn't "scheme" for opposing players, but finding some way to neutralize this trio's effectiveness will certainly go a long way toward determining the Bulldogs' success.
How much can the defense pressure LSU quarterback Joe Burrow?
Todd Grantham employed a number of effective blitzes for Florida last week. They had a major effect on Burrow, who played well despite feeling constant pressure throughout the game.
Burrow threw a pair of interceptions, but in this game, his biggest problem was his inability to pick up the pressure, particularly on the backside. One such pressure resulted in a huge fumble, with LSU driving to go up by two scores.
Could Georgia try and take a page from Florida's defensive playbook? We haven't seen the Bulldogs utilize many blitzes or unusual defensive stunts, but based on the some of the problems LSU exhibited protecting Burrow last week, perhaps Mel Tucker may have something in mind.
How will Georgia's revamped offensive line perform?
The Bulldogs are expected to be missing two starters—guards Ben Cleveland and Solomon Kindley—when they take on the Tigers.
If this happens, it's going to be very interesting to see what kind of effect this has.
Like their teammates on the defensive line, winning the line of scrimmage is pivotal for Georgia's offensive front against an LSU defensive line that was described as "average" by TigerDetails against Florida.
According to the site, the Tigers "simply don't have guys making plays around the line of scrimmage, which allowed Felipe Franks way too much time in the pocket, and the running game to churn out yards at will."
If true, that could bode well for the offense and quarterback Jake Fromm, but regardless, it's going to be up to the offensive line and whomever makes up the starting lineup to make that happen.