Finishing Strong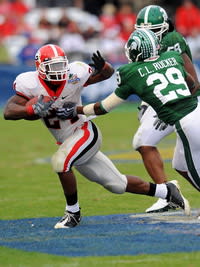 It was quite the in-game turnaround for both the team and the player.
Fortunately Stafford was able to help them climb the hill and enable Georgia (10-3) to win 10 games for the sixth time in Richt's eight years as head coach.
After completing just 6-of-14 passes for 71 yards and one interception the first half, Stafford finished strong, eventually completing 20-of-31 for 250 yards and three touchdowns giving him 25 on the year to set a new single-season mark for the Bulldogs.
"We battled this year, have had some tough injuries and some tough games throughout. Just to watch those guys bounce back and get that tenth win for these seniors is awesome," Stafford said. "It's great to be a part of a team that wins ten games in the Southeastern Conference because of how tough it is week in and week out. It's great to win your bowl game and go in with some momentum to the next year. We are excited about it."
Georgia's defense didn't do badly, either.
Ringer's touchdown cut Georgia's lead to 17-12 after the two-point conversion failed, but the Bulldogs answered on their ensuing driving, scoring on Stafford's pass to Moreno who hauled the ball in over his right shoulder before slipping into the end zone.
" I guess you can point to missed opportunities in the first half, but give Georgia credit for their defense. I thought they tackled very effectively," Michigan State Mark Dantonio said. "Nonetheless, our guys played and had opportunities, even into the fourth quarter we were five points away and just needed to get the possession back and we've got a chance to win that football game."
Moreno didn't fare much better than Ringer with just 62 yards on 23 attempts, although he did grab six passes for 63 yards and the touchdown.
After the game, Richt gave his defensive unit a huge pat on the back. With good reason:
The Bulldogs also collected a season-high six sacks against the Spartans and locked up the game when safety Reshad Jones intercepted a pass with just over one minute to play.
The six sacks matched the six in last year's Sugar Bowl win over Hawaii.
"I am glad the Southeastern Conference won. There are a lot of good things that happened today. It was a long year and it was a tough year, no doubt, but in the end we can hold our heads up high," Richt said of the win, which snapped a four-game win streak in the contest by the Big Ten. "It was a very good football season for us."
With the exception of the defense, Richt didn't have much positive to say after the first half, which saw Michigan State take its 6-3 lead. However, it easy could have been worse if not for the Bulldogs defense, which fended off six trips by the Spartans into Bulldog territory.
The Spartans showed right away that they were willing to take a few gambles. Unfortunately for the Spartans, a fake-punt on fourth-and-2 fell two yards shy and the Bulldogs took over at their own 37.
Meanwhile, Georgia's defense let the Spartans know very early that it was primed for a good afternoon.
Little did the crowd at Citrus Bowl Stadium know that 3-3 would remain the score for a while.
Cousins did get Michigan State close enough for Swenson to attempt a 52-yard field goal which fell well short and wide life, although get make amends with 2:14 to go in the first half with a 32-yarder that put the Spartans up 6-3.
The three first-half points matched the Bulldogs' lowest in a bowl game since trailing Virginia Tech 21-3 in the 2006. Georgia came back to win that game 31-24, but this time the Bulldogs' offense just couldn't get on track until the third.
How frustrating a start was it initially for Georgia's offense?
Green caught his first pass later in the quarter, an 11-yarder that kept alive Georgia's ensuing drive, which culminated with a 35-yard touchdown pass from Stafford to Moore with 3:31 left in the third to cap the 96-yard drive.
White's 21-yard touchdown catch came on the next-to-last play of the quarter. Moreno's touchdown catch to ice the game came with 3:43 left on the clock.
"I thought it was a fantastic win. To be sitting there, only down 6-3 at halftime was just a great tribute to our defense. They stopped them at least the first three drives in a row," Richt said. "Even when they got the first field goal, which I think was off of that turnover, they got a stop there. They kept us in it until the offense started to find their way. When the offense did (find their way) we separated a little bit."