Film Don't Lie: JT Daniels' bad decisions
Dayne: Georgia's offense is primed to be among college football's best in 2021. The stability JT Daniels brought to the passing attack provides good reason for optimism. Remember, he was Georgia's fourth starting quarterback in four months. Daniels, however, didn't line up against the best competition in the sport, and still showed many areas that need improvement. That's not a knock on him or his potential. He and Georgia can be championship quality. It's simply being objective.
Brent: In his time at USC, for every big-time throw he made (that is, our highest-graded throws), Daniels had a turnover-worthy play as well. He improved greatly in that area in his four starts at Georgia, tossing twice as many big-time throws as turnover-worthy plays. The talent is there, and he showed as much during the final four games. Now he has an entire—and hopefully healthy—offseason to improve the finer details we're about to show.
Underthrows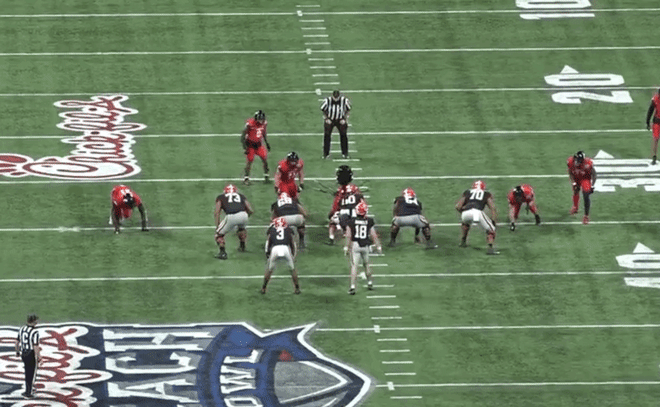 Dayne: Daniels' arm strength is legit. He can make the NFL quality passes down the field. He did show a propensity to underthrow his speedy receivers. Some of this can surely be attributed to limited time passing to Georgia's pass-catchers. He was bailed out in the Peach Bowl when this pass erred over the left shoulder instead of the right side, which would have been away from the defender. If the Bearcats pick off this football, Georgia loses the Peach Bowl.
Brent: This play is as much about the decision as the throw itself. You can see he takes his eyes instantly to the right, given the small amount of time left on the clock (this was the last play before Jack Podlesny's game-winning field goal) and, thus, doesn't see the safety bail to cover the deep route. Daniels probably thought he had a touchdown when he released the ball. As you can see, though, the game situation also rushed his footwork, and he was unable to drive into the throw. This didn't need to be a lead-the-receiver/touchdown throw. Put it on a line in the voided area where Jermaine Burton can make the catch and step right out of bounds.
Dayne: It doesn't take a quarterback guru to spot the poor mechanics on this pass. Daniels drops straight back without turning his hips and pointing his shoulder. It turns into a lofted ball passed with all arm and no strength from his lower body. He doesn't give Darnell Washington an opportunity to box out the defender with his NBA-sized frame. If this ball is thrown closer to the back pylon, I like Washington's chances of bodying his way to a touchdown.
Brent: Try to drop back five steps on your tiptoes and turn and throw a football 35 yards with either heel barely ever connecting with the ground. It's really hard. Daniels' insistence on continually being on his toes when throwing, and also not being quicker with his feet/drops, is something that should, and likely will, be fine-tuned in the offseason.
Dayne: This is an impeccable route from Jermaine Burton, who gets two steps on the defender. The quarterback mechanics are better on this play. It's just an inaccurate pass. This ball needs to be aired out five yards further to allow Burton to catch and run. Georgia protected well, and Daniels had ample time to turn this into a big play.
Brent: Clean pocket amplified by the play-action fake, plus a great route to beat the defender, should equal an explosive play. This is just a miss. From a timing perspective, one detail that may have caused the underthrow is, again, Daniels' footwork. Burton is open, and the ball needs to come out on the first hitch at the latest. However, if you look closely, you'll see Daniels hitch up twice. The details at the game's most important position are vital.
Dangerous throws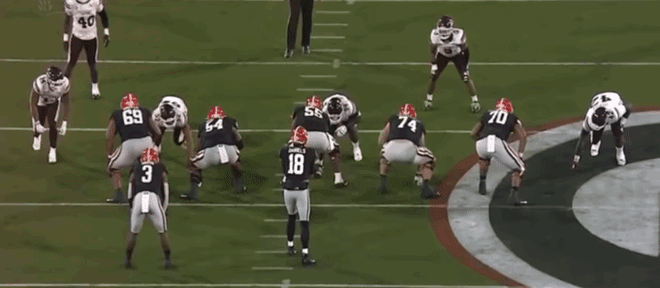 Dayne: It really was a dog fight when Georgia played Mississippi State. Dad jokes aside, this game was a struggle because Mike Leach's Bulldogs did such a marvelous job of possessing the football. Daniels had an early miscue with this pass that didn't account for the dropping linebacker. The quick inside slant is a weapon for successful passing offenses, especially off the RPO.
Brent: After completing his first pass in his first game back, for a 28-yard gain (granted George Pickens did most of that work), this was Daniels' second throw, his lone mistake against the Bulldogs, and one of his six turnover-worthy plays in four games.
Dayne: It's hard to blame Daniels too much for this ball, thrown directly to the defender, because pressure was caving the pocket as the ball was delivered. Even so, this is an ill-advised shot based on the circumstances. On first-and-ten in this section of the field, a sack or a throw away is better than a turnover risk.
Brent: No matter the details of why, the bottom line is, this cannot happen on a first and ten in the red zone on an RPO. Watch the line block—they're blocking run. The decision to pull the ball and throw it was Daniels'.
Being indecisive 
Dayne: This very well could be a coverage sack, as Daniels tried to create more time on third down. Daniels, though, does himself no favors by scrambling out of the pocket. That is simply not an asset in his game. He won't avoid many tackles or create more opportunities by moving laterally.
Brent: Don't make a play going nowhere worse. Either step up into the pocket or throw the ball away. The tackles do their job on this play. In general, when the quarterback takes too deep of a drop or unnecessarily evades the pocket, and is sacked, that sack is credited to the quarterback, as it was to Daniels on this play.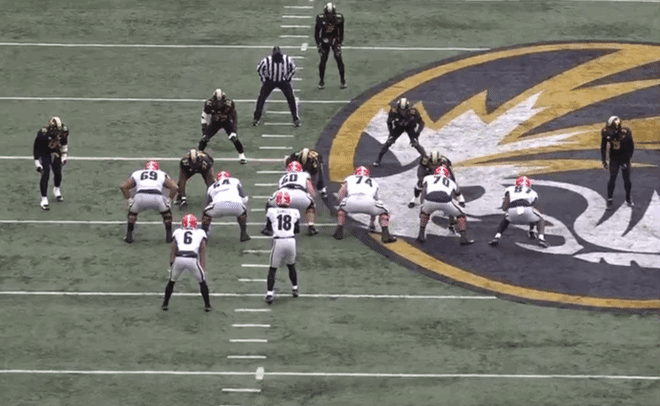 Dayne: This is a violent hit and is accentuated even more in the repeated GIF form. Daniels cannot sustain these kinds of hits frequently with his surgically- repaired knee. The play-action and RPO game rewards decisiveness when the read is made. When in doubt, let the running back take the hit.
Brent: When in doubt, always give the ball. Especially if your name isn't Lamar Jackson.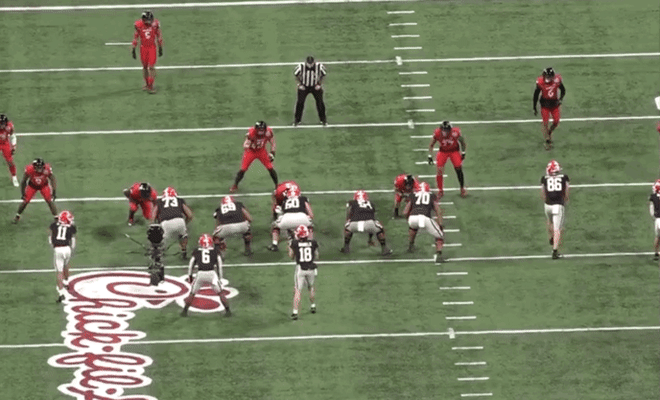 Dayne: Daniels cannot be criticized for trying to escape this pressure in the pocket. The only critique is that he should have gone down on his own terms to reduce the likelihood of a fumble. After the first two evasions, this play is dead. Live to fight another day.
Brent: There are two issues with this play. One, as Dayne states, after Daniels does not get rid of the ball after spinning out of the initial pressure, he has to know to go down. The second is knowing where your answers or outlets are when pressured. If you watch when George Pickens and John FitzPatrick cross by each other on the mesh routes, both Bearcat defenders run with Pickens, while FitzPatrick is standing all by himself to the left.
Overall takeaways
Dayne: Daniels is a great talent at quarterback who must rely on his arm and his brain instead of his legs. The more his decision-making reflects that mentality, the better Georgia's offense will be. This article is not composed to bash on Daniels. It's meant to be paired with the first part of the series to provide a more complete look at what he did for Georgia last season. He did put the football in harm's way, but I love his fearlessness and willingness to attack with the passing game. Doing that in a way that still limits potential turnovers will determine how potent Georgia's offense can be.
Brent: Daniels was a five-star, top-five recruit for a reason. He then started as a true freshman. Returned the following season with a different offensive coordinator, he promptly blew out his knee. Now he gets a full offseason with the same coordinator and likely the most talent he's ever had among teammates. That, combined with his own high-level aptitude (we're told it's as good as gets) puts Georgia's offense in possibly as good a position as it's ever been going into a season. If Daniels can clean up the footwork and mechanical issues described above, and continually improve as a decision maker, the sky is the limit for Georgia's offense next fall.