Evans out as Bulldog AD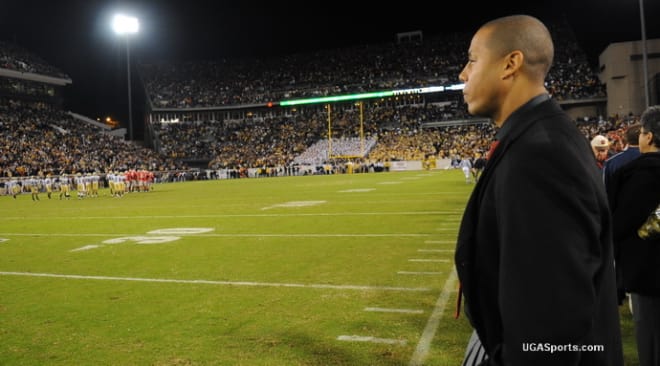 Damon Evans is out as Georgia's athletic director.
Two sources close to the situation told UGASports Sunday morning, that Evans gave his resignation to UGA President Dr. Michael Adams, who made the request of the Gainesville native. WSB-TV in Atlanta first reported the news.
The official announcement is expected Monday.
The sources also tell UGASports that they expect Adams to hire a national search firm to determine Evans' replacement. The UGA Athletic Association Executive Committee has scheduled a conference call at 11 a.m. Monday morning to discuss Evans' fate.
Saturday, a member of the UGA Athletic Association Board of Directors told UGASports that information brought to light in Friday's police report of Wednesday's DUI arrest in Atlanta, "could make it difficult" for UGA President Michael Adams to retain Evans in his current capacity.
Adams said in a statement Thursday that he would wait until he returned next week from vacation before making a decision on Evans, but only after consulting with staff and legal counsel.
The release of Friday's police report which stated Evans attempted to use his authority to get out of his legal predicament, plus the fact that Georgia State Patrol Officer M. Cabe found a pair of panties between Evans' legs, apparently hastened Adams' return.
Attempts to reach Evans have been unsuccessful. Georgia officials have not commented on the situation since Thursday's press conference at the Rankin Smith Student Center.
Evans, who originally declined to resign, said Thursday he will accept whatever punishment Adams deems necessary.
Public opinion was definitely against Evans keeping his job.
In a poll conducted by UGASports, 61 percent of 461 votes cast said that Evans should be fired immediately with 29.7 percent saying the university should reserve judgment until the legal outcome is determined. The remaining 9.33 percent said unless Evans receives jail time, he should be allowed to keep his job.
According to a report by the Georgia State Patrol, Evans and a female companion later identified as 28-year old Courtney Fuhrmann who he called "a friend,", were pulled over in the Georgia AD's BMW at approximately 11:55 Wednesday night at the intersection of Roswell Road and Chastain Drive.
Evans was administered a field sobriety test at the Atlanta Pre-Trail Detention Center but refused to blow into a Breathalyzer. He was charged with DUI and inability to maintain a proper lane.
Ironically, Thursday was also the first day Evans was scheduled to receive a $110,000 raise to push his annual salary to $550,000 annually, with additional $20,000 raises each subsequent year.