Early signing period proving challenging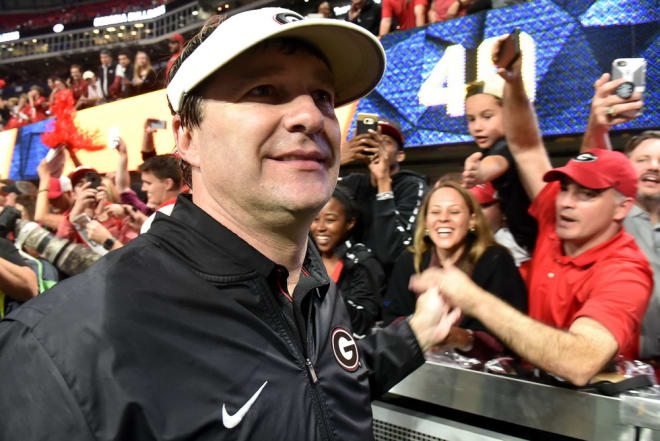 Kirby Smart said Monday the new early signing period has been more difficult to deal with than he first thought that it would.
"Yeah, it's been a great challenge. I don't think people anticipated ... at least I didn't anticipate some of the repercussions," Smart said. "First off, trying to play for a National Championship, and I know there are four teams involved in that. You've got to look at it from both perspectives, from the perspective of us as coaches and then also the kids."
Smart said he and his staff have done the best they could, combining recruiting trips with Rose Bowl practice that began last Friday in preparation for the three-day early signing period that kicks off on Wednesday.
The Bulldogs are expected to have as many as 20 youngsters sign during that time.
"I am all about if it benefits them then it's for a better cause. I think there's going to be 20- to 30-percent of the people who sign Wednesday that this is a beneficial process," Smart said. "But there are a lot of other kids that feel rushed. They feel like they're making decisions amidst a sea of coaching changes, and they're having to hurry up and make a decision and not really getting the chance to develop relationships with the people to the places they're going."
Smart's not sure if that's a benefit to anyone involved.
"I think the public perception is you choose the school and you go to the school. You don't necessarily go to a coach," he said. "Everybody can say that but until it's your son or your daughter, and you're having to meet these coaches. You make decisions based on relationships."
Smart said that aspect can make it stressful on both parties involved.
The Bulldogs were fortunate.
Georgia made it through the visitation period knowing it had to find a replacement on the recruiting trail for outside linebackers' coach Kevin Sherrer, which the Bulldogs did with defensive quality control coach Jay Valai.
"The timeframe with which we're having to make these decisions for the kids is really stressful on them," Smart said. "I think when you look at the coaching side, we could get used to it, but with the advent of the 10th coach in the same year as the early signing period, it makes it really complicated. Because now you have a lot of coaches that are going to be moving possibly after all the kids sign, and that's a lot of the problem that people complained about before. The guys move after kids sign.
"So, it's been a difficult process for certain. A little bit of that complicated by the fact that we played in the SEC Championship game and we lost a week of recruiting, and then signing day is basically upon us. It's in two days, right? So, it's here. So, it's been very complicated. You'd like to look into it and see who did it actually benefit and how many did it benefit?"