Owen Condon commits as Georgia's next offensive tackle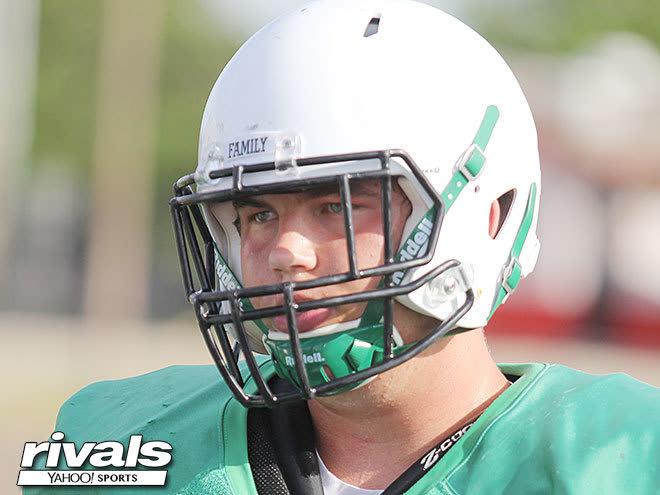 INDIANAPOLIS - The commits keep coming for Sam Pittman, and the latest was one of his largest to date in 6-foot-6.5, 305-pound offensive tackle Owen Condon of Oklahoma City's Bishop McGuinness High School.
"Well, I was at Georgia yesterday and today," Condon said. "I stayed in Athens with my parents. Today, I realized I'd kind of seen everything I needed to. On the way to Butts-Mehre, I told my parents that I'd seen what I needed and I was going to commit. We met with the strength and conditioning coach and toured a little more. Then, we sat down with Kirby [Smart] in his office, and he gave me his sales pitch. I told him I'd seen what I needed and that it was fitting that I would commit to him because he was the one who offered me when I was there last time in March. I said I'm ready to commit, and I think this is the place for me. He said 'That's awesome!' and everyone was pumped. We called Coach Pittman and Coach [Jim] Chaney. Everyone in there was jumping up and down and hugging. It was a good time."
Just what was it that Condon needed to see? He felt after giving the Bulldogs a thorough look, he knew Athens was the right fit.
"I loved my visit last time, but it was just me and my mom who came," he said. "This time was about seeing everything again. Also, between now and March, I'd been back to all the places I was considering. This time, I was here with my mom and dad. I just realized this is the best place for me of the places I was looking at. It's the place I felt most at home, which I know sounds cliche, but it's true."
That home feeling trumped any perceived concerns the three-star lineman had about the Bulldogs, including questions Condon knows he'll face about the depth chart.
"Coach Pittman said a lot of schools would negatively recruit by saying that they'd had such a great class last year that I'd never see the field," he said. "Obviously, they lost one of their signees to an incident, so they ended up with four guys. Two are true tackles, and they've got a couple guys on the roster. He just said that anywhere you go is going to be competition. Say I get there and I'm not playing tackle, if I am the best guard, I can move there and go for it. If not, you're just going to have to work your ass off anywhere you go. If I come in and beat one of those guys out, great. He doesn't care how old you are."
Pittman's role went even further for Condon.
"His track record is amazing," Condon said. He's got twenty-some guys in the NFL, and he's just relatable and easy to talk to. He was a big part of my decision, really. He told me his plan for coaching, and he said that he wants Georgia to be his last stop. I know a lot of people say not to take a guy's word for it, but I think he's a stand up guy. What he says, he means. I just put a lot of trust into him to get me to where I want to be, which is the NFL in four to five years down the road."
And what of Smart, a man who's made his name coaching up championship defenses? How does he recruit an offensive lineman?
"He oversees everything. He kind of gives the reins over to Coach Chaney on the offensive side of the ball, so I spoke with Chaney, too," Condon said. "Kirby's just another, like the whole staff, great guy. They're fun guys to be around, and you can see how well they get along within themselves. You can see they care about their guys. There's even guys, like Mirko (Jurkovic), who can't even play football anymore, and they treat him like he's a guy out there starting for them. I think that speaks to the fact of how they care about their players. I could really sense that, especially from the top down. From Kirby to GAs, they're all really invested in their players."
Coaches are also quite invested in their 2018 recruiting class, making sure Condon got his marching orders on the next guys the Bulldogs want to add.
"Well, they've got me and Warren (Ericson) right now, and they're planning on taking two more guards," Condon said. "I think you can kind of figure out who I'm talking about. Me and Warren will be on them. That's all I'll say."
There's more to Condon than just football though.
"I'm a dual sport guy," he said. "I play football and basketball. Coach Pittman loves that about me. I'm a calm, laid back guy on the field, but when I put the pads on, I flip the switch. I'm a totally different guy on and off the field. I like to think I'm a smart kid. I'm easy to get along with, and I like to get in and get my stuff done."