Dawgs focusing on correcting Red Zone woes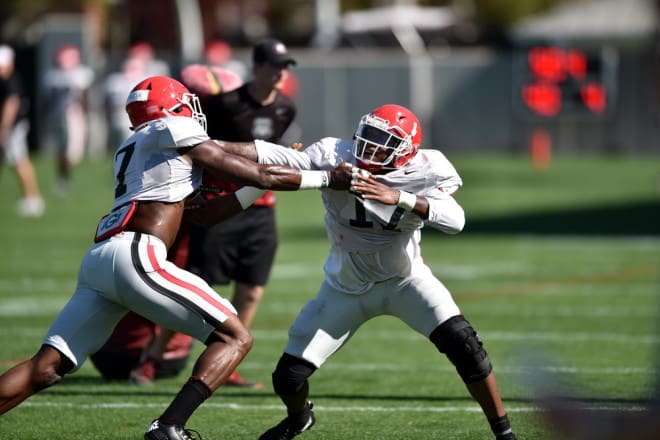 Lorenzo Carter compared the feeling to a kick in the stomach.
Regarding Georgia's red zone defense last year, no doubt countless Bulldog fans at times felt the same pain.
The Bulldogs' red zone defense – in a word – was horrible. Georgia ranked next-to-last in the SEC, just ahead of Ole Miss as opponents scored 90.7 percent of the time they reached the 20-yard line.
Bulldog foes scored 39 of the 43 times after they reached the Georgia 20, tallying touchdowns on 32 of those occasions with seven field goals.
"Once we got a chance to sit down and look at the film, look at the number of times the other team scored touchdowns, it was like a punch to the heart, a kick in the stomach," Carter said. "Making plays in the red zone, that's all about your manhood. We know we've got to go out this year and prove ourselves."
Correcting Georgia's red zone woes have been part of spring practice – on both sides of the ball. The Bulldogs ranked seventh last year in red zone offense.
"It has been for both sides," middle linebacker Reggie Carter said. "We've made that an emphasis this spring. Right now, both sides are feeling better about it."
But the fact remains, until tangible results are seen in the fall, questions will remain.
"Last year was tough, but all you can do is go out there and practice it. Coach (Kirby) Smart has put us in tough positions in practice. I know we'll be put in tough positions in the scrimmage and next year all year," Lorenzo Carter said. "It's just a mindset thing. We just need to go out there with a better mindset and make sure we stop them when they get inside the 20."
Carter believes the situations he and the rest of the defense continue to be put in will pay off with better success.
"The more you practice it, the better you get and the more confidence you build," he said. "We just want to make sure we go into the season rolling."