Dawgs add running back to class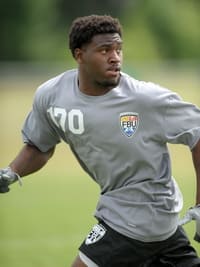 Georgia has brought in some impressive Atlanta area running backs during the Mark Richt era, such as Thomas Brown from Tucker and Kregg Lumpkin out of Stephenson. On Tuesday, Malcome was happy to add a third name to the list.
"I am just excited to be a Bulldog!" Malcome exclaimed.
Malcome chose Georgia over Florida, Oklahoma, Clemson and West Virginia. He also had offers from schools like Tennessee, Alabama, Florida State, and Miami. Malcome had recently listed Oklahoma and later Florida as the schools he favored the most. He said in his final analysis the offensive scheme looked better in Athens.
"My top two were Florida and Georgia. Oklahoma had another guy commit before me so it was Florida and Georgia. In the end, I felt my running style fit best at UGA. I like the pro style offense they run, and I took a long look at the lifelong benefits of being a Georgia alumnus," Malcome told UGASports.
Another big factor in the 3-star's decision to choose Georgia was the relationship he had developed with their coaching staff, especially first year running backs coach Bryan McClendon. While he appreciated that coaches from a number of schools showed interest in him, the ones in Athens were able to connect with the Southwest Dekalb star on another level.
"I talked to Coach (Kenny) Carter from Florida and Coach McClendon from Georgia every other night. I just felt like Coach McClendon and I had a closer bond. As I said, we are closer in age," said Malcome.
According to Malcome that bond between him and McClendon reached far beyond the gridiron.
"I talk with Coach McClendon all the time about school, and also about life. It really touched me to see a coach care like that. A lot of coaches don't really care about you; they just want to use you," explained Malcome.
Even though he missed four games last year, Malcome was still able to run for 980 yards and 14 touchdowns. "My best game, since we haven't won a championship yet, was against Marist. I ran for 192 yards," Malcome said.
The downhill threat also said he is looking forward to running behind Benedict and Houston, and his ability to make one cut and go should do well in the Bulldogs' offense. Malcome has a chance to become the powerful back Georgia has been lacking in years' past. But the newest Bulldog commitment is quick to add that is not all he will bring to the backfield in Athens.
"I cut real wel; and stiffarm. I have make a good pre-snap read," Malcome acknowledged.
Malcome told UGASports a couple weeks ago that his grandmother would be the biggest influence on his decision.
"I am a Georgia boy, and that's why I'm staying closer to home," Malcome said.
Malcome is excited to be a Bulldog and also glad the process is over. But while he is planning on focusing on school and football, Malcome also let UGASports know he is not done with recruiting entirely.
Another player Malcome wants to joins him is actually a long time football rival. What makes it even more interesting is the fact that they both play the same position.
Malcome becomes the 12th commitment for Georgia and here is the 2010 class so far for the Bulldogs:
href= viewprospect.asp?pr_key=85337>Da'Rick Rogers - WR- 6-foot-3, 205, 4.40-Calhoun, GA.
href= viewprospect.asp?Sport=1&pr_key=79851 >Brent Benedict - OT- 6-foot-6, 290, 4.40-Jacksonville, FL.
href= viewprospect.asp?Sport=1&pr_key=85721 >Michael Bennett - WR- 6-foot-3, 186, 4.55-Alpharetta, GA.
href= viewprospect.asp?Sport=1&pr_key=98664>Demetre Baker - OLB- 6-foot, 200, 4.45-Orange Park, FL.
href= http://uga.rivals.com/viewprospect.asp?Sport=1&pr_key=89429>Derek Owens - CB- 5-foot-11, 180, 4.40-Jacksonville, FL.
href= viewprospect.asp?Sport=1&pr_key=95275>Deon Rogers - OLB- 6-foot-3, 200, 4.48-Port St. Lucie, FL.