Cox gets his shot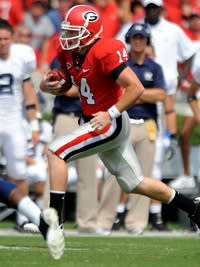 If anybody can give Cox a few tips on how to approach the upcoming season, it's the current backup quarterback with the Atlanta Falcons.
For three years, Shockley backed up former standout David Greene before be finally got his shot in 2005. That year, Shockley led the Bulldog to an SEC Championship and a berth in the Sugar Bowl against West Virginia.
With Matthew Stafford's decision to apply for April's NFL Draft, Cox suddenly finds himself wearing the same shoes.
"We're going to have to have a good spring but we've got to get started as soon as possible," Cox said. "It's been tough, the waiting. I was talking to one of my friends saying it feels like I haven't played football for 10 years. But I'm excited about it."
When the Bulldogs begin spring practice in March, Cox's name will top the depth chart for the first time in his career, and barring something unforeseen, will be the starting quarterback when Georgia opens the 2009 season at Oklahoma State.
Gray missed a lot of time working with the quarterbacks last season due to his time on special teams, but with his ability to hurt opponents with his legs as well as his arm, the Missouri native will get his first real shot to show what he can do.
"Of course Logan is very talented so it's going to be interesting to see him do his thing in the spring, too," Richt added. "But right now Joe is the No. 1 quarterback although we'll see who wins the job going in."
Their time will come, but not next year. This is Cox's opportunity to shine.
"I think I'm going to be able to bring some fire to everybody. I'm a real rah-rah kind of guy," Cox said. "I've always been that way and that's how I play. If I can just transfer that feeling to a couple of other players then it could spread like wildfire. I've always looked to guys like Bret Favre and how he goes out there acting crazy on the field. That's the guy I want to be when I play."
According to Cox, he met with Stafford for a few minutes Wednesday morning before his press conference to announce his entry into the NFL.
It was really the first time the two had talked at all about Stafford's decision.
"I told him I was excited for him and what he was getting ready to do," Cox said. "We didn't talk about it leading up to it, so today was the first time I really knew what was going to happen."
It didn't take Cox long to start hearing from family and friends once the news of Stafford's leaving broke.
"I got a bunch of text messages from people saying how excited they are for me," he said. "It's pretty encouraging."
Stafford gave Cox some words of wisdom himself.
"I think the No. 1 deal is you've got to have fun with it. There are a lot of media and pressure in situations that can really bog you down and make this situation not as fun, but it's still a lot of fun," Stafford said. "The guys that we have in our program to play quarterback are fully-equiped to take over. They'll add their own little twist to Georgia and I'll be excited to watch them play."
Despite the losses of Stafford and running back Knowshon Moreno, Cox says fans won't notice much change in the way the Bulldogs conduct business on offense.
"I don't think it will change at all. We still have the same type of guys and it always hurts when you lose two superstars and another one in Mohamed, but the good thing about football is once somebody leaves somebody has to step up and we've got plenty at every position. We're looking forward to getting started as soon as we can," Cox said. "I think it's going to help not being preseason No. 1. We've got to earn everything we get this year and I think that's going to bring everybody together and hopefully get everybody on the right track."