Cat out of the bag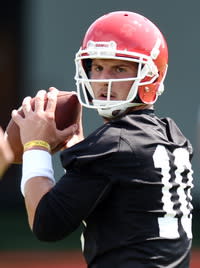 [rl]On Wednesday, Georgia coach
Mark Richt
opened up the possibility of a new starter at quarterback for Saturday's game against Florida by revealing that more than one player had been getting reps with the first team.
But will there be an actual change? Tuesday, three individuals close to the situation told UGASports that junior
Faton Bauta
would get the call, although there has been no official word from Richt or anybody associated with the Bulldog staff.
So, will he?
Thursday night, sources at GridironNow seemed to agree, claiming that Bauta will make his first career start Saturday at EverBank Field (3:30 p.m., CBS) against 13th-ranked Florida.
Wednesday, tight end Jeb Blazevich told reporters after practice in Athens that the team knows what is going to happen, although he was very careful when responding to questions.
"I don't know how much I'm allowed to say, but they (coaches) are looking to put pressure on guys like that," Blazevich said. "But I'll just leave it at that. I don't want to get in trouble."
The sophomore starter knew better than to tip his hand.
"I'm comfortable with whoever they put in," Blazevich said. "That's why they (coaches) make the big bucks."
At face value, a switch to Bauta would seem like a bold move in a game with as much significance as Saturday's contest holds.
With a win, Georgia (5-2, 3-2) would control its own destiny in the SEC Eastern Division. But apparently, Richt feels it's a gamble worth taking.
For the year, Lambert has completed 100 of 156 passes for 1,276 yards and nine touchdowns with two interceptions, but he has been inconsistent, completing under 50 percent of his passes in Georgia's back-to-back games against Alabama and Tennessee.
Bauta, meanwhile, has played on sparingly over his Bulldog career, completing 4 of 5 passes for 48 yards and rushing 10 times for 46 yards and two scores.
So, what would playing Bauta enable the Bulldogs to do?
It's believed Bauta will enable Georgia to run more read option, much like Tennessee was able to do with its quarterback Joshua Dobbs, who rushed for 136 yards in the Vols' one-point loss to the Gators earlier this year.
Bauta could also allow the Bulldog to perhaps to employ more option-type runs with Sony Michel, and perhaps Isaiah McKenzie who is coming back from the hamstring injury that has caused him to miss the past four games.