By The Numbers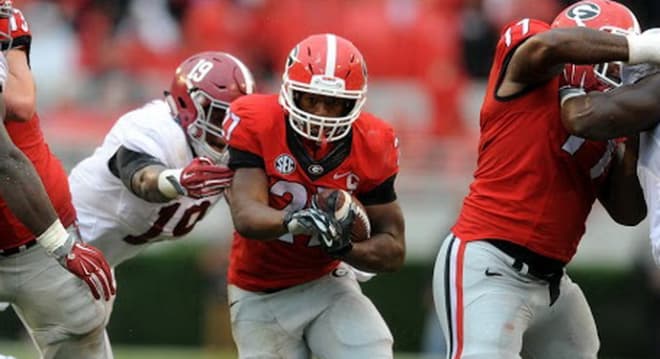 The numbers don't do
Georgia
any favors this weekend, and
basically they
serve to paint a clearer picture of just how bad the drubbing was. There are a
few good notes as well. We open the
stat book up to take a look at the numbers behind the game.
0
- Despite six carries, Georgia held
Kenyan Drake
to zero yards rushing.
day, yet he gave up two interceptions.
day, 148 - 146.
3 - Georgia quarterbacks combined for three interceptions, including
Lambert's first turnover of the year.
3.6 - Georgia's offense managed only 3.6 yards per play in the first half,
compared to 9.1 by the Crimson Tide.
4 - The Bulldog offense dealt with four fumbles but surrendered only one.
5 - Lambert missed ten passes in the first half, five times more than in
the previous two game combined.
7.3 - Chubb posted the highest yards per carry average of the game thanks in large part to
his long run in the third quarter.
8 - Despite very few early penalties, the Bulldogs finished with 8 for 82 yards,
including several personal fouls.
8:03 - While Georgia won the time of possession battle in the first half,
Alabama finished with over eight minutes more of ball control.
10
-
Collin Barber
was forced to punt ten times in the contest, averaging 42
yards per attempt.
13
- Linebacker
Tim Kimbrough
lead all defenders with 13 total tackles on the
day.
18 - Georgia was a mere 18 percent on third down, going 3 of 17, but they were
still better than the Crimson Tide in that respect, who went 1 of 12.
20 - The longest Georgia kick or punt return aspect was only 20 yards, courtesy
40 - Georgia possessed the ball for 40 seconds more than Bama in the first half,
15:20 - 14:40.
41 - Lambert went 41 percent on first half completions, going 7-of-17.
55 - Barber posted the longest punt of the day, a 55 yard kick, narrowly edging
out JK Scott, who had a 54 yard punt of his own.
63 - Without his 83 yard breakaway, Chubb posted only 63 rushing yards on the
day, averaging just 3.3 yards per carry during that stretch.
80 - Alabama outgained Georgia by 80 total yards, a difference of 379 to 299.
87.5 - Jake Coker's first half completion percentage was 87.5 percent, going
7-of-8 against the Bulldogs for 154 yards. He finished 11-of-16.
120 - Crimson Tide freshman Calvin Ridley lead all receivers with 120 yards on
five catches, good for 24 yards per grab.
92746 - It was a sold out crowd in Sanford Stadium as expected.