Beloved mascot Uga VII dies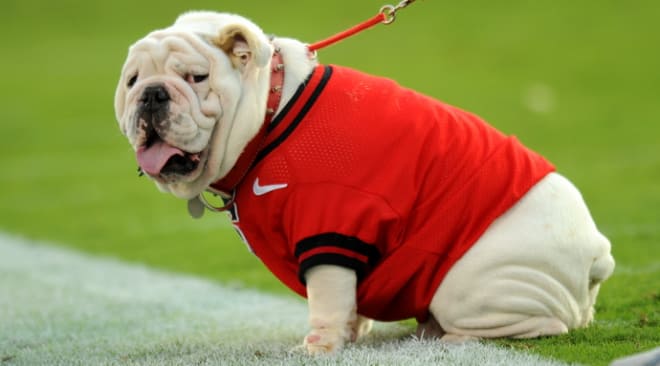 Uga VII, the seventh in a line of Georgia mascots, died suddenly Thursday afternoon.
He died of heart-related causes, according to owner Frank W. "Sonny" Seiler. Uga VII was four years old and wraping up his second season as the Bulldogs' mascot.
"We are all in a state of shock," said Seiler. "We had no warning whatsoever."
Seiler said that there will be no live mascot at Georgia's game on Saturday, but a wreath will be placed on Uga VII's doghouse on the north sideline.
"He was 10-3 last year, which is not bad for a 'freshman,' said Seiler. "Uga VII was not as active or mischievous as his father but more distinguised. He realized his role when he put his shirt on. He was well-behaved and always appreciated the significant of his role."
Named "Loran's Best," Uga VII was introduced to Georgia fans on Saturday, Aug. 30, during pregame ceremonies of the Bulldogs' season-opener against Georgia Southern.
"This is a very sad day for the Seiler family, but also for all Georgia people," athletic director Damon Evans said. "Just as his ancesters, he had captured the hearts of college football fans everywhere in the country as the country's No. 1 mascot. He had ben truly embraced by all those who follow the Georgia Bulldogs across the country. We will miss him dearly."
Seiler said there were options availabe for UGA VII's replacement, but no final determination would be made until sometime next year.
Uga VII, who weighed 56 and one-half pounds, completed the 2008 season with a 24-14 win at the Capital One Bowl against Michigan State and ended his first and only full season 10-3.
More news as it becomes available.