Baseball Notebook: Bulldogs host Vols to open SEC
Tennessee at Georgia
WHERE: Foley Field
WHEN: Friday 6 p.m.,Saturday 1 p.m., Sunday 1 p.m.
RECORDS: Georgia 13-3, 0-0; Tennessee 14-3, 0-0
PITCHING ROTATION: Friday: Luke Wagner (3-0, 0.71, LHP, Fr.) vs. Chad Dallas (2-0, 3.24, RHP, Jr.); Saturday: Ryan Webb (2-0, 0.00, LHP, Sr.) vs. Will Heflin (2-1, 4.50, LHP, Sr.); Sunday: Jonathan Cannon (1-0, 0.00, RHP, So.) vs. Blade Tidwell (2-1, 1.80, RHP, Fr.).
TV/RADIO: SEC Network+ (Matt Stewart and Jason Jacobs:); Georgia Bulldog Radio Network (Jeff Dantzler and David Johnston)

Freshman Wagner set for Friday night start
Having a true freshman like Luke Wagner start Friday's SEC opener against Tennessee might seem like a tall chore.
Georgia head coach Scott Stricklin and Ryan Webb don't see it that way. Instead, when the Bulldogs and Vols get underway Friday night at Foley Field (6 p.m.), both believe the Bulldogs will be in more than capable hands.
"When I first saw him in the fall, the thing that stood out to me was how calm he was," Webb said before practice on Friday. "Every time he went out, you got the same thing. He was very C.J. (Smith)-like, where he didn't get too high and he didn't get too low. He's going to be perfect, because he doesn't let the moment get too big for him."
Ironically, it's partly because of some arm soreness by Smith that Wager is receiving his Friday night opportunity. In four appearances thus far, the Pennsylvania native could not have done more.
In 12.2 innings, Wagner (3-0) has only allowed seven hits with nine strikeouts. Although his eight walks are a concern, his ERA coming in is a mere 0.71, and opposing hitters are batting just .167 against him.
"C.J. has been battling arm soreness, but he's been throwing all week; we just don't know when it's going to be ready. It's going to be week-to-week," Stricklin said. "But Luke has been throwing the ball well. He's a competitor.
The rest of the weekend rotation will remain the same.
Webb (2-0, 0.00), who will make his fourth appearance, will no longer be on a pitch count following his recovery from Covid-19. Stricklin said Sunday starter Jonathan Cannon (1-0, 0.00) will be on a pitch count as he continues his recovery from mono.

"Both those guys are building up their pitch count, and when you're building up, you want to pitch them the same days," Stricklin said. "But we may end up sticking with it, and keep it on those days, because there are weekends when we'll play Thursday, Friday, and Saturday."

Harber set to remain at third
Freshman Parks Harber started all three games at third base for the Bulldogs last weekend against Lipscomb, and that's expected to continue against Tennessee.
"We really like him, and we need to get those at-bats going," Stricklin said. "He missed those first three weekends with a wrist injury, but he's healthy now. We've all seen what we can do. He brings a lot of power and plays well defensively. So, as of right now, I don't think anything is in cement, but he's going to play third base for the time being.

"We have some options we can move around, but we'd love for Parks Harber to be our third baseman."
One of Harber's hits last weekend was his first collegiate home run, an opposite field shot by the big right-handed hitter that bounced off the top of the scoreboard in right field.
"I've never seen that in BP, or anything. That looked like a freaking lefty hitting the ball over the scoreboard," senior Riley King said. "Watch him in BP, he can smash some baseball. But that was really impressive; it really was."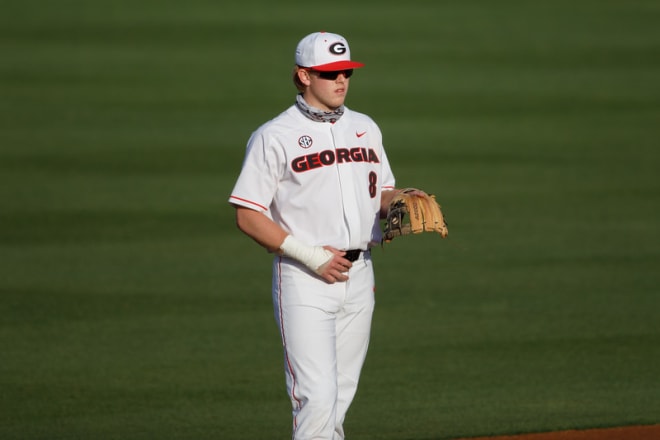 This and that
• The Bulldogs lead the SEC in Fielding at .986 and did not make an error last week in four games. Georgia is batting .300 as a team, ranking fifth in the SEC. The Bulldogs remained No. 7 according to Collegiate Baseball's Top 30 weekly poll, and are No. 23 in the NCBWA poll. UT is ranked as high as No. 10 (USA Today/Coaches) this week.
• Corey Collins enjoyed a stellar week, batting .444 (8-for-18) with two doubles, two home runs, and nine RBIs to earn SEC Co-Freshman of the Week honors from the league. He leads the team with four home runs and 16 RBIs while batting .364. He's started all 16 games this year.
• Redshirt junior OF Connor Tate leads the team and ranks third in the SEC in batting at .410 (25-for-61) with a double, triple, two home runs, and 13 RBIs. On Sunday, he provided a walk-off RBI single with two outs in the 12th to cap a sweep of Lipscomb. Nine of his 13 RBIs have come with two outs. In four games last week, Tate batted .438 (7-for-16) with a home run and three RBI. Junior C/RHP Shane Marshall ranks second on the club in batting at .400. He has a five-game hitting streak.
Scouting Tennessee
The Vols (14-3) are in their fourth season under the direction of Tony Vitello.
Last year, they were 15-2 and ranked as high as No. 20. They return 21 letter-winners, including preseason All-American infielder Max Ferguson and one of the nation's top closers in Redmond Walsh.

Infielders Drew Gilbert and Jake Rucker ,along with pitchers Jackson Leath and Connor Pavolony, made some preseason All-America squads, too.

"They have a really good, veteran team. They're athletic, they like to put pressure on you, they run, they like to bunt, and they have a couple of guys who hit for a lot of power," Stricklin said. "Their pitching staff has some big-time arms. They're a legitimate Top 10 team, and we're going to have to play really well to win the series."