Baseball news and notes; Mind over matter for Blaylock
Santa Clara at No. 4 Georgia
WHERE: Foley Field
WHEN: Friday 3 p.m., Saturday DH 1 p.m. (second game 45 minutes after conclusion of the first); Sunday 1 p.m.
STARTING PITCHERS: Friday – Emerson Hancock (0-0, 13.50) vs TBA; Saturday – Game 1 Cole Wilcox (1-0, 1.80) vs TBA; Game 2 TBA vs TBA; Sunday – TBA vs TBA
TV/RADIO: SEC Network Plus (Jeff Dantzler, David Johnston)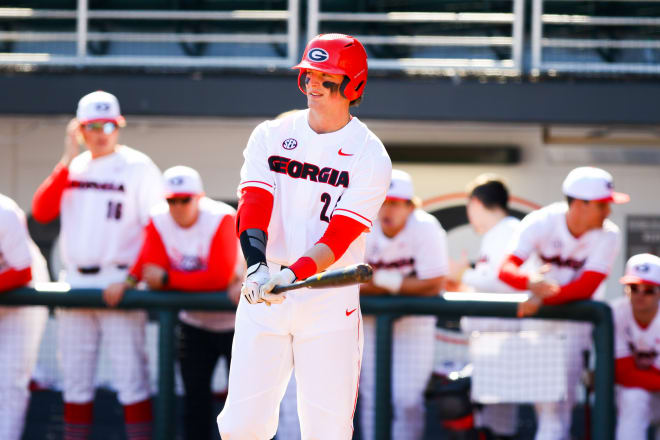 You've probably heard the old saying that whatever doesn't kill you makes you stronger. Although this doesn't have to apply to baseball, in the case of Georgia's Garrett Blaylock, it does.
Blaylock was a four-year star at T.C. Roberson High in Asheville, North Carolina. As a senior, he helped lead the Rams to a state championship while batting .390 with nine home runs and 35 RBI.
He won enough post-season awards to fill two mantles, and headed off to Vanderbilt as a freshman in 2018, ready to conquer the college baseball world.
Except, it didn't quite work out that way.
After batting .231 in 18 games with the Commodores, the 6-foot-3, 205-pound Blaylock spent last season at St. John's River State College in Palatka, Florida. Unfortunately, what he hoped would be a jump start to his career proved to be the opposite. Blaylock batted just .167 with three home runs and 18 RBI in 31 starts with the Vikings, and returned home to Asheville questioning his ability for the first time.
But during his summer in the Coastal Plains League, something started to click. Blaylock led the wood-bat league in home runs with 14. So far, in four games with Georgia, he has picked up right where he left off.
For a team wondering where its power was going to come from, Blaylock has shown early signs that he might be just what head coach Scott Stricklin was looking for. He comes into this weekend's four-game set with Santa Clara batting .294, with a team-best three home runs and six RBI.
"Last year was an anomaly; I'd never failed like that before," Blaylock said. "It's tough to say something that was so taxing on me mentally was so good for me, but I think that was."
As Blaylock explained, instead of feeling sorry for himself, he used the situation to his advantage.
"In the middle of that, I just told myself I was going to manipulate the situation and [let it] make me stronger mentally as a player," he said. "I feel like it prepared me for failure, not only in baseball but also in life. In the future, whenever something happens, I feel I'll be able to handle it."
Step one for Blaylock occurred when he returned home from Junior College.
For nearly two weeks, he didn't pick up a bat at all, until resuming workouts with his dad before heading off to summer ball.
During the break, a little self-affirmation helped get Blaylock's mind back right.
"The whole time, I just constantly reminded myself of what kind of player I am, what kind I can be," he said. "It sounds arrogant and cocky, but it's really not. You kind of have to have a little bit of that in this game."
The Bulldogs no doubt like what they've seen. It was Blaylock's ninth-inning home run against Richmond in last Friday's season opener that enabled the Bulldog to ultimately beat the Spiders 6-5. Wednesday's 10-3 victory at Kennesaw State saw Blaylock add two more home runs to help spark Georgia's win.
"So far, he's been lights out. He's putting good swings on every ball, he's on time a lot," shortstop Cam Shepherd said. "Once he gets hold of one, look out, he's got light-tower power—probably some of the biggest power I've seen since I've been here. When he's going good, he's fun to watch."
Stricklin has enjoyed the show.
"The thing that really encouraged us [was] he led that league in home runs with the wooden bat. We felt like he could be that guy in the middle of the order," Stricklin said. "Last spring he struggled, he was injured, had an oblique injury and tried to fight through it, and he struggled a little bit. But this summer, he got back to form and showed that he could be a middle of the order guy for us."
According to Blaylock, it's all about having confidence.
Although he knows the pitching will only get better, especially when Georgia begins SEC play, Blaylock hopes his fast start to the season is only the beginning.
"I felt like I had a good fall, and coming back now, it just comes down to confidence and feeling good at the plate. I feel like I'm going to do damage every time I come to the plate," he said. "Obviously, the SEC is a little more challenging, but I think it's important right now to get rolling a little bit before we get to league play."
Projected Starting Lineup
| Player | Class | Position | Stats |
| --- | --- | --- | --- |
| Ben Anderson | Rs Sophomore | Outfield | .357-0-1; 10 runs scored, 3 SB |
| Cam Shepherd | Senior | Shortstop | .412-1-6; 4 SBs |
| Tucker Bradley | Rs Junior | Outfield | .538-1-6; 5 SB |
| Riley King | Rs Junior | INF/OF | .118-0-2 |
| Garrett Blaylock | Junior | Third Base | .294-3-6 |
| Connor Tate | RS Sophomore | DH/OF | .250-0-0 |
| Patrick Sullivan | Senior | First Base | .267-0-2 |
| Mason Meadows | RS Junior | Catcher | .143-0-0 |
| Cole Tate | Junior | Infield | .385-1-3 |
| Other potential starters | | | |
| Shane Marshall | Sophomore | Catcher | .200-0-0 |
| Buddy Floyd | Freshman | Infield | .000-0-0 |
| Chaney Rogers | Junior | DH/OF | .333-0-0 |
| Randon Jernigan | Sophomore | Outfield | 000-0-0 |
Bulldogs being aggressive on the base paths
During a late January meeting with Stricklin, he predicted that his Bulldogs would be more aggressive on the base paths.
That's certainly turned out to be true.
The Bulldogs enter this weekend's series a perfect 14 of 14 in stolen bases, including a trio of double-steals in the team's first four games. That's almost a third of the 55 steals by Georgia in 63 games last year.
"Being aggressive is fun. We're trying to push the envelope a little bit," Shepherd said. "We're trying to force the other team to make a mistake and put as much pressure on the other team, which is what you want to do."
Stricklin said it's no accident that the Bulldogs are having this kind of early-season success.
"We're guessing a breaking ball counts a little bit better, we're taking what pitchers are giving us. If they're not holding us on, we're going to try and go," Stricklin said. "We've done a good job of getting scouting reports, knowing what we're going to see, and Coach (Scott) Daeley has been aggressive doing some things with these guys. It's been another weapon in our arsenal to score some runs."
The top three in Georgia's lineup are accounting for most of the damage.
Three-hole hitter Tucker Bradley leads the team with five, followed by Shepherd with four and leadoff hitter Ben Anderson with three.
"If we get the pitcher to think about something else other than throwing strikes, that's a success for us," Shepherd said. "On top of that, if we can get ourselves into scoring position, having to move them over and focus on driving the ball in the gaps, then I feel that will allow the hitters to feel free, just hit the ball hard."
Freshmen pitchers impress
A trio of freshmen pitchers impressed during Wednesday's 10-3 win over Kennesaw State.
Redshirt freshman Garrett Brown—all 6-foot-7 of him—allowed just two runs in four innings, while true freshman Johnathan Cannon and Michael Polk combined for four perfect innings.
Cannon was particularly impressive. The 6-6 right-hander used a mid-90 fastball to retire all nine batters he faced with three strikeouts while Polk-who was making his college debut-retired all three batters he faced in the ninth.
"Garrett Brown was really good. We hoped for three innings. We a got a little greedy and took him out there for the fifth, because he was really throwing good," Stricklin said. "Jonathan Cannon, we think he's a future star. I compare him to Aaron Schunk, with maybe a little better velocity. He just throws a ton of strikes, throws three pitches for strikes. He's a really good athlete who was a good position player in high school. He can do a lot of things on the mound."
Stricklin's equally high on Polk, a 6-3, 205-pound right-hander from Milton.
"Michael Polk is a guy who would have pitched last weekend but had a little bit of an ankle issue, so that was his debut," Stricklin said. "We think he could be a future starter for us, and may be the guy who gets that fifth start if we play five games in a week, maybe get a spot start here and there."
Webb's effort could result in a change
They're still talking about Ryan Webb's performance in Georgia's 7-6 win over Richmond Friday.
After starter Emerson Hancock was touched for six runs in four innings, Webb put together an eye-popping effort, tossing five innings of three-hit ball with a career best 11 strikeouts.
With Georgia's starting depth, the Bulldogs are in the enviable position to be able to use the junior lefty in any number of situations, although after Friday, pitching coach Sean Kenny admits Webb is giving him some second thoughts.
"You don't want to save him, but if he keeps stringing together innings like that, he can be a starter," Kenny said. "We've always kind of known that with him and told him, yes, you can be a reliever, but don't be surprised if we start you. He's good with that. As long as he gets to pitch in big spots, he's good."
Blessed with a low-90s fastball, Webb certainly has the repertoire to start, and in fact has started seven games over his career.
An intense competitor, Webb is known for showing a lot of emotion on the mound, and Kenny wouldn't have it any other way.
"I think that's his best character trait, his toughness and his competitiveness," Kenny said. "He's never worried about what will happen negatively. He only sees himself succeeding, and those are the guys who succeed at this level and go on to have very good pro careers, too."
Game 2 starting pitcher in Saturday's DH up in the air
Hancock (0-0, 13.50) will start Friday's 3 p.m. opener on Friday, and Cole Wilcox (1-0, 1.80) will start Game 1 of Saturday's doubleheader set to begin at 1.
Georgia's Game 2 starter is still up on the air.
If the forecast for Sunday do not look favorable, junior left C.J. Smith (0-0, 6.75) will get the start. If the forecast is favorable, Stricklin and Kenny will choose a new starter for Saturday's Game 2, with Smith pushed back a day to pitch on Sunday.
"It could be (Will) Childers, could be Cannon, could be Polk, (Darryn) Pasqua, (Logan) Moody," Kenny said. "We could decide as early as Friday or as late as after the first game on Saturday."
Scouting Santa Clara
The Broncos are off to their best start since 2012, when they began the year 5-0. Before heading to Athens, Santa Clara upset No. 25 Stanford 3-2 Tuesday as six pitchers combined to limit the Cardinal to a pair of runs on three hits.
The Broncos have outscored their opponents 43-12 and boast a team ERA of 2.00. The Bulldogs and Broncos have never met on the diamond.
Senior Jake MacNichols headlines the Broncos' offense, batting .350 with four home runs and 11 RBI, while senior Ryan McCarthy is tops on the club in batting at .476 with a home run and six RBI.