Barlow confirms move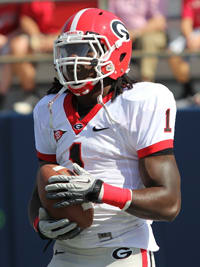 It's official. Former Georgia running back Isaiah Crowell's next stop will be FCS member Alabama State.
Hornets head coach Reggie Barlow confirmed in a telephone interview with UGASports Thursday afternoon that the former five-star performer from Carver-Columbus has been admitted into school.
"I talked with Mrs. Debbie, Isaiah's mom, and I really wanted to get clearance from them to be able to go ahead and say that it was a go. She's given me permission to do that," Barlow said. "He's been admitted and will start our second session of summer school on Monday."
Barlow said Crowell - who will be eligible to play immediately this fall - is looking forward to having a fresh start and that his pending legal issues would not keep him from becoming an immediate part of the team.
"As we were showing him around that's one of the things I heard him whispering to his mom, 'man, a new beginning,'" Barlow said. "I imagine he's got the thought process of having the opportunity to restore his name, his credibility and all that."
Another factor that Barlow said played in his program's favor is the fact Alabama State has had success with "wayward" players before, pointing to current Seattle Seahawk quarterback Tavarres Jackson and Nigel Carr, who recently signed a rookie free agent contract with Baltimore.
"I think that's something that might have stuck with Isaiah. We've had other kids transfer here before from whatever situation," said Barlow. "We talked about our ability to get guys here, to get them into a structured situation. Of course, he had that structure at Georgia, but knowing that he would be able to come into another situation that's structured … I think he's definitely looking at this as a new beginning."
Crowell - who rushed for 850 yards and five touchdowns last year for Georgia - could not immediately be reached for comment.
Barlow said his team's initial interest in Crowell actually came from his own players.
"Normally, on the FCS level, when there's a guy who's been released, naturally, you see it and you get information on it," Barlow said. "With Isaiah's situation, actually it was guys on our team who had been following it and watching it and they mentioned it to me. He's from Georgia, has a lot of contacts and knows a lot of people.
"So, once we got the official paperwork, his release and that stuff, we were aggressive in trying to get a conversation with him. We had conversations out of high school. Of course, we knew we didn't have a shot at him, but we try and tell high school coaches who coach these elite guys that you never know what might happen. So, we introduce ourselves and if something changes over the course of four years, we have an opportunity. That's basically what it came down to."
Once Crowell and his family made it to campus, that's when Barlow went to work trying to convince the former member of the SEC All-Freshman team to give the Hornets serious consideration.
"With myself and Coach (Craig) Payne, our Director of Football Operations, we kind of made Ms. Debbie (Crowell) feel comfortable, Isaiah feel comfortable, and of course his dad," Barlow said. "But also, our facilities at this level are really second to none. We've got a brand new football complex (30,000 square feet) that is only a year old, with all the bells and whistles and a really good weight-room facility. Our practice field is outstanding and we've got a brand new stadium that's being built, so all that stuff is intact. Of course, Isaiah played at Georgia and experienced it all, but I think he was happy to see that we had nice stuff too, although I don't think that was exactly what turned it for him."
"Mr. Danley had a lot of conversations with people over at Georgia as far as what kind of kid Isaiah has been over there and the type of family he comes from," Barlow said.
But Barlow said he made it clear to Crowell that he'll receive no special treatment and will be expected to adhere to all the rules of the ASU program.
That includes taking part in a number of community service projects organized by the University.
"One of the things we did talk about with him is when you are trying to instill or regain your credibility, there's going to be some things that you're going to be asked to do in the community so that people understand that you are not a bad guy. Of course, he's going to be expected to follow team rules," Barlow said. "Our setup is a little different than Georgia, in that we probably don't have the dorms, the luxury apartment styles and that, but as far as the rules, the regulations as far as the team, being on time, going to class, doing your community service stuff, that's basically it and being an example for some younger guys who may sway away. We can say here's what can happen if you do the wrong thing."
Follow Anthony Dasher on Twitter